N.H.-based Bauer Hockey readies entry into retail
20,000-square-foot store will feature half-sized ice hockey rink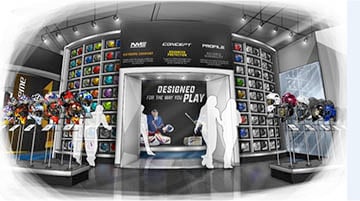 Bauer Hockey, inspired by Apple Inc., is going retail, with plans to open its first "Own the Moment," 20,000-square-foot store later this year in New England, featuring a half-sized indoor hockey rink, complete with board, glass and goals.
The expansion should result in the addition of five to ten employees at the Exeter, N.H., headquarters of Bauer parent firm Performance Sports Group, the company said. It also will mean 20 to 25 employees at the prototype store in Burlington, Mass.
The retail showcase setting will enable the company to tell its story, said Rich Wuerthele, executive vice president, an experience that "will be a living representation of our brand."
Instead of a genius bar to help novices and early adopters figure out the latest iPhone, a "personal trainer" will help "elevate the experience in the store," using tested "fitting protocols," said Tory Mazzola, senior spokesman for Bauer. It will include a full range of products, including skates, sticks and protective equipment.
"There will be a fit for every player," Mazzola said. "Something for everybody, whether it be a speed skater or more of a power skater."
Bauer's Burlington store is scheduled to open in the summer and it's hoped it will become a "destination throughout hockey-crazed New England," followed up by a second store in Minneapolis in the fall, said Mazzola.
The company hopes to open six to eight more stores over the next several years in key hockey markets, but have not announced any other locations, though nothing is planned in New Hampshire.
Mazzola noted that it is a short drive for hockey players and their families from the Granite State to Burlington.
The company said that it expects the stores to start generating a profit in the next 18 to 24 months. More details might be released in quarterly results and earnings investor earnings call due later this week
PSG shares shot up over a dollar on Friday, when news was of the stores was released, peaking at a high of $18.82. At deadline Monday morning, the stock was trading for $18.60.