N.H. auto dealer grants seek to boost skills
Job training effort to help community college auto tech students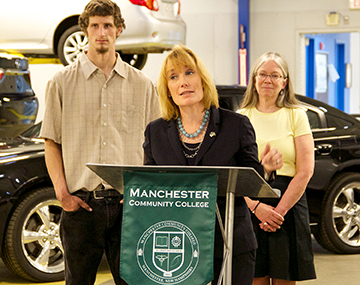 Nearly $70,000 in new job training grants aimed at improving skills in automotive technology and collision repair are being awarded by the New Hampshire Auto Dealers Association to students at Granite State community colleges.
Gov. Maggie Hassan announced the grants at an event at Manchester Community College's automotive technology garage, before a crowd of a few dozen MCC students, some of whom have already applied for the grants.
The governor said the grants help "make education more affordable in a highly competitive field. And by investing in workforce development, we can ensure our citizens have skills they need to succeed in a 21st century economy."
The grants are part of a larger effort to boost worker training throughout the state through a partnership involving community colleges, government and private industry, she said. The goal is to help workers advance in their careers.
"Today, we are opening doors of opportunity," said Pete McNamara, president of the auto dealers association. "Sometimes high school graduates miss the chance to walk through that door. With these grants, we are making sure the door is open for those wanting to pursue fulfilling careers. These auto tech and collision repair jobs are vital to our industry, and they provide good paying jobs to all who graduate with the skills that are taught at local community colleges."