Mt. Sunapee sold to Vail Resorts
Deal includes sale of Okemo in Vermont, Crested Butte in Colorado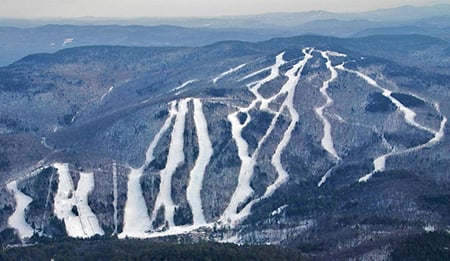 Mount Sunapee Resort in Newbury is among three ski areas sold by Triple Peaks LLC to Vail Resorts Inc. for $82 million.
Besides Mount Sunapee, Triple Peaks, owned by Tim and Diana Mueller and their children, Ethan and Erica Mueller, is the parent company of Okemo Mountain in Ludlow, Vt., and Crested Butte Mountain Resort in Mt. Crested Butte, Colo.
The sale, announced Monday morning, also includes Okemo Valley Golf Club in Ludlow, and Tater Hill Golf Club in Windham, Vt. As part of the transaction, Vail Resorts will also own the leasehold assets currently owned by Och-Ziff Real Estate.
The deal also involves Vail providing funding for Triple Peaks to pay off $155 million in outstanding lease agreements with each respective state's land authorities.
The sale is expected to close later this summer, the companies said.
"Diane and I are incredibly proud of what we accomplished," said Tim Mueller, who founded Triple Peaks with his wife 36 years ago.
Diane Mueller said that Vail Resorts' "knowledgeable, invested and experienced team gives us optimism about the future of our resorts, our dedicated employees, and our local communities."
During the transition period prior to closing, the Mueller family and the three resort leadership teams will continue to operate each area while collaborating with Vail Resorts on the transition. After closing, Vail will lead the resorts into the future.
"We're very much looking forward to welcoming Crested Butte, Okemo and Mount Sunapee to our family of resorts, and each of their teams into our company" said Rob Katz, CEO of Vail. "These three resorts add incredibly unique and special experiences to our portfolio, and will truly enhance the variety of options for all our guests."
He said Vail will honor any previously purchased Okemo, Mount Sunapee or Crested Butte season passes for the 2018-19 winter season as they integrate the resorts.
Broomfield, Colo.-based Vail, a publicly traded company, owns four ski resorts in Colorado (Vail Ski Resort, Beaver Creek Resort, Keystone Resort and Breckenridge Ski Resort), Heavenly Mountain Resort, Kirkwood Mountain Resort and Northstar California, all in the Lake Tahoe region, Park City Mountain Resort in Park City, Utah, Stowe Mountain Resort in Stowe, Vt., Afton Alps in Minnesota, Mount Brighton in Michigan, Wilmot Mountain in Wisconsin, Perisher Ski Resort in New South Wales, Australia, Whistler Blackcomb in British Columbia and a summer resort in Wyoming. It also owns several resort hotels around the world.
This article was updated to include the financial terms of the deal.