Moving on up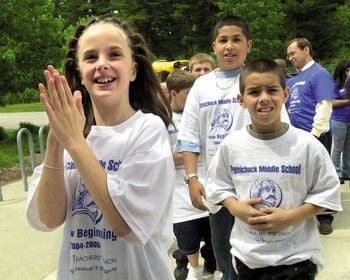 NASHUA – Lindsay Fernandez loved everything about her new school.
As she walked toward the entrance to Pennichuck Junior High School alongside befuddled classmates, Fernandez was bursting with excitement. She started to clap and cheer.
"I thought this was going to be so cool because I'm getting older and I'm going to have more responsibility," said Fernandez, a fifth-grader at Amherst Street Elementary School. "I've been looking forward to this since the first day of school."
Wednesday was Push Up Day in Nashua, a chance for students to scope out their next school. But this year was a little different.
Across the school district, fifth- and sixth-graders got to peek at their next educational homes. Due to a massive grade shift next year, both grades will move up to the middle school level, while current eighth- and ninth-graders move to the high school.
Parents will get their turn to view the middle schools starting tonight.
At Pennichuck, Principal Paul Asbell welcomed the students to Pennichuck Middle School, the school's new name next year, which was repeated on the white and blue shirts that the students wore. Fifth-graders like Fernandez wore white shirts. Sixth-graders wore blue shirts that were paid for in part by the Nashua Teachers Union.
MIDDLE SCHOOL MEETINGS
The intent of the day was to get children excited about their next school. By most appearances, it worked – and not just because the students were given free ice cream.
Early on, when the students were still sitting in the bleachers of the gymnasium with the words "achieve, believe and succeed" written on the back wall, smiles spread contagiously across faces as people clapped along with a song sung by the chorus.
After the brief orientation, students were broken into smaller groups and toured the school.
They saw air-powered cars race down a track in the hallway. They got to see the band room and chorus room. They saw student artwork hanging from the walls and walked around the outside of the building, too.
During the tour of the school, Fernandez was at the front of her group, asking questions all the way. She wanted to know if students got to make the racing cars at school.
They absolutely do, she was told.
That wasn't the only thing catching students' eyes.
Twelve-year-old Max Guettinger, a sixth-grader from Birch Hill Elementary School, was uneasy at first. But once he saw some of the rockets that he could build in the technical education classes at school, he was sold.
One of Guettinger's biggest fears was meeting new people. Most Birch Hill students and most of his friends will go to Elm Street Middle School. Only a minority will go to Pennichuck.
But in his first few minutes at the school, Guettinger was already making friends.
He and 13-year-old Reggie Laomond started to hit it off in the woodworking room. Guettinger talked about his hobby of building rockets. Laomond talked about his hobby of building remote-controlled motorized boats.
Laomond said he was excited to see Pennichuck and meet new people.
Patrick Heitkamp, a sixth-grader at Mount Pleasant Elementary School, thinks it will be easier to make friends because there will be so many new kids.
"It's kind of weird," Heitkamp said. "I'm so used to kids I know. I don't know three-quarters of the kids here."
Asbell has seen this all before. He was a principal at junior high schools in Rochester and then Eliot, Maine, that made the transition to middle schools.
Both times he saw good schools get better.
"When ninth-graders are replaced by sixth-graders, you get a lot more childlike behavior and less adult-like behavior," Asbell said. And that's a good thing.
It's easier to get students excited about learning and to harness that excitement, he said.
Asbell said he is absolutely convinced Nashua is doing the right thing by changing to middle schools.
Students will be divided into groups of about 75 that will be taught by a team of three teachers.
"The idea is to create smaller learning communities," Asbell said. "They're not one of 800 students, they're one of 75."
Asbell said Wednesday was an attempt to give students a chance to feel what it's like to be part of a team. It was a chance to help them understand what their school year would be like. And most importantly, it was a chance to get them to look forward to the next school year with excitement.
Young Fernandez from Amherst Street didn't need much convincing.
"It's so big and it's more exciting," she said. "You can make more friends. Things are harder so you can get better. I can't wait."
Jonathan Van Fleet can be reached at 594-6465 or vanfleetj@telegraph-nh.com.