Monahan Manor to welcome first residents in October
New Myrtle St. property to help boost housing shortage in Nashua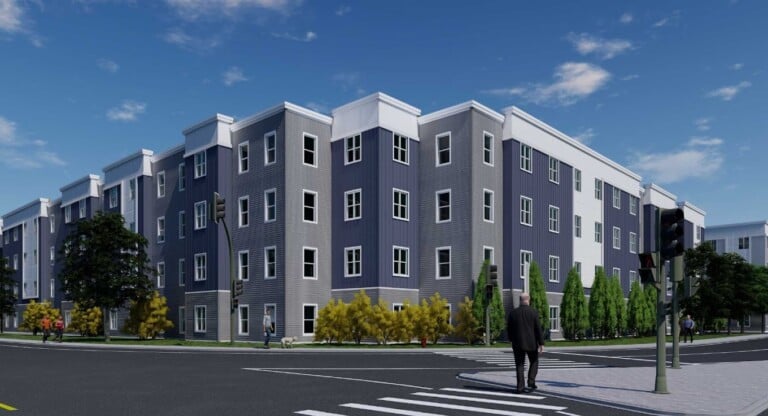 In an effort to assuage Nashua's housing shortage, Monahan Manor Apartments will welcome its first wave of residents on Oct. 1.
The Myrtle Street property is the former site of the Bronstein apartment complex, which was demolished after nearly five decades to make way for Monahan Manor.
Although Bronstein residents needed to move out, Lynn Lombardi, executive director of the Nashua Housing and Redevelopment Authority, said 70% of those residents have chosen to live at Monahan Manor. She also said their monthly rents will not change from what they were paying at Bronstein.
"Those that are coming back are thrilled. They can't wait," said Lombardi, adding that all residents will be assigned a one-year lease.
Thomas Monahan, a commissioner on the Nashua Housing and Redevelopment Authority board, said funding was made available to Bronstein residents to cover moving expenses. In addition, because Nashua's housing shortage is so dire, there was never any intention of having the units as condominiums rather than apartments.
Lombardi said the four-story complex consists of 216 units ranging from studios to five-bedroom apartments. Within the total number of units, she said 206 units will be categorized as affordable housing. The remaining 10 units will be rented out at market rate. Each unit will be furnished with stainless steel appliances, granite countertops as well as washers and dryers.
The four-building complex will also feature a business center, a fitness center, a playground and a Head Start program for children ages 3-5.
Lombardi said there are currently 950 families on the waiting list for Monahan Manor.
"The need is sobering," she said, and Monahan added the city has been supportive every step of the way.
"The city of Nashua worked really well with us," he said. "From the mayor to (Board of Aldermen President) Lori Wilshire, they gave us the opportunity to expedite approvals."
He also said the two-year construction process came when building materials were not easy to come by as a result of the COVID-19 pandemic.
"To do it during COVID, it's a huge accomplishment," said Monahan.
Scott Costa, assistant executive director of the Housing Authority, said he is optimistic that Monahan Manor will help keep Nashua residents in the city who may otherwise be tempted to move to Massachusetts.
"We hope everyone who will live here will work here and stay here," he said.
This article is being shared by partners in The Granite State News Collaborative. For more information, visit collaborativenh.org.