Monadnock Food Co-Op GM Michael Faber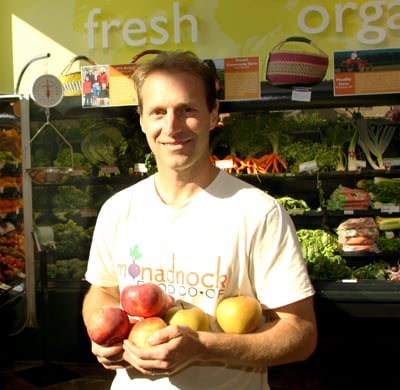 In 2000, Michael Faber started his career in the food co-op business, working at the Berkshire Co-op Market in Great Barrington, Mass. Seven years later, Faber – who also has food and farming experience, including producing much of his own food – was hired as general manager of Wild Oats Market in Williamstown, Mass. Nearly two years ago, he went to work as the general manager of the Monadnock Food Co-op in Keene.
The Monadnock Food Co-op is a full-service, community-owned natural foods grocery store featuring locally grown, organic and natural food. The store carries products from more than 175 farms and food producers who grow and make their products within 100 miles of the co-op.
Faber guided the co-op through its pre-opening and continued in that role since the co-op's opening in April 2013. He has seen it grow from 1,200 member-owners on opening day to 2,100 today.
Q. What was the process that led to opening the co-op last spring?
A. In 2007, a couple of different things were bubbling up at that time. There was an Antioch University New England student named Bonnie Hudspeth who had chosen her thesis project to be on opening a food co-op in Keene. She now works for the Neighboring Food Co-op Association, which represents 30 food co-ops in the region. She really saw this project from an idea to the point when I was hired in November 2011.
Another important group that helped this along was the Cheshire County Conservation District, which awarded grants that helped subsidize the costs of some of the organizing work in the early stages, which is critical because with volunteers with limited time organizing it just takes a long time to get up and off the ground.
We had an organizing committee that worked for a number of years to get us to the point where we formed a board of directors and drafted bylaws. Then we hired a project manager, Bonnie, who continued in that role until I was hired as general manager.
Q. Were there any hurdles in seeing the project through?
A. Some big pieces of the project early on were engaging the community in the project, gauging interest level getting people to join and become owners of the store.
We had a goal of reaching 1,000 owners by time we opened and ended up opening with 1,200 owners. The membership piece was important because it gauged interest but it was also an important form of capital for us in the startup phase.
Q. What were some of the most important ways you found members?
A. My experience has been from managing existing stores. It's so easy to get people to join something when they're coming to your store every day so it was a real different process.
It was a variety of things. Community events were great opportunities for us. We got invited to talk to different groups, like Rotary and Kiwanis clubs and businesses. We talked to them about what the co-op would bring and how they might get involved. It was literally grassroots work. We did promotions such as raffling off prizes donated to us by small businesses.
Q. It's been a year and a half now. As far as your expectations for the co-op versus real life, how would you say that matches up? How are things going?
A. Things are going great. We're thrilled with where we are.
We've seen rapid growth since we opened. We have six months of year-over-year growth – during that period we've been up 40 percent over last year, which by grocer retail standards is absolutely enormous. The market is becoming more competitive. You see more places selling natural and organic food, but at the same time, those foods nationwide are showing much higher growth that what you'd see in more conventional foods which is really a great trend. It shows people are more concerned with their own wellness and nutrition which are all things we pride ourselves on.
Q. Is there a network of co-ops?
A. There's the Neighborhood Association and another called the National Cooperative Growers Association. Our store is a member of that co-operative, as well as about 150 stores across country. That's been absolutely huge for us. They bring a lot to the table for us.
For example, they put together purchasing contracts so costs we pay for goods are competitive. They help with developing a sales flier. They offer professional development opportunities. In a given year, we'll probably send almost every one of our managers to a different conference they host which really helps us get out from our shell here and make sure we're constantly comparing our practices and looking for ways to improve and grow and get better at what we do.
Q. How many co-ops are there in New Hampshire?
A. There is a co-op in Littleton, Concord, Hanover and Lebanon. Stores in Walpole and Manchester are in the organizing phase. We get calls all the time from towns and cities who want a co-op. There's been this wave of growing interest in communities being served by co-ops.
Increasingly, people want access to local, organic, sustainably-grown foods. We can do that better than anybody else.
Q. What do you see in the future for the Monadnock Food Co-op?
A. We are still refining what we're doing here. There's a lot of room for improvement.
We want to keep working to meet needs of community as best we can. The way for us to do that is develop new relationships with local producers and increase the number of products we carry and sell and continue to be an important revenue stream for local farmers. We want to be that source for people of good healthy food. We want to also make sure this is a great place to work. We're always looking for ways to compensate staff better, engage them more and empower them to be involved in success of our co-op. Each department and the store as a whole has regular meetings during which we talk about what we're trying to accomplishments in terms of operating that department, what are the goals in that department, areas in which we've excelled and which need improvement.
Q. How important is the farm-to-table movement to the Monadnock Food Co-op?
A. Why food co-ops have been so successful is because of this national trend. It's alive and well in the Monadnock Region and elsewhere in the state. It's been great to see. Even if you take local milk, or eggs, for example. Sales of those products in the past year are way up. We have some great producers in this region.
When I managed a store in Williamstown, Mass., there wasn't local milk we could get in a glass jar – here we have four choices. The fact that state of New Hampshire allows raw milk sales in retail is a really great thing.
We're seeing more legislation introduced to make local producing more friendly. I know in the last year there were some regulations put in place for nanobreweries to help support them. That's another area that's just been booming. We have a huge selection of local craft beers.
I'm hearing of more things being initiated here to make production in this region easier and more accessible. Those are some of the trends and they've absolutely been a huge part of our success.