Mixed-use project at former Macy's site gets a new name
Dallas-based developer renames development Market and Main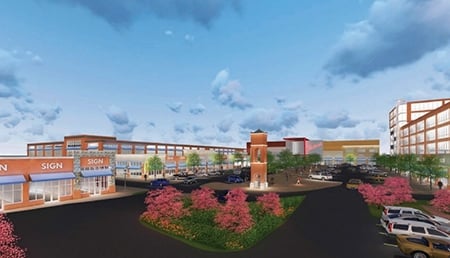 The owner of the eagerly awaited mixed-use development at the former Macy's site in Bedford has decided to rename the project following concerns over its original name.
Dallas-based Encore Commercial LLC announced Tuesday that the newly renamed development will be called Market and Main, a branding "that carried symbolism," said Nicholas Barber, Encore Commercial's president.
He said plans are underway to construct Main Street, the central artery leading to the development, which will consist of fashion, recreation, fitness and dining outlets as well as office space.
Concerns over the project's original name, Bedford Place at South River Road, were raised in April before the Bedford Planning Board. At the time, David Robator, founder of Merrimack Valley Physical Therapy in Bedford, pointed out that there already is a medical facility named Bedford Place, at 40 S. River Rd. The facility has been there for about 30 years.
Demolition of the former Macy's building has been completed and construction is expected to start in 2017.