MIT program gives NH high school teachers a course in coding
Manchester schools, UNH Manchester, Dyn team up for 'TeachCode Academy'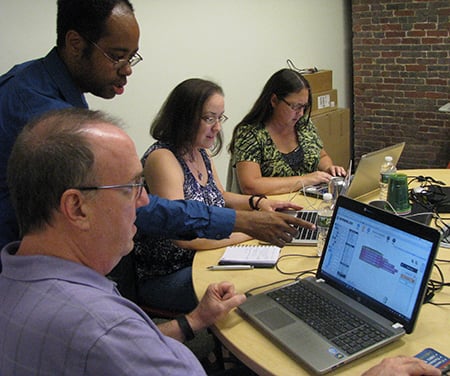 New Hampshire high school teachers had the opportunity last week to sit in the students' seats for a change at UNH Manchester, where MIT professors taught them about code and code-based resources they can bring back to the classroom.
The workshop, called "TeachCode Academy," was organized by Dyn and MIT's Scheller Teacher Education Program, in partnership with the governor's STEM task force, STEAM Ahead NH and the Manchester School District.
According to Wendy Huang, program manager for the Scheller Teacher Education Program, the purpose of the workshop was mainly to equip teachers with new skills and to pass those skills onto the students and to spread computational thinking techniques.
"Teachers can go back to their schools and become advocates for design … and bring that excitement and enthusiasm," she said.
The high school teachers had the opportunity to work with four different applications that were developed by MIT: The MIT App Inventor, a program used for building Android apps; Gameblox, used to create games; StarLogo Nova, used to build 3D games and simulations; and TaleBlazer, used to create mobile games that incorporate a player's physical location on a map.
On June 14, the first day of the workshop, facilitators briefly introduced the participants to each of the programs. The next day, teachers had the opportunity to use the program of their choice and even start developing a project to bring back to the classroom.
"This isn't a typing class. This is about creating ways of thinking," said Carol Urbano, project manager and outreach specialist at the MIT Scheller Teacher Education Program. "[The participants] learned the principles of computation, the process of analyzing the things in our world, to analyze patterns. It's more about problem-solving than it is about coding."
Urbano said she hopes the teachers will be able to bring the principles of computational thinking back to the classroom.
New resources, ideas
Though the project took place in partnership with the Manchester School District, some schools outside Manchester also had the opportunity to take advantage of the program.
Chuck Patterson, an earth and environmental science teacher at White Mountains Regional High School in Whitefield, attended the workshop. He said he's hoping to incorporate skills that he learned with StarLogo into lessons on climate change.
Patty Dwyer, an English teacher from West High School in Manchester, chose to work with the program TaleBlazer. She said her students with special needs who have trouble sitting still in a classroom will benefit from the opportunity to go outside and physically walk around in order to move through a story.
"For [my students], to create a game or to learn from a game, that's amazing. This is much more relatable to them," she said. "This is by far one of the best workshops I have been to."
Bob Baines, director of Dyn's community relations and a former high school principal, said that instilling new resources and ideas into these schools is vital for creating quality professional development for students.
"[Education reform] is something the business community needs to pay attention to," Baines said. "They need to be highly engaged with the higher education community and the public education system. If they don't do that, I believe it's at their own peril."
According to Urbano, MIT and Dyn are considering plans to continue the workshop series, including virtual sessions throughout the summer and another potential gathering for late August, though public and financial support is still needed to make that happen.
Funding for the first phase of the program was provided by Dyn, the NH Charitable Foundation and Granite United Way.