Minute Men paints the town green
Painting company not only uses but also tests paints with non-toxic, environmentally friendly claims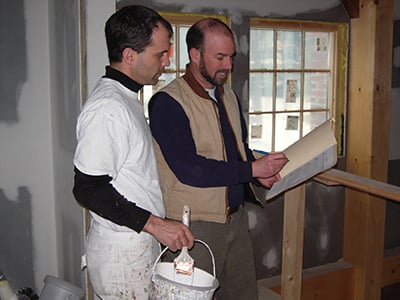 Sean Sturk had a choice to make after he finished college. He could take a more traditional career path, putting to use his degrees in business and marketing. Or he could continue doing the work he'd enjoyed since he was a teen – getting his hands, face and neck dirty while managing a paint crew and becoming an expert.
"I began painting when I was in high school and excelled at it. I learned a lot when I was put in a management position and ran crews," said Sturk, co-owner of Minute Men Painters of Portsmouth. "I realized I could make more money painting than being an intern and doing something else."
Sturk also owned and operated a retail paint store where he expanded his knowledge of the products and applications, including eco-friendly options. With his expertise and education, Sturk turned Minute Men Painters into a regional leader in the "green painting" revolution when he took over the company in 2000.
"We take pride in our sustainable practices while protecting and adding to the beauty of the homes around us," said Sturk.
Since its founding, Minute Men has committed itself to sustainable practices and products. In particular, the use of low- or no-volatile organic compound (VOC) paints and finishes, which are non-toxic and environmentally friendly. Minute Men also conducts its own testing of new industry products with low- or no-VOC claims. "We test to uphold our own standards and don't just take their [industry] word for it," Sturk said.
These days, Sturk handles sales and marketing duties, while co-owner Christopher Tufts works on project management and quality assurance. Sturk said that Tufts keeps the company current and up-to-date with the latest innovations in green painting products and practices.
The business breakdown is 60 percent residential and 40 percent commercial and its service area reaches from southern Maine and New Hampshire's seacoast to the Massachusetts North Shore.
An overwhelming majority of new business comes from referrals, which is not surprising. Sturk said that Minute Men crews regularly receive high customer marks for bringing superior professional and sustainable standards to their work.
Minute Men also has an innovative training program. Sturk said the key to retaining good employees is to give them multiple roles and all are trained in lead safety. "The labor pool is not what it used to be and so we strive to be a teaching company. Everyone has a chance to learn all of our different practices and the different jobs and learn the Minute Men Way. We want to create a home, a place for them to grow and we believe it led to pretty good employee retention," he explained.
NHBR's Sustainable Entrepreneurship series is run in partnership with the Green Alliance. To learn more about the alliance, visit greenalliance.biz.