Millyard Technology Park: where technology is tradition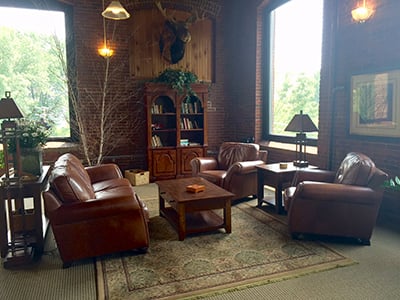 The Millyard Technology Park is a business community under one roof. It's a charming, renovated textile mill, offering individual offices, business suites and large corporate space. Currently over 50 companies are part of this community, including technology companies, financial service firms, attorneys, travel agencies and light manufacturing.
The Park features scenic views, exposed beams, refurbished bricks, high windows and polished hardwood floors. Outside, there are picnic tables, a gazebo, nature trails and a boat launch.
Tenants enjoy free and ample parking, showers, broadband Internet access, multiple loading docks, landscaping and snow removal, 24/7 access, on-site management and maintenance, use of Millyard's conference room, and the Riverview Café with restaurant quality breakfast and lunch. Rent includes utilities.
"One of the great things about this building is that the people who work here know each other," said Angelina Spilios, Principal and Property Manager. "They can be doing totally different things but they network and connect whether it's spending time up in the cafeteria or relaxing in the common lounge areas. A lot of people have become customers of one another. It's a nice, close knit community."
The Millyard will be accessible from the new Broad Street Parkway, making it less than a mile from the Everett Turnpike. The Parkway will open this fall.
Editor's note: this is a paid advertisement.