Milking parlor construction should be done in spring 2009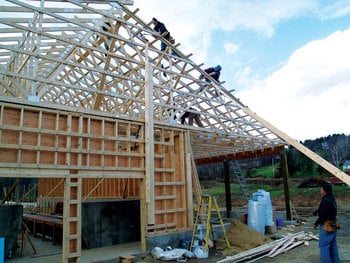 MONT VERNON – Life is going to improve dramatically for the farmers at Pomeroy Farm, and the cows too, when a new milking parlor is complete in spring 2009.
The eye-catching, 15,000-square-foot building under construction on Amherst Road, alongside Route 13, is a rarity for the region – an expansion of a dairy farm.
Virtually all of the Nashua area's dairy farms have closed in the past two decades, victim of high
nd costs and competition from other areas. Only the Pomeroys, the Fitches in Milford and the Connolly brothers in Temple are still in operation.
The Pomeroy farm is co-owned by brothers Kevin and Greg, and their father, Keith.
Their new project will allow a change from stanchions – in which cows wait in rows while farmers take the milking machine from one animal to the next – to a parlor, in which the farmers and machine wait in one place while the cows take turn walking up to them.
Parlors are much easier on farmers' knees and backs, because the cows walk on a raised platform.
Kevin Pomeroy said he won't need his old milking stool, but will keep it anyway.
The advantage for the cows is they get milked more quickly, since the new facility will allow a dozen cows to be milked at once, twice the current number.
"Cows like being milked," said Kevin Pomeroy. "When you're not on time, they get upset."
The farm's milking cows will also have more access to food. In the old barn cows are in stalls and can only get to hay and grain right in front of them.
Cows living in the new barn will be able to roam around. If they eat all the food in front of them and get hungry they can move somewhere else.
The theory is happier cows will produce more milk, said Pomeroy.
At some point in the future, the Pomeroys hope to add a milk processing plant so they can sell bottled milk, and possibly even cheese and ice cream.
"There are a lot of things you can do with milk," said Pomeroy. "It's such a versatile product."
"I think it will be a good thing to know where your milk is coming from," said Pomeroy.
Construction started in early October and has been progressing well.
Building the facility has created about 20 jobs, said head builder Gregory Mattison of Mattison Contracting in New Boston. The project is the first milking parlor Mattison has done.
"This is putting food on my table and for all of my guys," said Mattison.
Statewide, the number of commercial dairy farms has shrunk by three quarters in the past 30 years.
About 140 commercial farms now exist, plus 10 licensed goat dairy farms, according to the New Hampshire Department of Agriculture. Most are along the Connecticut River or in Grafton Country.