Milford School District, Manchester Community College to host STEM evening program
Oct. 25th event will join community partners, showcase approaches that increase student interest in STEM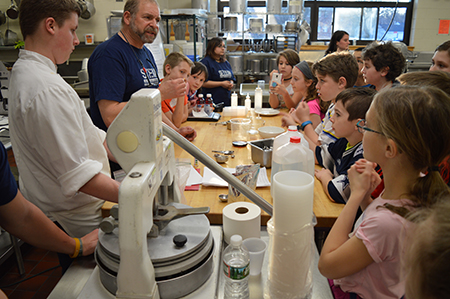 On Wednesday, Oct. 25, Manchester Community College will bring together dozens of community partners invested in helping students discover a love of science, technology, engineering and math at Milford High School. Running alongside the programming will be 16 STEM activities coordinated for an audience of over 300 students.
The STEM Evening Program will showcase the approaches that have helped the Milford School District increase girls' and young women's participation in science-based classes and activities. It will also outline the creative approaches, such as the Running Start student-to-student mentorship program that encourages younger non-traditional students to consider activities and careers in science, a field traditionally dominated by men. The event serves as a culmination of prior events organized for the Milford community.
"The STEM events at the Milford High School / Applied Technology Center have become true community happenings," said Don Jalbert, director of technical studies at Milford High School / Applied Technology Center. "We started small but the demand has forced us to expand. Students in the lower grades cannot wait to get to fourth grade with the opportunity to join in on the fun and learning. Our high school student leaders rise to levels of performance that make us all extremely proud to be associated with these events."
The first Milford STEM evening program helped boost female enrollment to Manchester Community College's STEM summer camp by as much as 80 percent in some courses, and the first six high school STEAM program (or Students Teaching Empowering Advocating Mentoring) participants are pursuing science-related disciplines in college. Overall enrollment in Milford High School's science classes for young women and non-traditional students is at 35 percent, up from 20 percent last year.
"The STEM nights and resulting programs have evolved over the past three years, each time involving more and more groups excited to be a part of what we were doing," said Frank M. Xydias, M.Ed, of MCC's Department of Advanced Technology, who helped launch the STEM nights initiative. "Since then, we've included education for parents to understand career pathways and college options available to their children while helping them find ways to have these conversations around the dinner table."
The events and resulting programs originally focused on connecting girls to engineering classes and careers, but expanded to include boys and students in younger grade levels as demand increased. Now, the school district has a committee and energized group of organizers centered around the events that bring together parents, teachers, and opportunities for their students to explore and excel in science-related pursuits. Three years after launching the STEM Evening Program, the district now offers a peer-to-peer mentorship program where high school students build confidence and reinforce concepts by teaching middle school and elementary age students about science and technology.
"The first class of students who attended our STEM night events and MCC summer camps are now in the high school program, serving as Running Start students and STEAM ambassadors," Xydias said. "We're making a difference in how these students think about themselves, their abilities, and what their futures could hold."
While the Running Start and STEAM Ambassadors programs are only open to Milford students, MCC and its community partners are enthusiastic about sharing their success stories and helping others implement programs that might solve similar challenges in other school districts. The state has a shortage of skilled workers to fill high-tech jobs, and the partnership forged between Milford schools and MCC is one way to address the current and looming workforce shortage.
Organizers expect an audience of 320 students and 16 activities, and a showcase of the school district's post-secondary education partners: MCC, Nashua Community College and Southern New Hampshire University. The New Hampshire Higher Education Assistance Foundation will host breakout sessions, and business and community partners from MCC's advanced manufacturing and robotics department will be on hand to answer questions for students and parents.
There is no cost to attend, and the event will be held from 5 to 8 p.m. in the Milford High School café, 100 West Street in Milford. To RSVP, or for more information, contact Diane Smith at dismith@milfordk12.org. To learn more about STEM-related programs at MCC, contact Frank Xydias at fxydias@ccsnh.edu or visit mccnh.edu.
Organizations involved in the Oct. 25th event include: Hitchiner Manufacturing Co., Inc.; Fidelity; ManufacturingStories; Institute of Electrical and Electronics Engineers (IEEE); Society of Women Engineers (SWE); Velcro; Manchester Community College; Nashua Community College; Keene State College; Coca Cola; Portsmouth Naval Shipyard; RH Murphy Incorporated; Spraying Systems Co.; New Hampshire Higher Education Assistance Foundation; and My-Turn Incorporated.
Other partners include Airmar Technology Corporation; Dell; New Hampshire Ball Bearings, Inc.; V&A Cleaning Systems, Inc.; Parker Hannifin Precision Fluidics Division; Society of Manufacturing Engineers (SME); UNH STEMbassadors; Alene Candles; Farm Design Inc.; Solidscape; Spincraft; MakeIt Labs; and Southern New Hampshire University.