Milford makes final preparations for ice-skating rink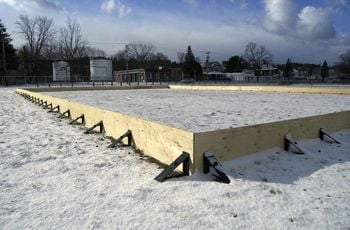 MILFORD – There are lots of odd perks to being a town recreation director, but this winter Kevin Tyska may encounter a new one: pushing a hand-held Zamboni.
"Since I can't skate, it might be interesting," he joked.
Tyska's frozen adventure will taken place on a 55- by 85-foot skating rink being built at Shepard Park on Nashua Street, the first public outdoor rink in Milford in several years.
"This is a small rink, for kids and Milford residents – no hockey," said Tyska.
The rink is built on a $2,800 kit from a Wisconsin company called NiceRink. It uses sideboards and brackets in the ground, with a liner to hold in the water.
"We've got the base in there for now and will get the rest in, as soon as we know the weather is right," Tyska said last week. "I hope to have it going before Christmas."
The rink's highly visible location on Shepard Park, next to busy Route 101A and near apartments and many homes, should make it popular.
Tyska already has thoughts of expanding next year – buying a second, larger rink that might be put on the Shepard Park's baseball field to accommodate hockey games – but knows that money is always a concern.
"We really want to try to do some things at Shepard – winter fest, games fest . . . but without raising taxes, what can we do to raise money?" he said.
The program plans to install concessions and sell space on the outfield wall at the high school field as moneymakers. A popular skating rink, drawing crowds to buy drinks and snacks, could help.
This week, in fact, Hitchiner Manufacturing Corp. said it would match donations, up to $500, toward the project.
"We want to support it in every way we can," Director of Administration Tim Sullivan said.
Tyska noted that the rink is a cooperative effort, with the Department of Public Works doing setup, the Fire Department providing a hose and local farmer Sean Trombly providing cheap hay bales as seating. With any luck, Tyska said, it will provide skating through at least March, well before the fields start being used by the local recreation association.
And what about that Zamboni?
Well, it's actually a two-handled "resurfacer" that is pushed over the ice while attached to a hose, putting down a fine layer of water to fill in gouges and skate marks.
Not quite as exciting as the machine that patrols the ice at Manchester Monarchs intermissions, perhaps, but it's a start.