Milford candlemaker to expand in Ohio
Key reasons for the move were $300,000 in tax credits from the Ohio Tax Credit Authority as well as local tax incentives from New Albany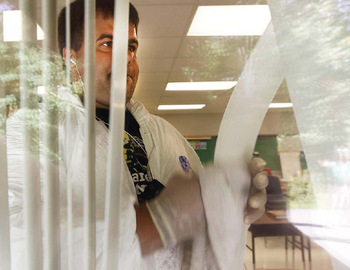 Alene Candles LLC, the Milford-based contract manufacturer of high-end candles and home fragrance products, has announced plans to expand and create several hundred new jobs — in Ohio, not New Hampshire. The company — which now employs about 125 full-time and more than 350 seasonal employees — considered expanding locally, but tax breaks, an eagerness to meet its Midwestern markets, and difficulty in finding enough seasonal labor during crunch time were all factors in the decision to open a new multimillion-dollar facility at its campus in the New Albany Business Park in New Albany, Ohio, outside Columbus, according to Rod Harl, Alene's president.
The 300,000-square-foot facility will employ 135 permanent workers and another 350 seasonal employees, according to a company press release.
The press release emphasized that the key reason for the move were $300,000 in tax credits from the Ohio Tax Credit Authority as well as local tax incentives from New Albany.
"Ohio's offer was very competitive," Harl said in the news release. "It was an offer we couldn't refuse."
"We couldn't compete with that," said Christopher Way, interim director of the New Hampshire Division of Economic Development. "It is just too difficult to match."
Way said that they had worked with Harl in previous expansions, so Harl was aware of what the state had to offer. But he said he was glad that Harl seemed committed to continue to be based in Milford.
Harl also said in his release that the industrial park is becoming an important supply chain hub within the beauty and personal products industry. Several leading companies that Alene Candles supplies now lease space there.But the major problem with the Granite State, Harl told NHBR, is that it is simply hard to hire enough workers, especially in southern New Hampshire.
"We were turning away business in 2011 because we were not able to attract enough workers during our peak season, the months in the last two quarters," Harl said. "We were soaking up the local market, and the driving radius was from further and further away. We could see that as a limiting factor."
Harl wouldn't say how many seasonal workers were employed in Milford in the past, but it was more than the 350 they plan to employ in New Hampshire this season. Over the next several years, he said, that seasonal work will move to Ohio as well, but the year-round workforce in New Hampshire will remain relatively stable.
Milford will continue to handle the "specialized and complex" work, he said.