Men mull the matter of gender in the workplace
On women's summit panel, male executives offer their views on diversity, inequality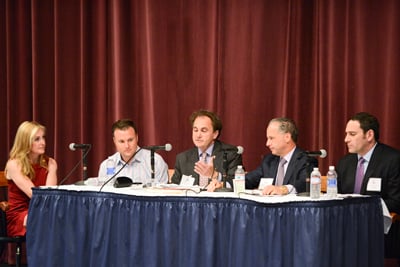 There was an unexpected sight at the New England Women's Leadership Institute's annual summit earlier this month: An all-male executive leadership panel discussion.
The panel aimed to discuss gender in the workplace, as well as ways that men and women can work together to reduce gender inequality. That's because, in general, neither individual men nor women are to blame for such inequality at work, says Annabel Beerel, Ph.D., NEWLI's president and CEO.
"It's not the men's fault, it's not the women's fault," she says. Rather, the problem is systemic and institutionalized. One needs only to take a look at the data: Women in New Hampshire are paid 78 cents to every dollar that men earn, according to the U.S. Census Bureau, and women hold just 4.8 percent of Fortune 500 CEO positions. This means work to reduce these inequalities should occur at the company level and higher.
"The idea was really to see if we can get some insight for how women can partner with men to deal with this systemic problem of inequality," Beerel said of the men's panel discussion.
Although the panelists acknowledged the need for more women in top executive positions and urged women to be more assertive at work, they largely didn't discuss specific, company-wide strategies or initiatives for achieving gender equity, either at their own companies or in general.
"Tech, generally as an industry, is traditionally not one that's performed well in terms of gender diversity," said panelist Gray Chynoweth, chief operating officer of Dyn, a Manchester-based Internet performance company, and data shows that he's correct.
A 2012 study by the Women in Global Science & Technology and the Organization for Women in Science for the Developing World found that numbers of women in the science, technology and innovation fields are "alarmingly low" in the world's leading economies, and on the decline in others, including the United States.
For instance, according to its website, Dyn's executive and senior leadership teams consist of 17 men and three women. But Chynoweth said the lack of gender diversity is something that the company has been working on improving for the past two years, so far increasing the number of female employees at Dyn by 40 percent. He said that simply recognizing that there's a problem isn't enough.
"Move from talk to action," he said. "We've got a poster on the wall, but it doesn't really mean that much when it comes to action."
'Perennial problem'
Tech isn't the only industry that's working on improving gender diversity. According to panelist Aaron Green, founder and president of Boston-based Professional Staffing Group, increasing gender diversity is a top-of-mind issue for many of the business leaders his firm works with.
"We also do a lot of work helping our clients diversify their leadership base," Green said. "There is not a single company … that says we've got plenty of talent. That's not how companies think."
Panelist Carl Famiglietti, managing partner of the Tewksbury, Mass.-based accounting and consulting firm Moody, Famiglietti & Andronico, said that improving diversity can also improve business outcomes.
After all, when companies overlook women as leaders, they're also overlooking a huge talent pool. Or as Warren Buffett once said, he was successful because he was only competing with half of the population.
"More than half of my colleagues are female," Famiglietti said. "The more diversity you actually have on campus, the more apt you are to have more insights and interchange of knowledge."
Green added that once companies find talented female employees, they need to work to retain them.
"Once you're a contributor … they need to keep you at that company," he said.
But how to retain women? Although the panelists didn't touch on topics such as how companies could help employees achieve work-life balance or how they're working to develop female leaders, they did discuss the wage gap, which panelist Famiglietti called a "perennial problem."
"It's a misappropriation of value. And the misappropriation of value is problematic," he said. "There's a lot of norms in business that need to be broken."
Breaking those norms starts with a company's current executive leadership, said Tom Raffio, president and CEO of Concord-based Northeast Delta Dental.
"I believe it actually starts with that tone at the top," he said.
With that in mind, Raffio added that the way companies like his are structured and managed — with a focus on governing via consensus-building and teamwork, rather than with top-down directives — can actually be conducive to what he believes is typical of women's leadership style. He says it's also conducive to business success.
"The best companies, to me, have this type of more consensus-building leadership style," Raffio said in an interview after the summit. That style is "less autocratic, more thoughtful," he said.
'The confidence gap'
Although not all women lead via consensus-building, some researchers, such as Northwestern University professor Alice H. Eagly, take Raffio's assertions about leadership styles a step further.
She suggests that "transformational leadership," a leadership style that involves inspiring employees, acting as a role model, and improving motivation and morale, is best for companies, and that women tend to be better at it.
Although the panelists offered few specific ways that companies and male executives could take action to improve women's leadership opportunities, they did offer women some advice: Ask for more raises and take more risks.
Both Raffio and Green pointed to "The Confidence Gap," an article in The Atlantic magazine that cited research showing "that men initiate salary negotiations four times as often as women do, and that when women do negotiate, they ask for 30 percent less money than men do."
Chynoweth added that other research shows that women change jobs less frequently, and therefore have fewer opportunities to get the pay jumps that might come with a job change.
"I think it relates to that confidence, risk-taking, [being] willing to put yourself out there," he said. "Maybe you do need to change jobs. It's going to take risks to take that reward."
Asking for raises is a step in the right direction, but research shows it's not the only explanation for the gender pay gap.
For instance, one 2013 study from the National Bureau of Economic Research found that "when there is no explicit statement that wages are negotiable, men are more likely to negotiate than women. However, when we explicitly mention the possibility that wages are negotiable, this difference disappears, and even tends to reverse."
And according to a November TribeHR Pay Rise Index, women actually get more raises, but the raises men get tend to be bigger.
The panelists also acknowledged the problem of women being viewed as too assertive.
Chynoweth said calling an assertive woman "pushy" can be a code word that indicates gender bias, even if it's an unconscious one.
"People don't want to believe that they're biased, and that's why they're using code words to begin with," he said.
That's why it's important for companies to have both written policies to ensure things like pay equity, as well as managers who actually follow those policies, Raffio said.
"It's a complex issue," he said. "It requires companies to have the right policies and also walk the talk."