Men at work: The Rumney Sawmill
Logging business employees are a special breed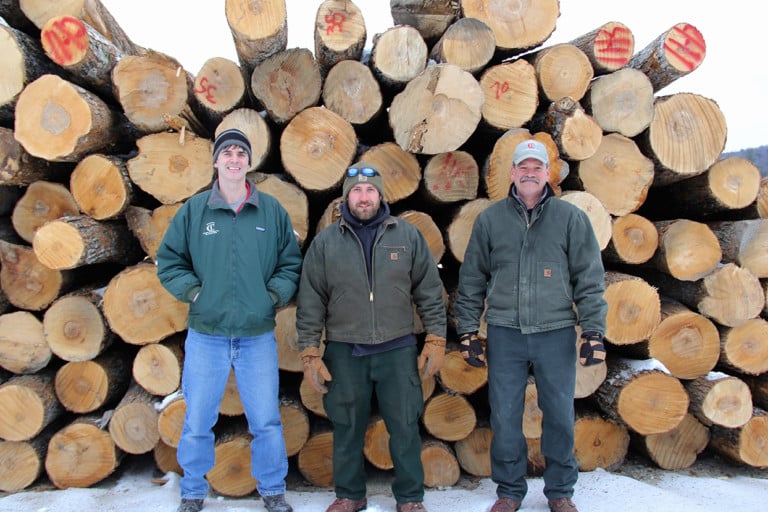 "I never planned to do this kind of work. My father used to log, and I remember when I was a teenager, we'd go snowmobiling. And he'd say, 'Ok Jim, what kind of tree is that, and how about that one over there?' And I thought, 'I don't know and I don't care, since I'm never going to have anything to do with this!'"
At these words, Jim Brown gives a big grin.
Jim Brown manages the Rumney Sawmill in Rumney, N.H., for Cersosimo Lumber Company, a family-run business headquartered in Brattleboro, Vt.
"I started at the mill around 32 years ago. It's been so long that I have to stop and think about it now," he says. "I'm from the area, and I love it here. I grew up in sight of it."
The mill employs 19 people, all of them men. For over 25 years, Brown has been the supervisor.
"A lot of the guys stay. For a sawmill, we have a high seniority rate. There is some turnover because it's so physically demanding, but most of the guys like it because it's close to home."
It's not easy working outside in all kinds of weather, as each season brings its own set of challenges.
Is one better than another? "It's up to the individual," says Brown. "I'd rather have a day like this (0 degrees) than a day of 90. I'm kind of a bear, and I feel more comfortable in this weather. You have to dress in layers. With the heat, you have to stay hydrated. And the sun beats down on you. It just depends on the person."
A day at the mill begins at 6:30 a.m. and ends at 3:30 p.m. The majority of timber comes in from a 50-mile radius, with 80 to 90 percent of it hardwood. The mill works with all types of vendors, from guys that bring in logs on a small utility trailer to others that use big mechanized crews.
Logging is a big deal in this part of the state. Years ago, almost everyone spent some time in the logging business. The Rumney Mill, which started because of its closeness to the national forest, produces products that go to both domestic and foreign markets.
"I like what I do," says Brown. "I enjoy working outside. There are a lot of good people in this business. We're honest to a fault here, and that's the way I want my place to run."
And with that, he gets ready to head back out into the cold.
See more photos