Meet the Republican gubernatorial candidates
Edelblut, Gatsas, Forrester, Sununu have varied business experience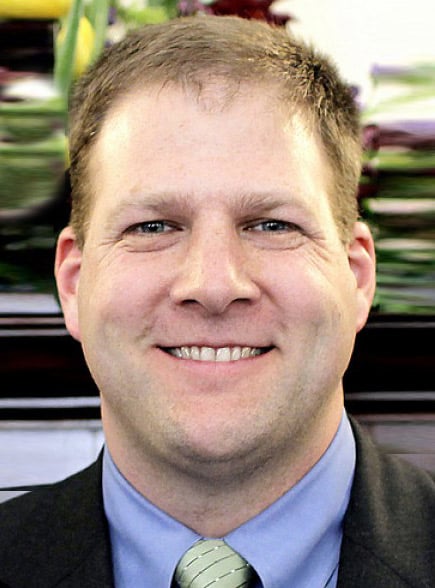 A founder of an employee leasing company that was eventually sold for $40 million. Another founder of an auditing firm bought by a huge French engineering company. The man who runs Waterville Valley. A woman who helped run her family business and headed the effort to rejuvenate Main Street in Meredith.
The four Republicans running for governor have extensive business experience, and all are running on it. So here is a chance to compare the candidates' history in business and their positions on business-related issues.
We dealt with the business records of the three Democratic gubernatorial candidates last issue. This issue, we examine, in alphabetical order, the Republicans: Frank Edelblut, Jeanie Forrester, Ted Gatsas and Chris Sununu.
Related: Meet your Democratic gubernatorial candidates
---
Frank Edelblut​
Edelblut's Positions

Decrease business taxes further than the current legislation

Make mastery of skills, not time spent in school, the main purpose of public education

Allow health insurers to more heavily rely on health risk factors to determine small group premium rates

Eliminate last vestiges of Certification of Need board: allow inpatient facilities within 15 miles of critical care hospitals
Frank Edelblut, a one-term state representative from Wilton, may be new to politics, but he's a veteran of the business world. With a bachelor's degree in accounting from the University of Rhode Island, Edelblut worked for seven years as a CPA for PricewaterhouseCoopers during most of the 1980s in South Florida.
"It was a great experience, auditing Fortune 500, 100, 2000-type of companies around the world, digging into finances, working on mergers and acquisitions, learning how to root out fraud, finding operational efficiency opportunities, streamlining performance for shareholder value. I love that work," Edelblut told NH Business Review.
He said that he was being groomed for a partnership position but wanted to do something different by his late 20s and landed a job as chief financial officer of Niagara Corp., one of PwC's clients. The Florida firm specializes in home therapy equipment, such as adjustable beds. He worked there for a year, but the company was not able to maintain Nasdaq trading standards. (Edelblut left before the company filed for Chapter 11 bankruptcy reorganization in 1992.)
In 1991, Edelblut founded Control Solutions International, a firm that provided internal auditing services to corporations. Born in South Florida, the firm moved to Nashua in 1999 "because it was two miles over the tax border," Edelblut said.
Brian Cottle, now director of information technology at Standex International in Salem, joined the company when it had about a dozen employees. But it soon opened an office in Chicago and was handling clients around the world, among them Qualcomm and Walgreens.
"He was tough to keep up with," said Cottle of Edelblut. "He expected a lot from you, but he was very fair. He was a kind of a visionary. He saw the need for outsourcing internal auditing as regulations increased."
They really increased after passage of the Sarbanes-Oxley Act of 2002. "That was a great driver of the business," said Edelblut. "And we broadened it to include any regulatory compliance."
"It was growing so fast," said Cottle. "Every Christmas party, I'd been meeting all these fresh faces. Is this the company I work for?"
By 2009, when Edelblut sold the firm to Altran, a French engineering firm, it had 800 employees worldwide. (Altran later sold the company back to the employees still working there in 2011. It is still headquartered in Nashua.)
Edelblut won't say how much he got in the sale, but it was substantial enough for him to start becoming an investor in other companies. He first did this in 2009, as a member of a Boston-based group called CommonAngels (now Converge Venture Partners), but by 2013 he went out on his own.
There are 13 companies in his portfolio, he said, among them: Marxent, a virtual reality app developer in Ohio; Powerhouse Dynamics of Newton, Mass., which helps companies identify and eliminate wasteful energy usage; and PureCars, an Atlanta company that provides digital advertising marketing services to car dealerships around the country. The latter was sold to Raycom Media in October 2015 for $125 million.
Edelblut, who was elected to the New Hampshire Legislature in 2014, he has dived into utility issues such as the divestiture of Eversource's New Hampshire power generation assets. That deal "could have an enormous effect on business," he said, because high electricity costs are "driving all the good-paying jobs away. Manufacturing jobs are highly sensitive to the cost of electricity."
He said he supported the final deal because it wasn't "punitive to large power users."
Perhaps his biggest impact was House Bill 1116, a bill he sponsored that increased the cap on net metering, a cap that he said was "stifling" the solar industry. He called it a "stopgap" measure.
He was also an advocate of increasing the state's so-called Section 179 deduction that businesses can take on the purchase of major equipment. But the final increase, he said, was not as high as he would have liked.
Of course, those were major issues that lots of lawmakers worked on. When asked if he could point to something that was just his work, he said: "That's not how the legislative process works. If you've got something that is just you, you aren't doing your job."
---
Ted Gatsas​
Gatsas's Positions
End the Business Enterprise Tax practice of taxing businesses and startups that don't turn a profit

Transform the Division of Economic Development into a public/private agency model

Create a one-stop shop for permitting and licensing

Establish 'Governor's Granite Growth Regional Economic Advisory Panels' as regional chambers of commerce
Ted Gatsas sold a staffing company he co-founded for about $40 million. He bet some of that on starting a small racing syndicate, and now he is betting that his business background will help him make the leap from the mayor's office at Manchester City Hall to the corner office at the State House.
Gatsas may not have the specialized business education of his Republican rivals — he graduated with a bachelor of science degree from the University of New Hampshire in 1973. After a number of years in real estate, he and his brother Michael co-founded the Staffing Network in 1988 with just three employees. Gatsas was the salesperson, while his brother handled the internal operations.
"We took their employees and leased them back to them," he told NH Business Review. That way the company would not have to worry about all the payroll deductions and government regulations. The employee leasing trend started on the West Coast, he said, "and we saw an opportunity to bring it to New England."
"They were the forerunners of employee leasing," said Ralph Daniels, the owner of Daniels Equipment in Auburn, one of the Staffing Company's initial clients and a customer for the next decade. Ted Gatsas, he said, "was quite a salesman."
But it was more than just payroll services. "His strength was in helping us develop a sound business plan," said Daniels. "We tripled our sales during that period."
Staffing Network's growth was even greater. By the time it was sold to Vincam Group, a Florida payroll company that then merged into ADP Payroll in 1999, the Staffing Network had more than 500 clients and 5,000 in-house employees.
The Gatsas brothers were paid primarily in stock, but Gatsas estimates that the deal was worth $40 million, which appears to be in the ballpark, given some federal financial filings at the time.
Gatsas doesn't see it as a windfall, but a reward for "a lot of hard work."
With some of the money, the Gatsas brothers went to the races in 1998, forming Gatsas Thoroughbreds LLC, a syndicate that sold shares in race horses to other investors. The firm later was reformed as Sovereign Stable and is headed by Gatsas' nephew, Matt.
Starting the company wasn't so much a business deal, Gatsas said. "It was for the passion of the sport, the enjoyment."
But it paid off financially as well. According to Equibase, a database company that tracks horse racing data and statistics, in 358 starts at Suffolk Downs in Boston between 2000 and 2008, the company's horses had 56 first-place finishes, and came in second and third 96 times. Total take was some $2.8 million.
At Belmont Park in New York, the Gatsas horses earned $1.95 million in 272 starts between 2000 and 2011, with 46 first-place finishes and 85 runners-up.
Gatsas also became involved in another kind of racing — politics. He ran for the NH Senate in 2000 and rose to become Senate president in 2005 after cutting a deal mid-term to remove Tom Eaton from the role. He was Senate minority leader after the Democrats took control in 2006.
Gatsas thought of himself as very pro-business during those years. Among his accomplishments, he said, was freezing electric rates for the first few years, and requiring that Eversource — PSNH at the time — put a scrubber on the Bow coal-burning plant, enabling it to stay open. As it turned out, Eversource is divesting the plant, leaving ratepayers on the hook for a scrubber that ended up costing more than $400 million. Gatsas said he is hoping that the plant remains open.
As Manchester mayor, Gatsas pointed to several measures to help keep taxes down – instituting health savings accounts and installing LED lighting. He also points to making government more consumer-friendly: making sure they get a person, not a recording, when calling the city and instituting some night hours for those who can't get to City Hall during business hours.
Manchester developer Dick Anagnost calls Gatsas a "cheerleader for business. You'll see him at every business event." Gatsas goes out of his way to make it easier for someone to get all their paperwork in order, and Anagnost said he is particularly glad Gatsas is helping groups open up treatment centers to respond to the opioid crisis, which not only costs lives "but cost businesses a lot of productivity."
---
Jeanie Forrester
Forrester's Positions
Use 25 percent of budget surplus to reduce taxes or attract new businesses

Create "Sell New Hampshire!", a promotional group made up of state and business leaders
reaching out to business owners in other states to move here

Defer the statewide portion of property tax payments for businesses that make capital improvements

Reform business taxes, including the Interest and Dividends Tax, to make angel investing more attractive
When Jeanie Forrester became head of the Senate Finance Committee in 2014, it was not just a political choice. She does, after all, have an MBA from The Whittemore School of Business and Economics (now Paul College) at the University of New Hampshire. But her business experience has been mainly in the public and nonprofit sector, except when it comes to her own family.
Forrester is the CEO and co-owner of Forrester Environmental Services Inc., an environmental services company she runs with her husband Keith. The company, which provides heavy metal stabilization technologies to clean up contaminated sites, has no employees, outsourcing the technology to sub-contractors.
"I do mostly the administrative job — marketing, website, invoicing, bills," she said. "My husband handles the civil engineering side."
But in the last six years, since she was elected to the Senate, Forrester has done "virtually very little" of that for the firm, although she does sometimes go to trade shows, marketing their latest product, which helps with the removal of lead paint.
Forrester was not able to discuss a long and involved patent suit filed by her husband against Wheelabrator Technologies. Filed in 2010, it involved that technology, and "we ultimately won," she said.
That doesn't mean that Forrester hasn't run things. A former aide to then-Gov. John Sununu, who is the father of one of her opponents, she was town administrator in Tuftonboro and New Durham. But, perhaps her seven years with the Main Street program brought her into contact with the most businesses.
Main Street programs, which are active in several New Hampshire municipalities, aim to re-energize downtowns through economic development and community revitalization.
Forrester headed Main Street Plymouth from 2002 to 2004, where she said her biggest accomplishment was working on getting a roundabout in town, which she said helped promote more economic activity.
Rusty McLear, the owner of Mills Falls in Meredith, liked what he heard, and said he wanted to bring Forrester, a neighbor, back to her hometown. That's what happened in 2004.
"She is sophisticated financially," he said. "She knows a balance sheet and a P&L [profit and loss statement], but most importantly, she has a great trait of spending as much time with the small mom-and-pop as with larger businesses, like mine."
McLear credits Forrester with helping bring the public walkway along Lake Winnipesaukee, which has become a huge amenity for local businesses, including his own.
Forrester likes to point to her role in bringing an Olympia Sports store to Route 25. "We identified some of the needs in the community, and one of them was a sporting goods store," she said.
Forrester left her Main Street role to run for the Senate in 2010, just beating out the more conservative Fran Wendleboe in the Republican primary. She has tended to take a back seat on most business-related legislation. Senate Majority Leader Jeb Bradley, R-Wolfeboro, usually takes on most of those bills that have become law over the past few years, but she was the prime sponsor of two key measures involving the state Site Evaluation Committee and another that established procedures for the implementation of Phase 2 of the Medicaid managed care program.
She also chaired the Finance Committee when the Senate voted to reduce the Business Profits Tax and Business Enterprise Tax rates, as well as when it passed the increase in the Section 179 capital equipment deduction.
---
Chris Sununu
Sununu's Positions
Reorganize Division of Economic Development to report directly to the Governor and Executive Council

Enact a 90-day moratorium on any new rules and regulations followed by a rigorous economic impact analysis to implement

Meet with 100 companies throughout the region in 100 days to invite them to do business in New Hampshire

Allow health insurers to sell policies across state lines, reduce mandates that drive up costs
Chris Sununu comes from an engineering background, but he is the only current gubernatorial candidate who is actively running his own business.
A 1998 graduate of MIT, Sununu spent a decade working for a variety of environmental engineering firms, tackling remediation of Superfund sites as well as smaller commercial properties.
"He was a very talented guy, selected to work on the most challenging projects," recalls Jason Wilkinson, who worked with Sununu at LFR Inc., and is now a senior manager with another Massachusetts environmental consulting firm. "I was surprised he wanted to do something different."
That something was to join the family business, Sununu Enterprises, from 2006 to 2010.
Sununu already had a penchant for real estate. As an engineer he would occasionally "get his clients a good piece of property at a discounted site" and then help with the environmental cleanup, Sununu told NH Business Review.
So when he joined his brothers Michael and James at their Exeter office, he specialized on "real estate deals all over the East Coast."
Sununu Enterprises also invested in Purpose Energy, a Massachusetts firm that claims to get rid of organic waste through reactors filled with methane breathing microbes, then burn off the gas to produce energy.
Purpose put the technology to a test at the Magic Hat brewery south of Burlington, Vt., where it reduced daily waste productions from 600 pounds to 10, enabling the brewery to nearly double the amount of beer produced.
Sununu was "brilliant" for understanding the technology and seeing its potential, said Eric Fitch, CEO of Purpose and a MIT classmate of Sununu.
By 2010, Sununu Enterprises and a group of investors bought Waterville Valley Resort. (Sununu wouldn't disclose any financial information. "We keep all that close to the vest," he said.)
They bought the entire resort — the ski area, town square and the conference center, but not the land, as that is leased from the White Mountain National Forest. The future gubernatorial candidate became CEO of a resort that now employs about 800 people.
It hasn't always been easy, Sununu said. Working with the U.S. Forest Service makes things complicated, and the weather hasn't exactly cooperated either, with both the damage wreaked by Hurricane Irene in 2012 and low snowfalls in the winters of 2011-12, 2012-13 and last year, the worst of all.
But, Sununu said, "We invested millions of dollars," in the "bones of the business" -— repairing ski lifts, upgrading trails and improving snowmaking equipment. One company release said that the company invested about $750,000 in the latter from 2010 to 2015.
Sununu is pushing ahead with plans to add new trails, the first in over 35 years. "You have to think long term," he said.
Nevertheless, the resort has lost market share, according to Mike Krongel, a Massachusetts ski broker and consultant.
But, Krongel added, the Sununus "picked up Waterville Valley at a rough time."
"The place needs a turnaround, and is in the middle of that turnaround," said Krongel.
Like many new to the ski industry, Sununu was "surprised at how much it cost." But he was a quick learner, said Krongel. "He was always willing to listen to what I and others had to say, even though he didn't implement it," both due to capital constraints and personnel turnover. "He has only been at it for five years."
During that period, Sununu has had a few other things on his mind.
Shortly after taking over Waterville Valley, Sununu, a resident of Newfields, was elected executive councilor from District 3. He said his chief accomplishments there were a 10-year transportation plan without any "frivolous projects," such as using highway funds to promote commuter rail, approval to implement a managed care program to control Medicaid costs and his defeat of a solar project in Manchester, as opposed to "good renewable" projects.
He is disappointed, he said, of having failed to prevent an amendment relating to the $292 million expanded Medicaid contract from passing. His objection was because of the process — he said he was not given enough time to read the contract thoroughly.
"My efforts have been to focus on priorities, not Democratic feel-good projects," he said.