Marjorie Thorpe of Adaptive Communications
2014 Financial Executive of the Year winner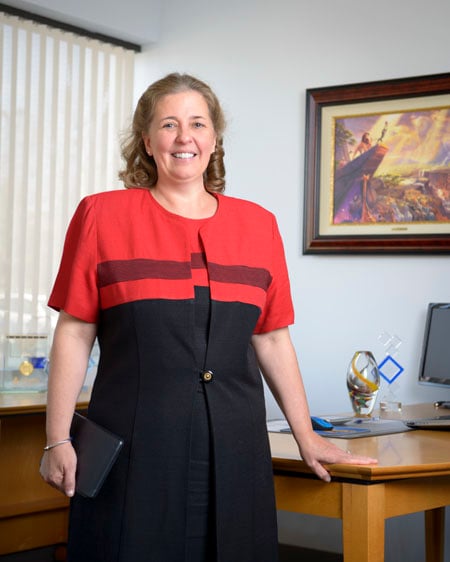 It's not every financial executive who starts out her career as a schoolteacher, but that was the career trajectory that Marjorie Thorpe followed.
Thorpe was working as a preschool teacher in late 1997 when her husband, Steve, decided to start up Adaptive Communications out of their home.
The Portsmouth company is a value-added reseller, designer and installer of enterprise data networking, enterprise storage and information security solutions.
In the early days, Thorpe continued teaching while helping Steve by running the operational side of the business – answering the phones, balancing the checkbook, and managing the payroll and benefits.
Going from teacher to running a business was a big leap, but as a teacher, Thorpe knew the value of a continuing education. She became a sponge, researching anything she didn't know, attending seminars, and listening to experts who could offer information on how to run a successful business.
Two years later, she left teaching to jump into the company full time, but many of her teaching skills still carry over to her work today as Adaptive's vice president of finance.
For example, Adaptive sometimes has trouble recruiting qualified workers. To help train future workers, Thorpe recently established an internship program with the University of New Hampshire. Interns will have daily responsibilities, but they will also be able to design their own projects to present to executives at the end of their internships – an invaluable experience for a person early in their career.
A believer in open communication, Thorpe implemented quarterly check-ins, where each employee on the operations team has a chance to talk one-on-one with her to discuss any of their concerns or ideas. It was during a check-in that she realized the amount of time wasted trying to find paperwork associated with past orders, so, working with her team, Thorpe decided to make the entire Adaptive purchasing system paperless – and much more efficient in the process.
Thorpe's work in balancing the books has certainly paid off. In the 16 years Adaptive has been in business, it has grown into a company that is on pace to reach $70 million in sales this year.
A mother of three, Thorpe also believes in sharing some of that success with the community. She has organized fundraisers for Cross Roads House, a Portsmouth homeless shelter, Toys for Tots, and local law enforcement agencies.
Of Thorpe, her nominator Jill Seward wrote that Thorpe's "unwavering commitment to Adaptive in every way is a huge reason why Adaptive has been so successful."
Q. What has been your proudest accomplishment during your career?
A. Growing this internship program has certainly been one of them. For my husband and I both, one of the things we love to do is to develop young professionals in their careers – to take good people and get them where they want to go.
Also, when I started out, it was just me. It was always a struggle with what programs to use, what processes and policies to put in place. I now have a team of eight people, and I wouldn't be where I am without them. They are all exceptional workers who have created a strong department. That's one of my biggest accomplishments.
Q. What have been some of the biggest professional challenges you've faced in your career?
A. Growth is probably the biggest challenge, because the company has grown quite a bit. There were the three of us when we started, and we now have 45 employees. We're a very close community. We really have a team concept here and it's almost like a second family, so another challenge is keeping that feeling. Sometimes as they grow, a lot of companies will lose that feeling, and we don't ever want to lose that.
Q. What are your hobbies and personal interests?
A. I just love spending time with my family. We all love going to Lake Winnipesaukee as a family. We have a house in Tuftonboro, on the east side of the lake. And my daughter and I love doing craft projects. My mom had a dollhouse store for many years and loved to build miniature dollhouses, and she still does, so many times we will build dollhouses and donate them to charities.
Q. What are some of the challenges and opportunities that you see on the horizon for Adaptive?
A. For Adaptive, one of the challenges as the company grows is knowing when to break out a department – knowing when to say, 'I can't do this anymore.' The other big thing is jumping into different states because every state is so different.
Then you have the product line changes. Every few years, new products and new companies come into play in the technology world, and you have to try to figure out how to embrace those new technologies. Those are all challenges, but they're opportunities too; they all arise because we're growing.