March event will highlight regional, national impact of ARMI
New England groups will assemble to discuss regenerative medicine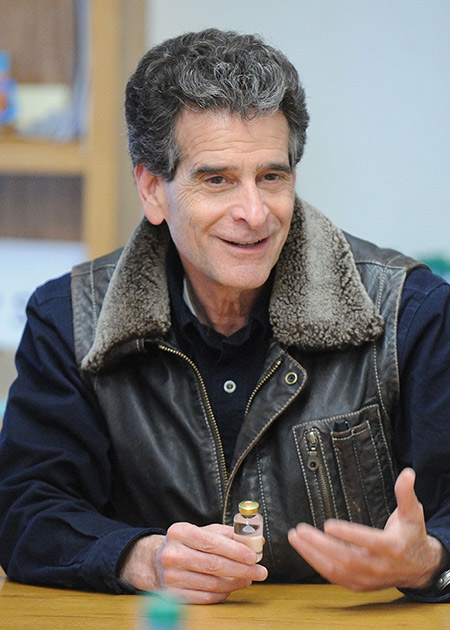 In collaboration with the Massachusetts Biotechnology Council and North Shore Technology Council, New Hampshire's Biotech/MedTech Cluster, an initiative of the New Hampshire High Tech Council, will host a regional gathering on Tuesday, March 13 to discuss regenerative medicine and the opportunities it will bring to New England and the nation.
The event, held at the newly-opened Advanced Regenerative Manufacturing Institute, also referred to as ARMI, will take place from 5:30 to 8 p.m. in the DEKA Auditorium at 400 Commerical Street.
Dean Kamen, president of DEKA Research and Development and acting executive director of ARMI/BioFabUSA, will be the keynote speaker. It was the U.S. Department of Defense, through previous work experience with DEKA, that encouraged Kamen to apply for the grant that located ARMI in the Manchester Millyard. Kamen is guiding ARMI in its mission of making practical the large-scale manufacturing of engineered tissues and tissue-related technologies, to benefit existing industries and grow new ones.
Kamen will also be joined by speakers including Gray Chynoweth, chief membership officer and deputy chief operating officer at ARMI/BioFabUSA, and ARMI's Chief Technology Officer, Dr. Thomas Bollenbach.
"When ARMI/BioFabUSA officially launched in July of 2017, it sparked a great deal of interest and enthusiasm across the healthcare and life sciences sector not only in New Hampshire, but across New England and the nation as a whole," said Cindy Conde, chair of the BioTech/MedTech Cluster. "The March event will shed some light on the possibilities for organizations across the industry to collaborate and potentially play an integral role in the advancement of regenerative manufacturing."
The NH High Tech Council is a member of ARMI and will be working closely with the organization to help this significant initiative reach its goal of becoming the nation's leading research center on regenerative tissue manufacturing.
"BioFabUSA will build the coalition of industry, academia and government that I hope will bridge the gap between the laboratory and reality, and will enable the next big advance in healthcare," said Dean Kamen, executive director of ARMI/BioFabUSA.
"The potential impact the biofabrication of cells and tissues have to address unmet medical needs and eventually cure disease is huge – for both patients and the life sciences industry," said Robert K. Coughlin, president and CEO of the Massachusetts Biotechnology Council. "MassBio is proud to be a partner at this event and to witness the incredible collaboration going on between key stakeholders to make this science a reality."
Registration is available online for the March 13 event or by phone at 603.935.8951. Tickets are $15 for Council members, $25 for not-yet-members and $10 for students.
Sponsors for the ARMI/BioFabUSA event are ARMI, ThermoFisher Scientific, Sunrise Labs, Inc., Superior Controls, Inc. and Bernstein Shur.