Manufactured exports fuel strong job creation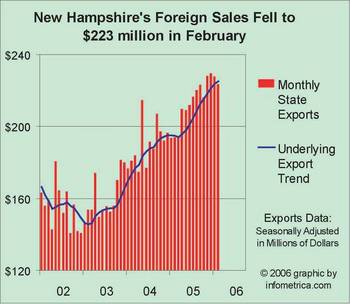 Recent data about international economic conditions certainly paints a cheerful picture for exporters in New Hampshire. In all parts of the globe — Europe, Latin America, north of the border and Asia — business activity continues to be strong and most economies enjoy solid gains in comparison to a year ago.
The demand for goods made in the United States hit seven all-time record levels in the last 12 months, fueling the generation of export-related jobs across the country. American businesses produced 2.1 million new jobs over the past year, and the gains pushed the unemployment rate down to 4.7 percent, the lowest reading in nearly four years. In February, employers in New Hampshire added 7,000 new jobs, in comparison to the same month last year.
Improved economic conditions abroad result in higher foreign incomes, which are the key driver of the demand for exports. Simply put, a booming global economy increases the appetite of foreign businesses and consumers for goods made in New Hampshire generating new export-related jobs in the state.
Exports of goods made in the Granite State fell by 1.9 percent in February to $223.4 million, adjusted for seasonal variation, a statistical process that smoothes monthly performance for factors such as the number of days in a month and holidays. Despite February's decline New Hampshire's exports hit the fourth-highest level on record, led by gains in foreign sales of manufactured goods.
In comparison to a year ago, New Hampshire exporters posted gains in selling their products abroad this February, selling $29.6 million, or 15.3 percent, more goods than in February 2005.
February's performance was fueled by trade in manufactured goods, which accounted for 81 percent of all state exports. Shipments abroad from New Hampshire factories climbed in February by 2 percent from the previous month to $181.9 million, adjusted for seasonal variation.
In February, 11,000 manufacturing jobs were directly related to exports from New Hampshire. These jobs were in state manufacturing plants producing the final goods shipped abroad.
In addition, there were 7,000 state manufacturing jobs indirectly related to the manufacture of final exports. Those workers manufacture the materials needed for the production of the final exported goods.
As a result, the total number of manufacturing jobs tied to exports of manufactured products in New Hampshire was 18,000. A year ago, 17,000 state jobs were tied to exports.
New Hampshire factory jobs linked to exports of manufactured goods accounted for 23 percent of all manufacturing jobs in February, placing New Hampshire 22nd in the generation of export-related jobs in manufacturing industries among the 50 states.
Exports of non-manufactured goods fell 16 percent in February to $41.5 million, adjusted for seasonal variation. This group of shipments abroad consists of agricultural goods, mining products and re-exports, which are foreign goods that entered the state as imports and are exported in substantially the same condition as when imported.
For the country as a whole, U.S. exports of goods, seasonally adjusted, pulled back by 1.4 percent in February to $80.5 billion after three straight months of record levels. February's export figures reflected declines in foreign shipments of computers, industrial machinery and agricultural goods while sales of civilian aircraft rose.
In the recent update of its global economic outlook released last month, Organization for Economic Cooperation and Development predicts solid growth for its members, the club of the thirty richest nations, against a global background of high and volatile energy prices.
The research organization forecasts 2.9 percent economic growth in both 2006 and 2007. Most important, the OECD predicts world trade will grow by 9.1 percent in 2006 and 9.2 percent in 2007. These growth rates are nearly three times faster than the rate of overall economic growth, implying good export opportunities for American companies doing business abroad.
Driven by foreign demand, production activity at the state level is expected to rise and, as a result, more export-related jobs will be generated over the next two years.
Evangelos Simos, chief economist of the consulting and research firm Infometrica Inc., is editor for International Affairs in the Journal of Business Forecasting, and professor/department chair at the Whittemore School of Business & Economics, University of New Hampshire. Distributed by Infometrica Inc. He may be reached at eosimos@infometrica.com.