Manchester startup makes custom guitars for the masses
The software 'allows the little guys to compete with the big guys'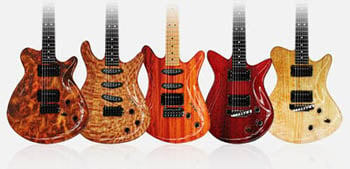 A Manchester startup that aims to mass produce highly customizable guitars has turned to Kickstarter to help get its idea off the ground.
Orphanage Guitars are custom, carved-top electric guitars that consumers can design and shape to their specifications. The Kickstarter project, which ends Friday, set out to raise $53,000 to purchase a larger-scale CNC machine, high-quality woods to make the guitars, and help with other startup costs to get the company off the ground.
"We're redefining the buying experience for a custom guitar," said Matt Harris, a Bow resident who launched the project with his brother, Jonathon, a web developer.
Normally, requisitioning a custom guitar means tracking down a luthier – which can be a process in and of itself – "and it takes a very long time, because there are so many options," said Harris. "The luthier then goes off and spends several months and thousands of dollars with a guitar that is hopefully what you wanted. What we're trying to do is streamline the process."
'We can make it'
Harris has product design chops as a co-founder of Redpoint Studios, an industrial design and engineering company located in the Manchester millyard. One of Redpoint's best-known products is the Ripsurfer X – a mounted indoor surfboard that simulates the workout achieved when surfing – which it designed for SurfSET Fitness. The product and its founders were featured on an episode of Shark Tank (where they raised $300,000).
Redpoint uses a lot of Autodesk software, so when Autodesk launched a new product – called Fusion 360 – it needed an interesting project that it could use to demonstrate the power of the software. So it ended up filming a digital documentary on the making of the customized guitars, an idea that Harris had been kicking around in his head as a possible side project for a while.
How the Orphanage Guitars process works is this: a customer designs and shapes their own guitar body, of which a 3-D drawing is made and sent back to them so they can see it digitally from all angles. They get to select the wood and finish to be used, spec the hardware and electronics and get the guitar when it's done anywhere from a couple weeks to six weeks later.
The custom guitars cost about $3,000.
"Really, if they can draw it, we can make it," he said.
Orphanage Guitars aims to take advantage of the trend of mass customization, "the ability to have a highly customized product and compete with high-production products," said Harris. Mass customization has already taken hold of the service industry, as an increasing number of restaurants – think Chipotle or Subway – offer limited menus from which customers can customize their own order (and the companies still benefit from the advantages of buying in bulk).
If the Kickstarter project doesn't reach its funding goal – which seemed the likely outcome on Thursday afternoon, when it just north of $18,000 had been raised – the brothers still plan to forge ahead with growing the company. They have all the equipment to make the guitars as is, but the Kickstarter funds were earmarked for machinery upgrades.
"Honestly, we weren't 100 percent sure we were going to get funded," said Harris, who previously worked at DEKA. The biggest problem they've encountered is getting people to spend such a large sum on something they haven't actually seen or heard, he said, an obstacle he hopes can be overcome through word of mouth.
What's remarkable about the software, said Harris, is its ability to bring technologies to small businesses that were once only available to much larger ones, which, when given the low markups on electric guitars thanks to overseas manufacturing, is a good thing for the brothers.
"That's another cool thing about the whole idea, using technologies that were once only attainable by large companies, but now all these tools become much cheaper so the smaller businesses can afford them," said Harris. "What it does, it allows the little guys to compete with the big guys."