Manchester restaurateurs serve up an unbeatable recipe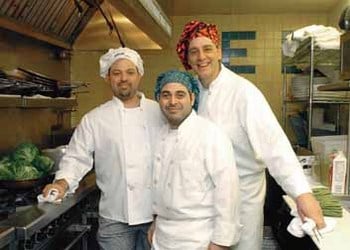 A conversation with John and Rosa Paolini, owners of Piccola Italia Ristorante in downtown Manchester, is just as likely to yield a recipe for a happy life as it is a recipe for his scrumptious Veal Piccata.
Since its opening in October 2001, the restaurant has received numerous awards for culinary excellence, including being voted by New Hampshire Magazine readers as Best New Restaurant in 2002, for serving the Best Caesar Salad in 2002 and 2003 and Best Italian Cuisine in 2003 and 2004.
In fact, the restaurant's growing popularity has actually forced the couple to move Piccola Italia Ristorante two doors down to its current location at 809 Elm St. in order to accommodate the seemingly endless stream of patrons.
The reason for their success? For John Paolini the answer is obvious — the good food and good service that comes from teamwork and a sincere love of a job well done.
And sharing his commitment to hard work and his passion for excellence with his staff of 35 is instrumental to Piccola Italia's success.
"I have no use for titles, I don't believe in them. I believe in teamwork. If we both work together it will be done better," he said.
His devotion to Piccola Italia is apparent from the moment he begins talking about the restaurant.
"I love what I do here," he said, adding that such feelings come from deep inside. "You can't teach passion, you can't teach heart. It just has to be there," said Paolini, who got his start in the restaurant business at age 14, when he began washing dishes at Lucia's in the North End of Boston, where he grew up the middle of five children. Paolini worked his way from dishwasher to chef at Lucia's and put himself through Newbury College in Brookline, Mass.
Rosa Paolini shares her husband's passion for the restaurant, the staff and their customers.
"We really love what we are doing here, especially the contact with the people," said Rosa, who oversees the wait-staff at Piccola's as well as their newest project, Taste of Europe, a more intimate European-infused eatery she and John recently opened at 827 Elm, next door to Piccola Italia.
Their enthusiasm is certainly not lost on others, said David Peterson, vice president of commercial lending at Citizens Bank, who has worked with the Paolinis almost since the restaurant's inception.
"Their passion for everything in life is quite impressive. Their commitment to excellence and service is evident in their restaurant," said Peterson. "As a banker, I've gotten the inside perspective as to their perseverance. The restaurant business is tough, but they are so committed to the business, employees and family."
The 39-year-old restaurateur and his wife lead by example. In fact, John is as likely to be found cleaning counters or polishing the overhead fan as he is creating a plate of Penne Primavera.
It's not just the restaurant that has won the Paolinis' dedication. They also give their all to their staff.
For instance, they recently treated their staff to a Halloween party, with John staying until four in the morning to transform the restaurant basement into a haunted house for the children of his staff to enjoy.
"Johnny and Rosa are the best employers I have ever worked for," said Linda Boily, who has waited tables at Piccola Italia since its doors first opened. "I feel like I am part of the family here. They really care. They're like that with everybody that works here."
But its Piccola Italia's customers who are the true beneficiaries of the Paolinis' culinary talent and passion.
"When you feed people you make them happy. When people come in they are counting on us to make their night. It is important for me to know they enjoy themselves," Paolini said.
At Piccola Italia, everything on the menu is made to order, "If you order Alfredo I will make you the Alfredo right then. If you want Veal Marsala without the mushrooms I will make it without the mushrooms."
Manchester resident and Piccola patron Mary Larson said the consistency she experiences when dining at Piccola Italia continues to bring her back.
"We know whenever we come in here we are going to have a wonderful meal. The service is always good and the food is fabulous," she said.
Added another regular diner, Shelley Herson of Bedford, "It is just wonderful and the people are so nice."
Service above and beyond is also appreciated by patrons. The Paolinis have been known to reopen their kitchen for late-night visitors or deliver a midday meal to customers too busy to leave their office.
Outside the commitment to Piccola Italia and its growing clientele John and Rosa Paolini dedicate their time to their twin 4-year old daughters, Lorena and Fabiana, and to their community, consistently supporting local efforts by donating food and staff to local fund-raisers for such organizations as the March of Dimes and the American Red Cross.
"We are so fortunate. Physically we are well, mentally we are able to focus, we are able to do something. We need to give back," Paolini said.
One of the big ways they give back is in support of the Dana Farber Cancer Institute. This past year, John personally raised $4,000 in contributions for the center the hard way by running his ninth Boston Marathon as a tribute to his father, who beat cancer 12 years ago.
"I look at my children, I look at my father. We are so lucky. Every charity I get involved with I do for them," Paolini said. "Look around — all of this, we love it. I get up every day, and I love all of this. We are just so lucky."