Manchester PAL slated for an 'extreme makeover'
Building on Hope organization looks for support for $1m project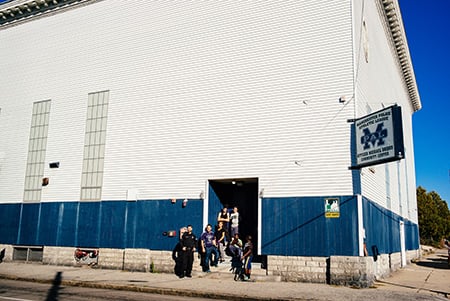 Building on Hope, a New Hampshire-based volunteer organization that collaborates with builders, architects, designers and suppliers to provide physical improvements to non-profit facilities, will be working in the coming months to give the home of the Manchester Police Athletic League an "extreme makeover."
The organization has chosen the Michael Briggs Community Center, home of the MPAL program, for the remodeling effort, which will be done in the spring of 2016.
The renovation work is MPAL is scheduled to take place over 10 days next May, with 100 percent donated materials and labor.
The building is in need of major renovations to fully serve the 8,600 at-risk youth living within one mile of the community center.
MPAL provides a safe after-school environment for Manchester's inner-city youth, with such free activities as judo, aikido, wrestling, boxing, rugby and lacrosse in addition to receiving academic help from Manchester police officers.
The project will "by far" be the most extensive Building on Hope has undertaken, said Jonathan Halle, co-chair of the organization.
Since its start, Building on Hope has completed three projects, totaling about $1 million. The MPAL project alone is expected to cost over $1 million to renovate all four floors of the 16,000-square-foot facility.
At 105 years old, the building is in need of updates to electric and heating systems, appropriate flooring for athletic activities and a resurfaced parking lot. A commercial kitchen is eyed to provide healthy snacks and meals to many kids who do not have adequate access to nutritious food at home. The installation of basketball hoops and conversion of two floors of vacant areas into usable space will bring the 16,000-square-foot facility to its full capacity and make room for more participants.
For more information or to donate materials or funding, visit buildingonhope.com.