Manchester Community College's industry-focused approach to education connects high-tech employers directly with students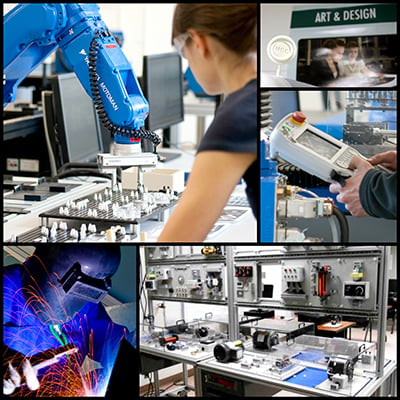 They're affectionately known as the "blue man group," and like the famous theatrical ensemble, they perform a complex daily routine. But you won't find this cast of characters on any stage, and while their dramatic namesakes are widely considered to be innovative, it's fair to say these "blue men" are far more high-tech.
The curtain opened on Manchester Community College's $850,000 manufacturing robots and mechatronics lab in early 2013, and its stars include a fully automated Cartesian robot; two- and four-axis CNC miller, CNC lathe, five- and six-axis robots, a laser engraver, programmable logic controller, assembly and quality control equipment, CAD/CAM and 3-D printing capabilities, pneumatics and hydraulic training stations and more. Simply put, it's a complete, automated manufacturing design and production facility — in miniature. And that's important because working on the same types of equipment found on state-of-the-art manufacturing floors creates seamless transitions from classroom to career for MCC students.
"Our primary job is to get our students jobs — or better jobs," said Phil Przybyszewski, the Advanced Manufacturing Partnerships in Education project coordinator for MCC.
That was certainly the case for Karen Keating, a May 2014 graduate of MCC's Mechatronics Certificate program hired straight out of the teaching lab by Corfin Industries. Starting out as an operator, Keating has already been promoted by the Salem employer whose automated facility serves the defense, aerospace and medical industries.
"MCC will bend over backwards to help you get to where you want to go," Keating said. "I learned so much in my classes and labs, but connecting with my employer while still at MCC was an incredible opportunity that I wasn't expecting."
Industry connections
With regular input from an active industry advisory panel, MCC developed career pathways that include multiple entry and exit points for students interested in entering or advancing in the manufacturing industry. Programs include everything from short, intensive training options to two-year associate degree programs, and all align to meet very specific, regional workforce needs. This bolsters the workforce while dramatically cutting on-the-job training time.
To help ensure student success, programs like MCC's Advanced Manufacturing Technologies (including the AMT associate degree, Mechatronics Certificate and Robotics Certificate) and Computer-Aided Design Certificate are supported by eTutoring and Web-based professional networking services connecting students and employers.
MCC takes it a step further by working directly with many industry partners to increase job, internship and apprenticeship placement, including Velcro, Hitchiner Manufacturing and Corfin Industries. The college also works with high schools and career-technical education centers to build educational pathways, including dual enrollment opportunities that allow students to save time and tuition money while earning college credits at reduced costs while they're still in high school.
Multiple choice(s)
MCC is also home to electrical and advanced welding labs, in which students receive motor controls, electrical panel, electric and electromagnetic motors training, as well as instruction in arc welding, plasma cutting, tensile strength testing and more. The college offers an Electrical Technology Associate Degree and Certificate, Welding Technology Associate Degree and Certificate, and Welding Professional Certificate.
WorkReadyNH
MCC recognizes the need for strong foundational and "soft" skills in any successful workplace. To this end, the tuition-free intensive WorkReadyNH program is available to eligible students at all NH community colleges. WRNH helps job-seekers and career builders improve math, reading, information-gathering, communication, team-building and problem-solving skills. Its assessment and training services enable students to earn two nationally recognized certificates, while helping employers identify qualified career candidates.
AMPed NH
MCC and its six sister colleges are part of NH's Advanced Manufacturing Partnerships in Education, a statewide initiative that unites the colleges with more than 200 industry, state and federal agency partners to offer flexible, industry approved education and training. Under a $20 million USDOLETA TAACCCT grant, advanced manufacturing labs at each of the colleges were opened or overhauled with state-of-the-art equipment.
Five ways NH community colleges serve employers:
1. Their diverse selection of more than 30 advanced manufacturing certificate and degree programs was designed in partnership with industry, ensuring delivery of relevant skills across myriad disciplines.
2. Programs customized to meet specific employer needs can be offered online, on campus or on the worksite.
3. In-class visits, industry tours and the AMPed NH Student Online Suite (offering an online networking community, ePortfolios and more) put employers in touch with potential employees.
4. Career-focused training at the colleges reduces on-the-job training time once students are hired.
5. Staff can connect eligible students and employers with resources for traditional financial aid and funding from the Workforce Investment Act and NH Job Training fund.