Manchester Community College to host regional robotics championship
New Hampshire, Vermont students to compete in VEX competition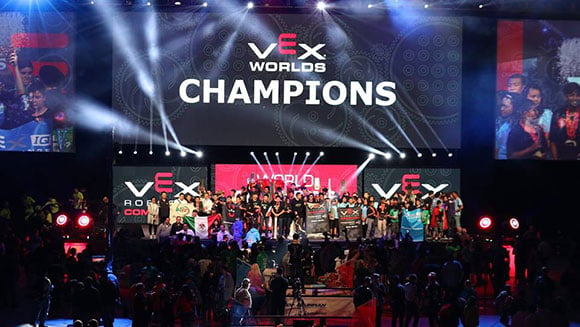 More than 80 elementary, middle and high school students and mentors from around New Hampshire and Vermont will join together Feb. 15-16 at Manchester Community College for the 2019-2020 VEX Robotics Competition game "Tower Takeover."
The tournament will feature more than 40 teams that will compete with other schools in a series of back-to-back robotics challenges, with the goal of advancing to the VEX national competition this spring.
On Saturday, Feb. 15, MCC will host the NH/VT State Championship VEX Robotics Competition for high school students. On Sunday, elementary and middle school students will compete in the VEX IQ Challenge. The 80 teams will compete daily from 8 a.m. to 4 p.m.
More than 23,000 VEX teams from over 61 countries participate annually in over 2,500 events worldwide. The season culminates each spring, with the VEX Robotics World Championship, uniting top qualifying teams from local, state and international VEX Robotics events to crown World Champions.
"It's eye-opening to see the robots these students design, build and program each season to compete in the game-based engineering challenge," said Dan Larochelle, Professor of advanced manufacturing and robotics at MCC. He added that the competition "provides kids with an engaging hands-on learning experience that instills a passion for STEM, and teaches them how to become critical problem-solvers, which will serve them well into their future."
This year's competition sponsored by Northpoint Construction, NHHEU, Hitchiner Manufacturing and TurboCAM.
More information is available at mccnh.edu/robotics.