Manchester Community College encourages robotics in NH schools
Deadline extended to Jan. 15 to apply for free robotics kits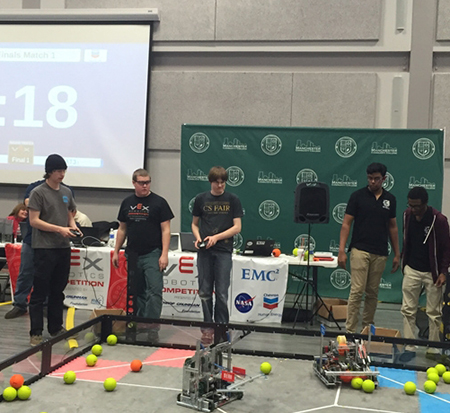 Manchester Community College has partnered with the Robotics Education & Competition Foundation in Texas to provide 100 VEX robotics kits to elementary, middle school and high school teams.
Educators who will serve as the team's "ringmaster" in VEX competitions must apply for the robotics kits by Monday, Jan. 15 here. The application is then reviewed within two days.
Elementary and middle school teams could receive a $500 VEX IQ Competition Kit, while high school teams could receive a $1,200 VEX EDR Robotics kit.
"Our goal is to lower as many barriers as possible so more students have access to robotics and STEM-related activities," said Dan Larochelle, department chair of Advanced Manufacturing, Robotics and Electrical Technologies at Manchester Community College.
Manchester Community College is hosting a VEX robotics rookie team workshop on Jan. 6 at the college to help teams build their first robot, learn simple programming and competition rules. The open workshop will be held from 8 a.m. to 3 p.m. Demo robots and kits will be available for students who don't have one yet.
The college also is partnering with the Robotics Education & Competition Foundation to create the MCC Community Robotics Fund, where individuals can consider donating to help give local kids the opportunity to work with robotics.
For more information, educators are encouraged to visit robotevents.com/grants or contact Dan Larochelle at dlarochelle@ccsnh.edu.