Making snow for an answer
Ski areas confront mild winter with snowmaking
While January brought more snowfall to New Hampshire than previous months this season, it's overall been a mild winter — which forces New Hampshire ski resorts to become reliant on their snowmaking infrastructure.
Most, if not all, ski resorts in the Granite State have some snowmaking capabilities that keep their trails and peaks ready for die-hard skiers and snowboarders to kick up some powder.
In order to create artificial snow, ski resorts must pump water uphill, which is then blown out of a snow cannon, or gun, to create frozen particles that fall to become snow. However, the outside temperature must be lower than 30 degrees Fahrenheit, and the humidity must be below at least 40 percent.
If all conditions are met, snow cannons run 24 hours a day, so trails can be groomed using special vehicles designed just for the task.
"We're kind of like snow farmers," said Tom Day, president and general manager of Gunstock Mountain Resort in Gilford. "We make the snow, groom the snow, and when Mother Nature gives us a bit of inclement weather, we go back and make more snow." But he added: "Mother Nature can be a cruel boss."
Indeed, she has been persnickety this winter, bringing mild weather that wouldn't normally fill mountaintops with enough snow to make it worthwhile for skiers.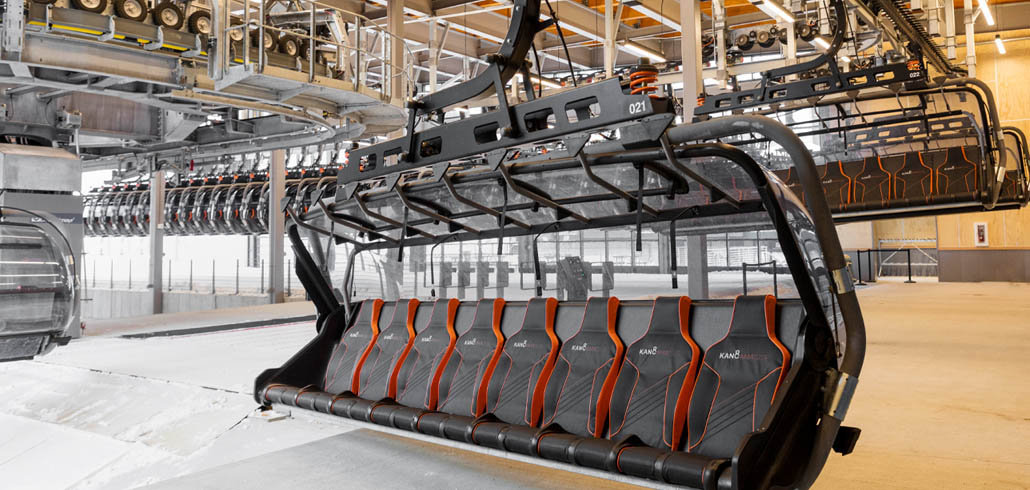 The Kancamagus 8 is the first of its kind in New Hampshire, and can bring over 3,500 people up the mountain per hour. (Courtesy photo)
According to data from the National Centers for Environmental Information (NCEI), New Hampshire has had an average temperature of 28.1 degrees Fahrenheit this winter, 6.4 degrees warmer than the state's average winter temperature since 1901.
The last time New Hampshire had an average temperature below the median range was in 2017, when average temps were 19.6 degrees. In fact, New Hampshire's average temperature for 2022 made it the 10 warmest state based on its climate history.
So, what does that mean for New Hampshire ski resorts? More snowmaking.
According to Lori Rowell, director of marketing and sales for Pats Peak Ski Area in Henniker — which just celebrated 60 years in business — "We have been investing heavily in our snowmaking system because we know we need the product."
"People understand we have a snowmaking system, so we have a good reputation for having good conditions. Our grooming team is amazing; they work really hard together," she said.
To help make snowmaking more efficient, the grooming team at Gunstock uses a SnowRight GPS system — manufactured in Ontario, Canada — to measure the depth of snow. "We gather enough data over the years to learn how much snow we need on a trail, rather than kind of guessing," said Day. "It saves us money on our snowmaking, because we can tell when we have adequate depth. It's (helping us) move ahead with the times, embracing technology and using it to our advantage."
The team at Loon Mountain Resort in Lincoln is similarly invested. "November was much warmer than we would have liked," said Kevin Bell, vice president of marketing at Loon. "We were able to be more aggressive with our snowmaking and investing in automating our snowmaking process."
Bell said that all but four trails on Loon Mountain use snowmaking. At Pats Peak, 27 out of 28 trails are open thanks to snowmaking. Ninety-eight percent of Gunstock's trails are groomed using artificial snow.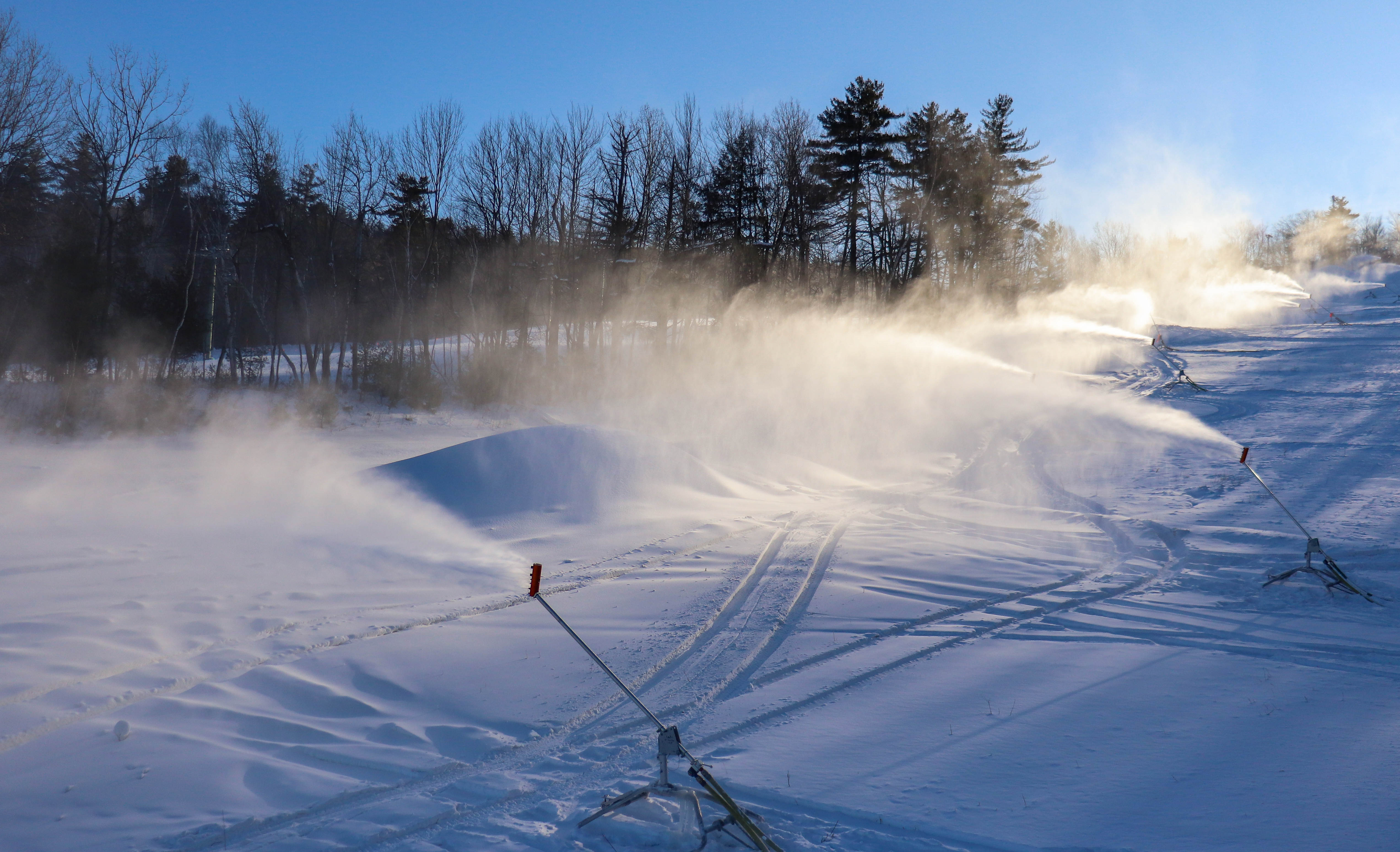 Gunstock Mountain Resort covers 98 percent of their trails using snowmaking infrastructure. (Courtesy photo)
'Snowfall brings everybody out'
Without snowmaking, ski resorts would surely see a significant decline — both in revenue and patron numbers.
"It used to be people from Concord or Boston would only think of skiing when it snows," said Day. "The snowfall brings everybody out; the parking lots are full, and the season-pass holders come through. We've had a good season so far."
In Waitsfield, Vt., Mad River Glen Cooperative had to shut down for a few days this winter "to conserve financial resources," said Ry Young, the marketing and events representative at Mad River.
"Being a small business allows us to make those decisions quickly and independently. Although we could have opened for skiing, it made more sense to shut down for a few days. We're always investing in our infrastructure."
Young also said that the Mad River Glen team has become used to adapting to weather conditions and relied more on snowmaking this year than previously.
Rowell at Pats Peak said much the same. The Patenaude family — which owns the ski area — "reinvest in the mountain every year, so we can upgrade things that are good for skiers."
For instance, they operate a full-service banquet center, hosting over 50 weddings and other events each year. "We try to keep the lodges busy as much as possible," said Rowell.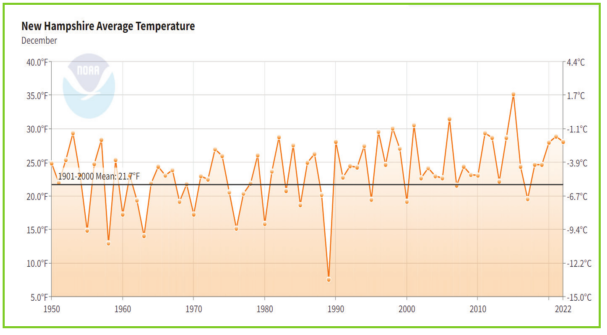 Other than investing in their snowmaking infrastructure, Loon Mountain has also looked to upgrade their chairlifts that will give their skiers a more comfortable journey up the mountain. The ski resort recently refurbished its Seven Brothers Express Quad for the 2022-23 ski season, and added more snow cannons to the current repertoire.
"We have new trails coming online next year, installing one new chairlift and over 30 acres of new terrain," Kevin Bell said.
Loon Mountain also debuted the Kancamagus 8, an eight-seat chair lift with heated seats in a tinted bubble, which can transport 3,500 skiers per hour up the mountain.
"People want to be outside in the winter," said Bell.
"If you're looking to come skiing right now, and we're getting more natural snow, booking your tickets in advance is a huge step forward."