Making it in Keene
Founder envisions big things for Monadnock Makerspace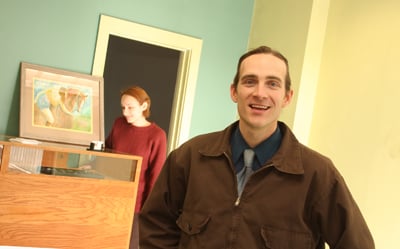 Johnny Bolster stands in the sun-drenched, freshly-painted entry of the building that houses Make It So: The Monadnock Makerspace at its November opening in downtown Keene, daydreaming about the future.
"I picture people in here mingling in this common space, perusing the library, enjoying casual lunches," he said. "I have this idea we can do more working together instead of in cubicles."
A makerspace is designed to foster collaboration and innovation in art and manufacturing, and his vision of the past year and a half is coming to fruition: a collective resource center that serves as a central hub for projects, mentoring, tools and expertise.
In addition to the common workspace, Make it So (which Bolster has nicknamed MISo) will house a digital design lab, classroom and gallery space and a tool and technology lending library.
The building, equipped with mobile broadband Internet service, will serve as an incubator for inventors and future manufacturers. Further plans include formation of a cooperative automotive learning center.
The effort is advancing with guidance from members of the Regional Center for Advanced Manufacturing and the New Hampshire Small Business Development Center, among other institutions.
Bolster, MISo's coordinator, encourages people to work with one another. "It creates this mutually beneficial synergy," he said. "It adds to the success of everyone here."
Makerspaces, also referred to as hackerspaces and fablabs, have been cropping up in the Northeast and throughout the country over the past few years. The do-it-yourself trend has grown out of a cultural shift to local communities creating their own economic opportunities.
Each makerspace is tailored to the community it serves, taking on a life of its own.
New Hampshire's first makerspace, MakeItLabs, opened three years ago in Nashua in a 6,000-square-foot workshop in a former foundry building. Classes at MakeItLabs range from 3D replicator printing to quadcopter creation.
Portsmouth followed in 2012 with Port City Makerspace. It offers a woodworking shop and bike shop as well as metalworking, electronics and crafting spaces.
Makerspaces in Concord, Manchester, Peterborough, Claremont and the Upper Valley also are in development.
In addition to providing collaborative workspace, MISo will allow entrepreneurs to use the space to start a business without all the up-front costs of buying equipment and insurance. It will also allow them to access expensive equipment through cooperative relationships with existing businesses in the region.
Many businesses have equipment that is outdated but still usable, and Bolster's plan is for these businesses to lend, barter or donate that equipment to MISo for use by the public.
In turn, the equipment could be housed at the makerspace and a business could use it for its own production, possibly recouping costs as others rent it.
The financial structure of MISo relies on membership dues, studio and storage space rentals ($2 per square-foot monthly), product development consulting fees from new business spinoffs and grants. Dues will range from $45 for a five-day pass to $150 a month to access the facility 24 hours a day, seven days a week.
'Real-world projects'
Bolster – who operates LocaCopia, Wild Harvest Reclamation Services, a landscaping and apple tree pruning business – earned a degree at Keene State College in its Sustainable Product Design and Innovation Program and works as a volunteer at Keene State College's Ideation Lab.
He started out at Keene State with the intention of getting a degree in elementary education, but he quickly realized he wanted to set off on a different career path.
"I always wanted to be an inventor," he said.
His efforts with MISo started with a conversation with Robert Stillings of River Valley Community College in Claremont, and a trip to Nashua's makerspace convinced him to go for it.
"I liked the idea of something more in line with people's schedules and budgets," he said. "People pay less (at a makerspace) to get the same quality education learning from professionals. They work on real-world projects and walk away with a paycheck, something to add to a resume and skills learned through direct application."
Although MISo is officially open, it might not look like much at the moment. MISo's home is a partially condemned, 8,000-square-foot, wooden-framed building in Keene's historic district that was at one time scheduled to be demolished. Its last use was as the local Democratic Party's headquarters – its first life was as a carriage house behind what was the Eagle Hotel on Main Street.
It took someone like Bolster to see its potential. He is starting an online fundraising campaign to raise the $30,000 needed to upgrade the building. His goal is for MISo to be self-sustaining. More renovations will be done as money becomes available.
Ever-evolving
Yet another part of Bolster's plan for MISo is to create residential space for eight on the building's third floor. Bolster himself plans to move in.
The living areas would provide housing for instructors who have come to the area to teach a class at the makerspace, or those who don't live nearby but are working at the building on a project.
Among those who are using the makerspace now are Paul Sehmel, who is studying computer science at Keene State. He plans to start a game design company with a partner when he graduates. Amanda Bakalar is using the makerspace to design, create and display her jewelry. And Peter Hartz, a MISo member who recently earned his degree in architecture from Keene State, plans to use the space for his work.
Now retired from his full-time job, he will pursue work in architectural and landscape design. "I needed an affordable space in which to work and hopefully meet other people to collaborate with," he said. "If I need a model built or expertise in carpentry, I'm hoping there will be people (at the makerspace) whose experience I could benefit from." Likewise, he hopes he'll be able to help anyone who could use his knowledge of architecture.
As for Bolster, he knows MISo will be ever-evolving, but its philosophy will be unchanging. "Hopefully we'll create a fun, lively environment," Bolster said. "At its core is imagination and innovation."