Make way for the new New Hampshire Business Review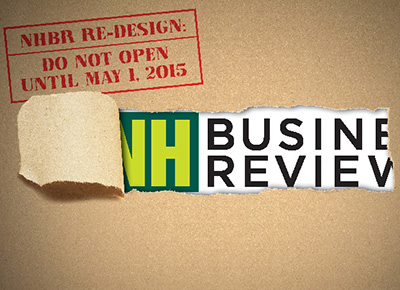 Starting with our May 1-14 issue, New Hampshire Business Review will be presenting the same unparalleled mix of Granite State business news, analysis, advice and opinion in an entirely new package – one that features a clean, fresher and more striking look that's designed to meet the needs of readers in an increasingly fast-paced business world.
The overhaul of New Hampshire Business Review is more than just freshening up the publication. It's aimed at giving our readers, and our advertisers, even more of the tools they need to succeed.
The first thing readers will notice is our new, sleek banner, which our advertisements have been hinting at for a couple of issues now. Second will be the kind of paper it will be printed on – a whiter stock that's aimed at making the reading experience more colorful and eye-catching.
The overhaul also focuses on making New Hampshire Business Review even easier to read, through more visual storytelling – sidebars, charts, graphics and vastly improved layouts – to help readers scan pages more quickly for the business news and information they know they won't find anywhere else.
We're eager to hear how you feel about the changes we're making at New Hampshire Business Review. After all, it's our goal to continue to earn our keep as New Hampshire's community business newspaper, making sure our readers are at the heart of the decisions we make.
We know that if we keep you happy with our endeavors it means our advertisers continue to get excellent value by reaching the state's most vital business leaders in a must-read publication.