Lynch, Stephen duel over pace, path of Medicaid reform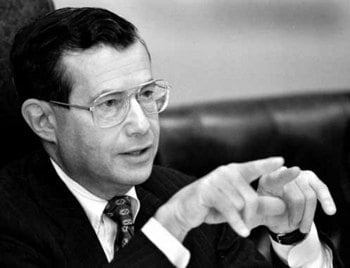 Gov. John Lynch maintains he's the one in charge of the state's health and human services reform plan — and he will move forward cautiously in drawing it up. But Health and Human Services Commissioner John Stephen is lobbying hard for his GraniteCare proposal, with a pace of speaking engagements that looks almost like a gubernatorial campaign.
A key part of Stephen's agenda cleared a House committee late last month by a vote of 16-3, but lawmakers pared its most controversial items, although House Bill 691 — sponsored by Rep. Neal Kurk, R-Weare, still shifts the focus of elder care and state funding from nursing homes to patients' homes – giving Stephen reason to claim a victory.
"I'm excited to see the commitment the Legislature has made to home- and community-based care," Stephen said after the committee vote. "Not only is this care more cost-effective, it is what our seniors tell us they want."
In a phone interview hours later, Lynch said he would lead the state's talks with the feds about relaxing Medicaid rules. That help is vital to making GraniteCare work, both sides agree.
"I continue to work with Commissioner Stephen, but I will be very involved in any waiver requests," Lynch said. "It's traditional for the relationship to be between the governor's office and the federal government."
Lynch has learned from other governors and from U.S. Health and Human Services Secretary Michael Leavitt that no states are getting seed money for Medicaid waivers. Stephen's original plan assumed the feds would provide a $231 million investment.
"We are going to have a discussion about which ideas to pursue and which not to pursue," Lynch said. "There is no deadline imposed by Washington and positively no up-front money. That doesn't mean we couldn't use the savings (as start-up funds)" for Medicaid reform.
The commissioner confirmed he met recently with Lynch and federal officials about the reform package. Stephen said he left the session encouraged the feds would reward New Hampshire for slowing down its projected cost increases. The state would have wide flexibility to use the money it saved.
"It amounts to seed money," Stephen said.
HB 691 calls for a more rigorous and standardized assessment of senior citizens applying for long-term care. That's to make sure they are sufficiently disabled or medically fragile.
The proposal also encourages people to take out long-term care insurance, and it closes loopholes that currently let patients with greater assets that make them ineligible for Medicaid assistance sign up for that aid by turning the assets over to their children.
If the measure passes, nursing home patients applying for Medicaid assistance must divest their wealth at least 10 years before entering a facility.
Lawmakers said this will be the longest Medicaid financial look-back period in the country, although they added that other states are moving in the same direction in the hopes of cutting Medicaid costs.
Stephen has repeatedly warned that New Hampshire's Medicaid budget, as it stands now, will grow from $800 million to $2 billion within a decade.
Rep. Rogers Johnson, R-Stratham, an insurance consultant, led the committee debate in favor of HB 691, saying Medicaid is supposed to serve only the indigent.
"A lot of states are looking to close these loopholes," Johnson told his colleagues. "It's not just us. We're not even in the vanguard."
The three dissenters on the committee had heard from constituents upset about changing the financial rules. Those lawmakers also warned that too few community services exist today. Rep. Barbara French, D-Henniker, explained her no vote.
"If someone wants to stay out of the nursing home, but there are no home-based services, they'll end up in the nursing home," French said. "We need to develop the community programs and pay for them."
Bill sponsor Kurk was expecting the favorable decision the day before. But he also filed a more ambitious bill giving Stephen the power to shift unspent department funds from the nursing home line into home health and assisted living programs.
The bill that survived requires prior approval from the Legislative Joint Fiscal Committee for those budget transfers. Kurk's original wording would have tightened the nursing home medical admissions criteria as well, but the committee kept the entrance bar about where it is, he said.
"The goal is still to change the entitlement to nursing home care into a choice between that and home care," Kurk said.
Johnson dispelled a widely held myth that HB 691 and GraniteCare would force people living in nursing homes to leave.
"The bill does not displace people from nursing homes. It was never the intent to do that," Johnson said. "If the department ever started that process, we would stop it."
Stephen, a Republican, is a holdover from the Benson administration, and his term of office expires after Lynch's. The commissioner has campaigned since the summer in forums and speaking engagements to win over medical providers and the public. His expressed goal is to make the largest department in government more efficient and sustainable.
Medical lobbyists and administrators have sharply criticized his plans, especially one that would offer Medicaid health savings accounts to women and children. Lawmakers retained that bill — HB 690 — in committee after six work sessions, effectively killing it for the session.
Sen. Chuck Morse, R-Salem, heads the Senate Finance Committee, which is looking at other parts of GraniteCare. He said Stephen could still implement the majority of his ideas through the budget-making process, which is under way in several committees.
Sen. Martha Fuller Clark, D-Portsmouth, agreed that Medicaid has to beef up mid-level care the way Stephen advises. The state pledged to do that several years ago, and broke its promise, she said.
"We all need to recognize that nobody wants to go into a nursing home until they absolutely have to," Clark said. "Right now we have a dilemma. If they can't get the care at home, they have no choice but to transfer to a nursing home."
Rep. Alida Millham, R-Gilford, who has run home health programs most of her career, said "all the nursing homes are losing money on their Medicaid beds. We have to reform Medicaid. The demographics are devastating. This is the next crisis in state government. But where can the savings be made? I'm still struggling with that."