LRCC helps close high-tech manufacturing gender gap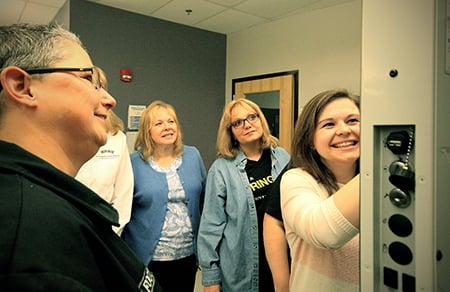 Women make up 50 percent of the labor force in America, but only 24 percent of the manufacturing workforce, according to a report by Deloitte and The Manufacturing Institute. But that won't be for long if Don Brough, project coordinator for the Advanced Manufacturing Partnerships in Education initiative at Lakes Region Community College, has his way.
Through AMPed NH, Brough and his LRCC colleagues are working with employers to increase the number of women receiving advanced manufacturing workforce training. The college offers an industry-approved advanced manufacturing certificate, as well as associate degrees in electromechanical technician and advanced manufacturing processes and control.
"The skills shortage facing U.S. manufacturers is apparent, and the underrepresentation of women only contributes to the gap," said Jennifer McNelly, president of the Washington, D.C.-based Manufacturing Institute. "We must … inspire the next-generation of young women to pursue manufacturing careers and encourage current female talent within the industry."
Gary Groleau, corporate manager of labor relations and organizational development for New Hampshire Ball Bearings, an LRCC industry partner, echoed her statement.
"My observation is that women tend to be very detail-oriented, and with advanced manufacturing requiring so much more precision, that's a perfect match," said Groleau. "Now there are thousands of advanced manufacturing jobs nationwide that, experts say, more women are starting to seek out."
Brough said there has been an increase in the number of women enrolling in, and finding employment by way of, LRCC's expanded advanced manufacturing programs.
Helen Stacy ended a successful 17-year stint in banking to pursue an advanced manufacturing associate degree program and was hired by NHBB at its Laconia plant as a setup operator before even finishing her studies.
A U.S. Army veteran and the mother of two grown sons, Stacy said she had become burnt out in her previous profession and "it was time for a change."
Hired in early October, she credited the industry connections of LRCC faculty and staff for helping her land the job.
"NHBB was my goal when I entered the program," Stacy said. "The companies know the community colleges have clout built on results. I'd applied before and didn't get responses; then I got a couple letters of recommendation from instructors and staff at LRCC. They made calls on my behalf, and now I'm very happy. I feel good about the future."
Debbie Holton, managing director of industry and technology for the Society of Manufacturing Engineers, said changing perceptions about manufacturing careers is an important step toward attracting more women.
"We need to share the truth about careers in manufacturing — that they're rewarding, lucrative and creative. We need to get young women interested in the mechanics of 'making things' — things that make a difference in people's lives. We need to show them how exciting and fun that can be," Holton said.
According to NHBB's Groleau, "The stereotype that 'factory jobs' are redundant, physically taxing and dirty is just that — a stereotype. The truth is advanced manufacturing is clean, safe, efficient, high-tech and computerized. Women can and are doing these technically demanding jobs very successfully."
Pamela Falzone said she enrolled at LRCC to enhance her skills. "I've been in manufacturing my entire life," said the quality control employee at NHBB. "I love the diversity of it — the automated systems and programs, and always being on top of new technology. I recommend it for women; I've been saying it for years."
Another student, Laura Jacques of Belmont enrolled in the advanced manufacturing certificate program and is employed as a materials logistics assistant at Praxair TAFA in Concord. "I love the job and the atmosphere. It is always a team effort. Without good communication, you can't get the job done, and I enjoy that closeness with the people around you," she said.
Jacques' enthusiasm apparently rubbed off on her mother, Melinda Simms, also of Belmont, who is pursuing an advanced manufacturing associate degree while running a janitorial business.
"Back during World War II, there were a lot of women in manufacturing," Simms said. "We've already shown we're capable of doing all this work. This industry is supportive of both sexes. Combine that with new technology and we can go so much further."