Low vacancy rates mark New Hampshire's market for industrial space
But office space market remains in flux, although vacancies are leveling off
The meager amount of available industrial space in New Hampshire has pinched vacancy rates, but that's not the case for office properties, although the rates in that market appear to be stabilizing.
The statewide vacancy rate for industrial space – which includes manufacturing, flex/research and development, and warehouse/distribution – was 3.1 percent in the third quarter, according to a market analysis prepared for Colliers International by Kristie Russell, its research manager for New Hampshire and Maine.
A separate report by Russell that looked at the office market showed a third-quarter vacancy rate of 11.2 percent statewide. Office vacancies started climbing from just over 8 percent after the third quarter of 2020, the beginning of the Covid-19 pandemic, reaching well above 11 percent in the third quarter of 2021 before falling slightly this quarter.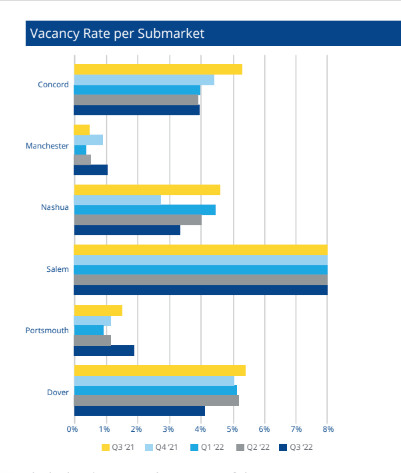 Currently, there is about 71,226,000 square feet of industrial space in New Hampshire, according to Colliers. Between the periods from the third quarter of 2021 to the third quarter of 2022, that grew by only 119,000 square feet while demand has remained very high.
"Industrial space continues to be hard to find with the overall vacancy rate hovering around 3 percent over the last four quarters," Russell noted in her report. "Since its initial descent during the second quarter of 2020, vacancy is leveling out with a 0.4 percent drop over the past year due to limited availability."
Industrial space is being occupied almost as soon as it's vacated, she wrote. The other issue, she noted, is that some older industrial space just isn't suited for a modern manufacturing company's needs. Often the older space, "doesn't have the electricity it needs, it doesn't have loading docks, driving doors, any of that."
The market is particularly squeezed in the Portsmouth and Manchester submarkets, according to the report, with the vacancy rate in Portsmouth at 1.9 percent and in Manchester at 1.0 percent.
The vacancy rate for the Nashua submarket was 3.3 percent. Concord's vacancy rate was 4.0 percent, Salem 8.4 percent, and Dover 4.1 percent.
The report also looks at the absorption rate, which is used to indicate the difference between the amount of space vacated by tenants and the tenants who have moved into the space. Positive absorption is when more space is leased than is vacated; negative absorption is less space being leased than is vacated.
After showing negative absorption in the second quarter of 2022, the absorption rate gained in the third quarter of by almost 135,000 square feet.
The law of supply and demand was also at work in the industrial market. Rents are measured by something called triple net (NNN). On an NNN lease, tenants pay additional expenses per square-foot, in addition to the lease fee. NNN fees include property taxes, property insurance and common area maintenance costs for a building.
Asking rents have climbed from an average $8.27 NNN in the third quarter of 2021 to $20.52 in the third quarter of 2022. As for average asking rents in each sector: Manufacturing was $8.01, flex/R&D was $10.45, and warehouse/distribution was $11.10.
One of the most active investors in the market, according to Russell's report, is the R.J. Kelly Company, based in Burlington, Mass. She noted it acquired 18 properties over the last quarter.
In August, she said, R.J. Kelly took part in separate transactions that involved the purchase of 14 properties totaling 745,500 square feet for $90 million, with an average sale price of $118 per square-foot. The properties are in Amherst, Hudson, Londonderry, Manchester, Nashua and Salem.
In September, it purchased an additional 112,360 square feet in three flex buildings on 13.05 acres for $13.375 million ($119 per square-foot) at 15, 18, 20, and 22 Continental Boulevard in Nashua.
One of Kelly's acquisitions – 121 Technology Drive in Durham — will temporarily house Sig Sauer while the Portsmouth-based firearm manufacturer's space in Rochester is retrofitted to accommodate its new 10-year, $4.5 billion contract with the U.S. Army to produce its next generation guns and ammo.
Kelly paid $21 million in October 2021 to purchase the 500,000 square feet of office and manufacturing space in Durham, with high-ceiling warehouse space and total land area in excess of 170 acres that would allow for further expansion. The space was originally built by printing press manufacturer Goss.
Russell noted Sig Sauer will occupy 123,890 square feet while renovating its manufacturing space on Amarosa Drive in Rochester.
An example of much-needed, more modern industrial space is a project proposed jointly by The Kane Company and Procon at the Pease International Tradeport. In October, they announced plans to build an "advanced manufacturing facility development" on an 11-acre site along New Hampshire Avenue at the Tradeport. A 209,750-square-foot building is proposed for the site.
Office market
On the office side of the ledger, total square-footage of inventory hasn't changed much in the last year. The current 23,825,000 square feet marks no change from the second quarter and is slightly less than the 23,875,000 square feet in the third quarter of 2021.
The vacancy rate went from 11.7 percent in the third quarter of 2021 to 11.4 percent in the second quarter of
2022 to 11.2 percent in the third quarter of 2022.
In Russell's analysis, the 11.2 percent rate is good news because it shows stabilization after the pandemic kept workers homebound, doing their jobs remotely for almost two years.
"Through Covid, the vacancy rate jumped so much; it went from about a little more than 8 percent up to 11 percent. So obviously that's a big change," said Russell. "For the last four quarters, it's practically been the same vacancy rate. So it's not going higher right now, which is good news."
The absorption rate for office space was on the positive side, a gain of 54,700 square feet after a loss in the third quarter of 2021 (-120,300 sf) and another loss in the second quarter of 2022 (-23,200 sf).
Even though demand for office space was off, prices did not fall off.
"Over the past year, we have commented on how asking rents have climbed alongside vacancy. In a typical market, the rule of supply and demand would mean as vacancy rose, the rent would soon begin to fall. This has not been the case in any of the sectors," said Russell.
Commercial office leasing for the Colliers report is measured in MG – modified gross – with the tenant and landlord sharing responsibility for payment of certain property expenses.
The per square foot MG asking rent in the third quarter was $20.52, compared to $20.26 in the second quarter and $19.51 in the third quarter of 2021.
Among the six submarkets, the Concord vacancy rate was 11.8 percent and the average rent was $19.95, Dover was 11.4 percent and $17.95, Manchester was 8.3 percent and $19.33, Portsmouth was 11.2 percent and $24.15, Manchester was 8.3 percent and $19.33, Salem was 15.0 percent and $24.18, and Nashua was 14.4 percent and $18.98.
Much of the office space in the Portsmouth submarket is concentrated at the Pease International Tradeport, where its executive director, Paul Brean, sees the difference that the change to a hybrid workforce has made.
"We don't know if we're going to see 11,000 employees coming back to the Tradeport on a daily basis. We have companies – obviously our biggest tenants Sig Sauer and Lonza – they have to have their people here 24/7 for manufacturing on-site," said Brean. "But we have a number of more conventional office workers that companies are recognizing you have to allow some type of remote or hybrid to be competitive in retaining people and recruiting people."
He said the need lies in the type of manufacturing space being proposed by Kane and Procon.
"They also really looked at the market and they recognize there's such a demand for advanced manufacturing warehousing space; that's where the value is in that real estate right now," he said.
Russell noted in her office report that one of the largest office transactions to occur in the last couple of years was the sale of 100 Domain Drive in Exeter.
The multi-tenant,, 263,500-square-foot Class A office building was purchased by Massachusetts-based Torrington Properties for $46.9 million ($178 per square-foot). The building was about 70 percent occupied at the time of the sale to tenants such as Bauer Hockey, FH Cann & Associates, Digital Prospectors, Garnett Hill and Vapotherm, which recently announced plans to shut down its manufacturing operations in Exeter.
Russell's report also noted activity by ConvenientMD and Optima Dermatology.
ConvenientMD opened its first walk-in urgent care center in 2012 and in 2016 moved its base of operations to 111 New Hampshire Ave. at the Tradeport. Last quarter, according to the Russell report, ConvenientMD announced plans to move its headquarters to a new commercial building at West End Yards in Portsmouth.
With the company moving later this year, vacating 10,600 square feet, a lease for space in the building was signed by Optima Dermatology, which was founded last year by Max Puyanic, also one of the original founders of ConvenientMD.
According to Puyanic, the corporate offices will occupy the second floor, beginning in June or July of next year, exiting their existing space on Heritage Avenue in Portsmouth. A portion of the first floor is being renovated to accommodate Optima's new pathology lab.
"We need larger corporate office space – what we call our Practice Support Center," he said. "And we're building a new state of the art pathology lab, which would serve all of our practices. We've hired a really talented person to lead that for us. And then we've got some pathologists lined up."
Russell's report noted Optima has also leased space at 25 Pelham Rd. in Salem as it waits on its new 10,200-square-foot facility at Gateway Park in Windham. Scheduled for completion in 2023, this is the second standalone building under construction for Optima. It is also constructing a 10,000-square-foot building in Stratham. Puyanic also said the company is opening a new facility in Bedford.