Loving Arms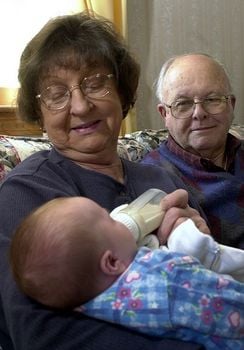 There are any number of ways a couple can fill an empty nest. Some move into smaller quarters. Some travel. Some start new hobbies.
Marge and Gerry Himmelman had 74 more babies.
The Nashua couple didn't produce this large family. All of their babies – after the first three – arrived after birth, the progeny of much younger mothers and fathers.
But the lack of biological connection did not diminish either love or attachment. Nor did it lessen the couple's joy.
For almost 25 years – half of their married life – the Himmelmans have taken babies into their home until they were placed for adoption. Recently, they welcomed their 74th newborn.
The couple does far more than provide a crib, a soft blanket and a
bottle. Foster parents on paper, they care for the babies as if they were their own. When a baby wakes crying in the middle of the night, Marge gets up immediately to feed or change and soothe the infant. When a baby fusses during the day, Marge picks her up, kisses her and searches for the source of the discomfort.
Like any other mother of a newborn, Marge bonds with her baby,
communicating through deep, shared gazes, tender holding and soft words.
First foster baby
It was 1979. The Himmelmans were living in a big house in Moorestown, N.J. Their youngest was in junior high school, their two oldest were out of the house – one in college, one out of college. Marge, who had always wanted six children, told Gerry she wanted to be a foster mom.
"There were some people in our church doing this," Marge says during an interview in her living room, while in the next room a baby named Katherine, the couple's 74th, is sleeping.
Gerry wasn't so sure.
"She had to convince me that when (the babies) left, it would not be too hard on her," Gerry says. "(But) when the first one left, I was as bad as she was."
The Himmelmans' first foster infant, Bambi, was 2 days old when she arrived at the couple's home, placed through Family Services in Philadelphia until she was adopted at 5 months. Marge hadn't cared for an infant in more than a decade, but once Bambi was in her arms, it was as if Marge was a new mother again.
"It was like riding a bicycle. Everything came back. I did everything a new mother would do," Marge says, smiling at the memory.
At 70, now a mother, grandmother and great-grandmother, Marge says she is happiest holding a baby in her arms.
"Marge loves you," she croons to the baby girl cuddled in her arms. "You're a sweetheart."
It has always been love at first sight. It still is.
In 1981, after the Himmelmans moved to Nashua, Marge called Catholic Charities in Massachusetts to find out about foster parent opportunities. She hadn't even finished unpacking when she filled out an application and rushed it into the mail.
"You always felt she had what it took," says Nashua resident Maureen Brown, who was a social worker with Massachusetts Catholic Charities at the time.
Brown was so impressed with Marge's skills that she made arrangements for the foster mother to take care of her own first baby while she was working.
"I was a first-time mother, anxious," Brown says, remembering how Marge took her worries seriously. "If it makes you feel better, I'll be happy to do that," she says Marge often told her.
Sharing the job
Gerry gives his wife most of the credit for the foster care. But when he talks about the babies, it's apparent the retired engineer and family breadwinner – Marge has been a full-time
homemaker since the birth of their first child 47 years ago – is as much a father to the babies as Marge is a mother.
Years back, when he was commuting to Rhode Island for his job, he routinely stopped at an outlet shopping mall off Route 495, scouring the baby clothes stores to find bargains for their baby girl.
"They had great buys and I used to buy her dresses for two dollars," he remembers. "I bought her quite a lot of clothes – and the little fellow that followed."
Gerry hides his heart behind a veneer of masculine toughness – a cover Brown says couldn't fool her, even the first time she met him.
"I could see Gerry was like a big teddy bear," she says. "He didn't want to let that be known."
Every baby has its own personality, and since the couple never knows if a child will be placed with them for a week or a year, they learn to adjust to each infant's habits and needs.
Some cry a lot. Others want to eat almost constantly. Some are fussy. Some are relaxed.
Sometimes the Himmelmans go to the hospital to pick up their newborn. Sometimes a social worker for Catholic Charities or Child and Family Services brings the baby to them. On average, they care for a baby for between six and eight weeks, although some are placed with adoptive parents sooner and two have remained for 14 months.
Like other new parents, Marge and Gerry bond with the baby and take it everywhere.
At the supermarket, Marge wheels two carriages: one for her groceries, the other for the baby. At Grace Lutheran Church, Marge rocks her baby and brings it to the pastor for a special blessing when she takes Holy Communion.
During the times when there is no baby at home, Marge sits empty-armed in the church and rocks.
For Marge, caring for an infant is both pleasure and calling. She loves babies. She understands their language and their moods. She also sees them as individuals, and more than once has identified a developmental problem or other issue before the pediatrician spotted it.
"I take care of them like they're my own children," she says. "Some will bond very quickly. Some don't right away."
She does what comes naturally, listening to her intuition and following her instincts. But she must also adhere to stringent rules and licensing requirements.
To be foster parents, she and Gerry must renew their license every two years by taking courses in CPR, first aid and more. They've attended classes in child growth and development, infectious childhood diseases and drug-addicted infants. They've allowed social workers, the local fire marshal and health department personnel into their home for safety inspections, and must also pass a physical exam every two years.
At home, Marge and Gerry fulfill traditional roles that have served them well for close to half a century of married life. Marge has charge of the baby, waking when the infant does, to feed and soothe her, returning to bed to sleep a little longer after the child is settled. Gerry assists, carrying the infants to and from the car, holding and feeding them – and, of course, providing the financial support necessary to keep a roof over the family's head.
"I like to wait 'til they're 2 weeks old," he says of his supporting role. "She gets up during the night. She does 90 percent of the work."
Marge says people sometimes ask what possesses her to want to get up in the middle of the night with someone else's baby. But others, with older children, tell her they miss those first weeks and months and sometimes wish their children were babies again.
"To me, it's not a job," Marge says. "I adore it. I love children."
Photos and lists
Some call it a gift.
"It's what they were meant to do," says Jessica LaChance of Derry, the mother of 10-month-old Anthony Joel.
LaChance was the couple's 16th foster infant 21 years ago. When she left the Himmelmans to join her parents, she arrived at home with a list Marge had typed, giving important details of the little girl's schedule, likes and dislikes, and other information the parents later placed in a safety deposit box until recently, when they gave it to their grown daughter.
Marge also takes a weekly photograph of each baby and puts the pictures into a collection she gives to the new parents when they take their baby home.
While she's caring for a baby, the foster mother doesn't think about attachment theory or other psychological issues related to childrearing. But her attitude and actions speak volumes about the necessity for consistent, relaxed and loving attention in the first days and weeks of life.
Likewise, her babies, once grown and on their own, may never be able to put into words exactly what the Himmelmans' care has meant to them, although they often have a sense of how important it was – and still is.
"I think about it every day. How lucky I am," says LaChance, who as a new mother delights in reading the baby list her parents saved for her – tidbits explaining that because she had dry skin, Marge washed her hair with Head and Shoulders and bathed her with Dove soap.
"I liked it when she rocked me. I didn't like to sleep on my stomach. I loved to sleep with a small pillow under my head and shoulders and the blanket tucked in," LaChance says, recounting what she learned from Marge's typed notes to her mother.
"It's the little things. Babies can be so picky. She wrote everything down."
Sometimes adoptive parents, wishing for privacy, cut ties with the Himmelmans after their baby comes home. Other times they stay in touch, telling their child about his or her first days of life, exchanging photographs and cards with the couple and even visiting for Halloween or inviting the Himmelmans to birthday parties and dance recitals.
"I grew up knowing them," LaChance says. "They've always been around. Everybody in my family knows who Marge and Gerry are."
When she talks about LaChance, Marge beams.
"She's a wonderful girl," Marge says.
LaChance left the Himmelmans when she was 6 weeks old. But she has a good and grateful feeling about what happened to her there – a dim memory that sometimes comes to her in the middle of the night after she has woken to attend to her infant son.
"It's real quiet and I get to sit and think about me," she says. "I wonder if they did stuff like this, rocking me. . . . (I know) all the important things happened, the security. If I wasn't with them, who's to say I would be OK now?"
Marge knows she and Gerry make a difference in the babies' lives. But she isn't one to cite any particular baby bible. Instead, she does what she does knowing what every baby needs is as simple and as old as time itself.
Babies need love, she says. They need a relaxed parent who will hold them and rock them, kiss them and talk sweetly to them. They also need attention: If an infant won't stop crying, perhaps she is unhappy with the formula or wants to be held. If a baby cries, pick him up.
"I never let them cry," Marge says.
Sometimes mothers or grandmothers will call and ask for advice. Sometimes Marge offers it when she hasn't been asked. Once, while she was grocery shopping, she encountered a woman with a baby who wouldn't stop crying.
"Your little baby needs to be picked up and kissed," Marge told the mother, who was less than appreciative.
"You mind your own business," the woman replied.
But where others might feel frustrated or anxious about caring for a baby, Marge feels only relaxed and certain.
"Each one is different," she says. "I see so much in these children that other people don't see."
Just like their own
What the Himmelmans do best is give their love.
"This is one of the most wonderful displays of love that I have ever seen," says Mick Meyer, pastor of Grace Lutheran Church. "It's not just a home and a warm blanket. They love these kids, and I'm a believer that the love felt by that baby stays with that child."
Over the years, Meyer has grown accustomed to Marge cradling an infant in her arms during the Sunday 8 a.m. church service. And he has blessed a continuing parade of Marge and Gerry's babies.
"What's this one's name?" the pastor will ask.
Marge finds it difficult to separate from her infant for too long. At Christmastime, she asked a neighbor to baby-sit for four hours while she did some shopping. But she was home two hours later.
"It's no different than with our own children," Gerry says. "If we couldn't take them with us, we wouldn't go."
Sitting in the waiting room at Peggy Sheets' audiology office on Allds Street in Nashua, Marge rocks baby Katherine in her arms. Katherine was born several weeks ago on a Wednesday and arrived at the Himmelmans' on Friday weighing 9 pounds, 2 ounces and measuring 21 inches.
In the audiologist's office, she dozes in Marge's arms, wakes, takes her bottle, locks eyes with her caretaker. Marge kisses the baby's cheek.
"You're a sweetheart," she says gently. "What a good girl. You're an angel. You're the best little thing."
Marge has taken her 94-year-old mother, Adeline Fietze, to an appointment. Like mothers half her age and younger, Marge divides her time between her child and home and looking after an older parent. She says she can change her plans at the drop of a hat and often lets the housework go. Still, she finds time to bake brownies, fix dinner and occasionally go out to a restaurant with Gerry and the baby.
Whenever anyone asks Marge if, at her age, caring for a baby is tiring, she replies that of course it is. But when she's tired, she rests. When she's rested, she goes again. It's as simple as that.
And the fatigue she feels at the end of a day is a "good tired," she says.
At home, sitting on a sofa in the living room, Marge rocks Katherine.
"Hi, sweetheart. Hi, sweet pea. Marge loves you," she says softly, gazing into the infant's eyes, eyes that will follow the kind voice should Marge place the baby back in her crib or in another adult's arms.
She says it's still hard parting with the babies when their adoptive parents are ready to take them home. But she finds ways to cope: Cleaning the house or sewing are two strategies; so is thinking that another infant will soon be arriving.
"The first was the hardest. Some get so attached," she says. "It's hard when they leave."
But as hard as it is to separate from an infant she has loved, Marge can't imagine giving up her life's joy. Without a baby in her arms, her heart is empty.
"I'm thankful I'm able to do it," she says. "As long as God keeps me healthy, I'll continue to do it."
Hattie Bernstein can be reached at 594-6439 or bernsteinh@telegraph-nh.com.