Looking back with Martin Gross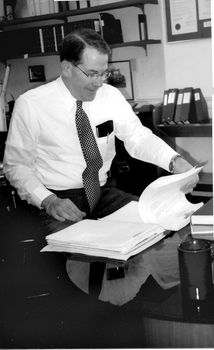 Martin Gross has been a partner in the Concord law firm of Sulloway & Hollis law firm since 1969. A former Concord mayor and city council member, he also was legal counsel to former Gov. Walter Peterson and was special counsel to the late Gov. Hugh Gallen. He is a veteran lobbyist, whose clients include various segments of the insurance and health-care industries. His many civic activities have included chairmanships of the New Hampshire Charitable Foundation and the Steering Committee for the Capitol Center for the Arts. He was a founding member and later chairman of New Hampshire Public Radio. Gross currently chairs the New Hampshire Center for Public Policy Studies and the state board of the Conservation Law Foundation. His wife of 33 years, the former Caroline Barrett Lord, died in 1993. He has been married since July 2000 to New London architect Deirdre Sheer.
Q: You were born in New York City, but you've been a part of the New Hampshire scene for so long, some people might be surprised to learn you're not a native.
A: I married into New Hampshire in 1960. I met my wife Caroline at college in Boston. I was an undergraduate (at Harvard) at the time, and she was at Radcliffe.
Q: When did you begin to think you wanted to be a lawyer?
A: My father was a lawyer. I loved and respected my father, though I didn't want to follow in his shoes by being an in-house corporate lawyer in New York. When I started casting around for something to do in college and in law school, I was also interested in the foreign service, and I probably would have gone into foreign service, but I had a congenital heart valve problem. There was no way I would have passed the foreign service physical.
Q: What was it about the law that you liked?
A: It took me a while to start liking it, because I didn't like law school at all. I really didn't catch on to how to do well on law school exams until my final year. The next big hurdle was three days worth of bar exams in New Hampshire. They always had those on the three hottest days of the year. And they always held them at the State Library over on the second floor under the skylight. It was like a greenhouse in there.
I went to work for a federal judge name Aloysius Connor. I enjoyed that because I was working up all the cases and he had me in the courtroom every day. I learned how to try a case by watching all the best lawyers in the state.
Q: How is the practice of law in New Hampshire today different from when you started?
A: The practice of law hasn't changed much. Lawyers are still civil to each other. Someone wrote a book years ago called "Lawyers," one of a series of books he did on different professions. He quoted one New Hampshire lawyer as saying, "We have our bastards, but we know who they are." By and large, that's still true.
Q: You've been a lobbyist at the State House for a long time. Do you find that in the public mind there's still a stigma associated with that profession?
A: Absolutely, when someone is — gasp!– getting paid to represent an interest in a process which – gasp!– is supposed to be pure. People think relationships are being bought. Relationships are important in lobbying, just as they are important in the practice of law. The question is trust.
Q: Do you enjoy lobbying?
A: I have liked part of it, and I can operate in that undisciplined climate. Many lawyers hate lobbying, because (the Legislature) is like a 424-person jury with no judge keeping order and no rules of evidence. I have enjoyed the process.
Q: A popular perception is that the citizen-legislators are overwhelmed by lobbyists for the "special interests."
A: Well, everybody's interest is special. Someone wrote recently that every little group now has a lobbyist. Well, how is it that information necessary for intelligent legislation is going to get to the Legislature if these little groups don't have somebody who can efficiently tell them what is going on and mobilize them to ensure that their interests are being heard? Not everybody can make a hobby out of this.
Q: What do you consider the most satisfying moment of your career?
A: Well, I've had two careers, professionally and then the public stuff. On the public side, I think the most satisfying moment was the reopening of the Capitol Center for the Arts, seeing people coming to the center again and being excited about it. Professionally speaking, I think it was drafting the legislation for the business profits tax that prepared the way for the business growth of the 1970s and '80s. It replaced 17 different taxes. It was the value of your stock in trade as of March 31 every year. It was a tax on machinery, a tax on this, a tax on that.
What was really interesting were the strategies people came up with to help them avoid paying unnecessary taxes. We all remember the parade that used to come up the pike on April 1, when the highway contractors would re-import their machinery because they kept it out of state until after March 31. You would see this parade of heavy equipment rolling up the Everett Turnpike.
Q: What do you believe was your most important accomplishment as mayor of Concord?
A: If there's one thing I would want to be remembered for, it's downtown revitalization. The one I had less to do with personally, but probably in the long run is more important to people here, is the cleanup of the Merrimack River. It was a process in which a foul cesspool, which the Merrimack River was in this neck of the woods, became once again fit for swimming and boating.
It's also an example of the way New Hampshire can benefit from the first-in-the-nation primary. In 1980, the chatter was that (President Jimmy) Carter was in trouble, because who could beat Ted Kennedy? Governor Gallen was a Carter supporter and I was a Carter supporter. That was useful, because if I wanted to bring anything to the attention of the White House, all I had to do was call the Carter campaign headquarters, and within a few minutes, or an hour max, I would get a call from the appropriate person on the White House staff. Then Ronald Reagan got elected and that was the end of that.
Q: How has Concord changed in the 20-plus years since you were mayor?
A: The population has increased. The level of commercial activity has increased very, very substantially. Concord as a whole is much more self-aware than it was when it indulged in the self-deprecation that I called "the Concord shrug." It was "Nothing good ever happens here" and "If the good Lord wanted us to have a vital and vibrant Main Street, he or she would have given us one."
We don't have the bright lights, but this city is pretty good at serving the needs of it residents and is pretty conscientious about it. People are always searching for the best ways to deal with problems. It's a place where people's voices get heard.