Lonza breaks ground for Pease facility with new partnership and new leadership
Christophe Royer takes over as life sciences company's new head of site as Vertex venture begins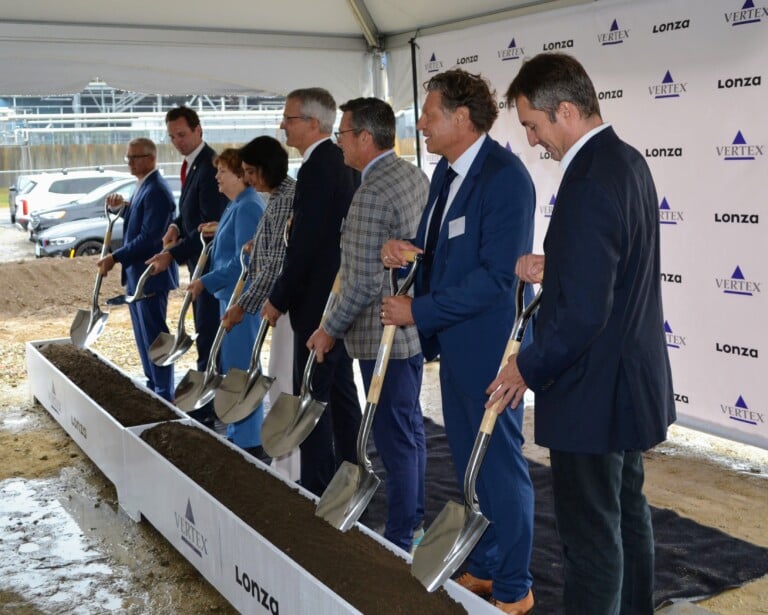 Lonza Biologics has ushered in a new era at its Pease International Tradeport site with a heralded groundbreaking for a new facility. Accompanying it was a less heralded announcement of a new head of site there.
The new building is being constructed for Type 1 diabetes researcher Vertex Pharmaceuticals of Boston. The facility will house diabetes cell therapy manufacturing and will be jointly developed by Lonza and Vertex on what is known as the Iron Parcel (because it's shaped like an iron), one of the last large developable pieces of property at the Tradeport.
Operated by Lonza, the single-story facility is anticipated to create up to 300 new jobs at peak capacity.
With 1,500 employees, Lonza is the largest life sciences company in New Hampshire.
The new head of site is Christophe Royer, whose appointment was noted in an NHBR exchange with Lonza about what happened to its former head of site, Tony Mulcahy, and its second in command, Mark Caswell.
While Royer wasn't among the speakers showcased at the groundbreaking, the primary presenters lauded the Lonza-Vertex partnership and the possibility that, if their collaboration is successful, that the Vertex gene therapy can one day restore the body's ability to produce normal blood sugar, replacing the need for insulin.
Pierre-Alain Ruffieux, CEO of Basel, Switzerland-based Lonza, described the collaboration as "an important milestone for us."
"As a strategic partner to the pharma and biotech industry, we see collaboration as a key ingredient for success in innovation. Collaboration is part of the fabric of our business," said Ruffieux, the gathering of several dozen people protected by a large tent from a steady rain, the earth-moving preparation of the Iron Parcel underway in the background.
The president and CEO of Vertex, Reshma Kewalramani, called the occasion "momentous" and described the significance of the development of insulin in 1921 as a way to manage diabetes, an unhealthy production of too much sugar/glucose in the bloodstream. Insulin regulates the glucose.
"Insulin is a terrific medicine. It is an amazing invention," she said. "It allows people to live with Type 1 diabetes, but it is not a cure."
"That is what we're trying to change," she added.
Battling diabetes
This effort is personal for U.S. Sen. Jeanne Shaheen, D-NH, another of the speakers at the groundbreaking.
"My granddaughter Ellie was diagnosed with Type 1 right after her eighth birthday," she said, "and I have seen firsthand the challenges that her family and my daughter Stephanie – her mother, who's here today – have faced."
"More than 37 million Americans live with diabetes and millions more at risk of developing it," said Shaheen. "It's the most expensive chronic disease to treat. We spend about $327 billion annually in hospital care and prescription medicine and doctor's visits."
Shaheen co-chairs a Senate Diabetes Caucus with Susan Collins, R-Maine.
She said it's important that federal regulators not impede the progress of the gene therapies being developed by Vertex.
"I'm so proud that this is happening right here in New Hampshire and the Seacoast," said Shaheen. "And it's great for the city of Portsmouth, it's great for the state of New Hampshire, and we need to make sure that any barriers that exist in our regulatory process with the FDA (Food and Drug Administration) are removed and addressed, so that we can move full speed ahead."
JDRF (formerly known as the Juvenile Diabetes Research Foundation) is the world's largest nonprofit funder of Type 1 diabetes research. Its CEO, Aaron Kowalski, told the gathering that diabetes is a 24/7, 365 disease. "It's unrelenting," he said, noting that he and his brother are diabetic.
"We're celebrating a facility that holds the potential to help millions and millions," he said.
'People moves'
Royer took over as site head in January, having previously worked for Lonza as its global head of quality mammalian and microbial manufacturing. Before coming to Lonza a little more than two years ago, he worked for Novartis.
His predecessor, Mulcahy, was only on the job at the Portsmouth facility for a little more than a year – October 2021 to January 2023. He has since moved on as vice president, general manager, and site head of the Alachua, Florida, site of Resilience, a biopharmaceutical manufacturing and technology company based in San Diego, Calif.
Lonza also lost the services locally of Caswell, who was its head of engineering and facilities for almost eight years until his departure in July. He is now site head of U.S. operations at the Oxford Biomedica Solutions plant in Bedford, Mass.
Asked about the departures, Lonza would say only, "People moves are an internal matter, and it is not our policy to comment."
Portsmouth Mayor Deaglan McEachern, noted in his remarks the important role Lonza played during the pandemic in producing one of the ingredients used by Moderna in the creation of its vaccine against Covid-19.
"We are so incredibly proud in the city of Portsmouth of what everything Lonza has done," he said. That a cure for diabetes might be developed here "is a big deal," he added.
He recalled the regional concern back in 1991 when what was a U.S. Air Force Base at Pease closed, ultimately replaced by the Tradeport, which is overseen by the Pease Development Authority. Lonza was among its earliest tenants.
"It was the beginning of the PDA, it was the beginning of Lonza's trip here in 1996. I think it was 50,000 square feet and 100 employees. You guys took a bet on Portsmouth, and that I believe has paid off handsomely for both of us," said McEachern.