Logo Loc Ltd.: an apparel and marketing company with philanthropic initiatives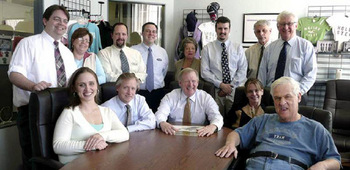 Logo Loc is a company that cares deeply about the human condition, as evidenced when fire recently destroyed a large apartment building in the center of Manchester, leaving 100 people homeless. Of course, the Manchester chapter of the American Red Cross was on scene, but not far behind was Logo Loc, a Manchester company that arrived at the site with eager staff and a trailer load of clothing to donate to the fire victims.
Logo Loc was founded in 1992 and was an outgrowth of company president Tom O'Reilly's venture into the retail clothing import and export business. Following research and development of a unique process for welding corporate logos onto apparel and other fabric-based products referred to as the "logo loc process," Logo Loc started out in a 1,500-square-foot facility in Laconia.
The initial challenge for Logo Loc was to create and expand the market for this "logo loc process." Thanks to the dedication and hard work of employees, Logo Loc now has over 35,000 square feet of manufacturing and warehousing space located in Manchester's Millyard. Building on the traditional forms of embellishment and the logo loc process, Logo Loc has evolved into a highly successful apparel, marketing and promotional entity. In fact, Logo Loc is one of the largest screen printers in New England and one of the top three printers for Abercrombie & Fitch.
Logo Loc is proud also to service clients such as Irving Oil, ECCO Shoes, Fidelity Investments, BAE Systems, Globe Firefighter Suits, FIRST, Life Is Good and hundreds of others.
Logo Loc's corporate philosophy is driven in a large part by a very gifted staff that is creative and not afraid to consider non-traditional approaches to doing business.
For example, Logo Loc spends little money on traditional forms of advertising and marketing. Instead, Logo Loc commits such funds to charities and for community service. The belief is that the return on this "investment" is a positive one for both the community and Logo Loc. Helps integrate philanthropic ideas into marketing progams.
The company's passions include ES Riders, Special Olympics and Easter Seals. In 2005, Logo Loc started ES Riders, a special program that raises funds to purchase Segways for use by children with physical disabilities such as spina bifida. Logo Loc also partners with Special Olympics programs throughout the country, but particularly in New Hampshire and Massachusetts. Logo Loc's impressive event trailer, equipped with portable production and a showroom, rolls right into event sites increasing profits through branded apparel and gift sales.
Visit the Millyard showroom and you will discover brand names like Greg Norman golfwear, IZOD, Nike and now ecosmart lines including gift items made with corn plastic, organic cotton and bamboo.
Consider Logo Loc a branch of your marketing department. Its art department turns ideas into designs and the marketing team packages the concepts to maximize visibility and budget. The production floor has the capacity to brand 150,000 pieces in a week.
Logo Loc is a member of the Greater Manchester Chamber of Commerce and the Fair Labor Association. Logo Loc has the U.S. Small Business Administration's designation as a "Small Business" and has been approved as a "Veteran-Owned Business" by the Department of Veterans Affairs. Additionally, Logo Loc is Central Contractor registered with the federal government and voluntarily participates in the annual OSHA Human Rights Inspection.