Local residents shed tears, wave flags along parade route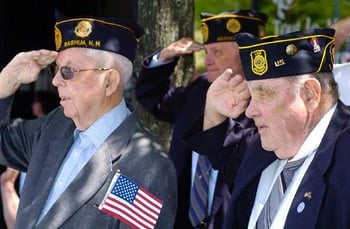 NASHUA – Omer Cote walked dutifully down Amherst Street toward City Hall, his arms by his side, as people standing on the sidewalks applauded and cheered.
The cheers were nice, Cote said. It shows him how many appreciate old veterans like himself.
But Cote's mind was elsewhere. Along the Memorial Day parade route he couldn't help but think of all the guys he fought with in World War II who never came home.
"The ones who never came back, they're the heroes," Cote said afterward. "I'm not a hero. I'm just a guy who volunteered to go."
Monday was an emotional day for 82-year-old Cote. When he got up in the morning and tucked in his pressed white shirt and put on his American flag tie, he wept. When he went to local cemeteries to hang wreaths and pray for fallen soldiers, he wept.
When he walked the parade route along Amherst and Main streets under a clear blue sky, he wept.
After the parade, as Cote pulled up a chair at the local Veterans of Foreign Wars post with a cold mug of O'Doul's nonalcoholic beer, he was still overcome with tears for the men and women who fought for this country and died.
"I count my blessings every day that I'm here," he said. "I really do."
Those feelings come back stronger each June as Cote thinks about the allied invasion of France and his own introduction to the war.
Cote expects Sunday – the 60th anniversary of D-Day – to be even more overwhelming. That's the day more than 100,000 American and British troops stormed the beaches of Normandy and wrestles control of the coast from the Germans. That day alone, more than 9,000 U.S. soldiers were killed or wounded.
By comparison, more than 800 U.S. soldiers have been killed in Iraq since fighting began in March 2003.
Cote landed on Omaha Beach five days after D-Day. The beach looked like a hurricane had been through, he said. The only difference was it was pocked with artillery blasts.
Cote's division was sent straight into action. Just a few miles from the beach, they started taking hostile fire. Farther in, Cote still remembers the sight of American parachutes hanging from trees where helpless paratroopers were shot to death by Germans before their feet ever touched the ground.
"The things I saw, as much as I want to forget them, I can't," he said.
Omaha Beach was the site of some of the bloodiest fighting on D-Day. The bluffs overlooking the beach gave the Germans clear shots at the approaching troops.
"I can't imagine what it was like when they got out of those boats," Cote said from the basement of the local VFW post. "They were targets, that's what they were."
Along the parade route earlier in the day, people waved flags and sang patriotic tunes to the music of the marching bands.
At Library Hill, Sally and Roland LaPlante waved small flags as the procession slowly went by.
"You can't miss this parade," Sally LaPlante said. "You can miss some parades, but not this one. It means a lot to everybody. And with the war like it is, we should give support to our troops, past and present."
Farther down Main Street, Kristine Tingley waved large flags with her 5-year-old daughter, Jenna, and 2-year-old son, Austin.
Her mind was on the soldiers who are fighting in Iraq.
"I feel so helpless," she said. "Stuff like this makes me feel like I can participate in some way. It makes me feel like I'm acknowledging their battle. They're doing that for me and my kids."
Eighty-four-year-old Louis Prince rode in a vehicle in the parade. He said he waved to the crowds for all the men and women who never came home.
"Today is for the guys who didn't make it," he said. "They gave everything they had."
Prince considers himself lucky to have made it back after 31 months of fighting in North Africa, Italy, France and Germany, including 133 straight combat days on the front lines of the war.
"How did I make it? I don't know," he said. "It makes you wonder why some made it and some didn't."
Prince was at the Battle of the Bulge near the German and Belgian border where more than a million men fought for more than a month with nearly 200,000 men killed, captured or wounded. Prince, a decorated veteran, wears a medal for the Ardennes Offensive around his neck.
Prince went on to see the liberation of a concentration camp.
He fought alongside some men who were wounded three or four times and would always want to rejoin the unit.
"I think about them every day, especially on a day like today," Prince said. "You think about these guys who gave it all."
After the parade, Prince and Cote crossed paths. They held each other's arms and said hello. The two veterans know each other's stories well.
Cote and Prince said they mostly remember the faces of the men they fought with. The names have become obscured by time.
"They were just like me," Cote said. "They were soldiers who went there to do a job and unfortunately they didn't make it back."
Jonathan Van Fleet can be reached at 594-6465 or vanfleetj@telegraph-nh.com.