Local 131 takes pride in education, training programs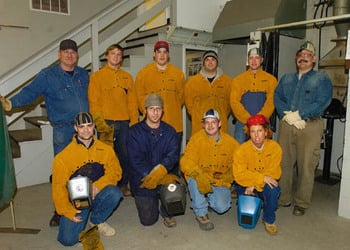 When a building is being constructed or renovated, the success of the project depends on many factors. Primary among them are experienced and knowledgeable tradespersons. That is exactly what the United Association of Plumbers and Steamfitters Local 131 brings to the site.
Founded in 1889, the United Association is a multi-craft union with some 300,000 members across North America and includes such trades as heating-ventilation-air conditioning, sprinkler fitters and refrigeration fitters as well as plumbing and pipefitting. Local 131, based in Hooksett, has 600 active members and serves as a source of skilled labor for area contractors.
What sets Local 131 apart from other organizations is their extraordinary focus to training. They increased their training budget by $40,000 over last year's, to $240,000, received an $86,000 grant to upgrade their training facilities and have added a full-time training coordinator.
"I feel that is one of the best decisions the members of Local 131 have made in recent years," said Dennis Adams, business manager for Local 131. "If the contractors need a certified medical gas person, an HVAC-certified person, a valve certified person or a certified welder or whatever their needs, our training coordinator makes sure that we have the instructors and the classes to fulfill those needs."
Local 131 currently has 40 apprentices in its highly successful training programs. Nearly 100 percent of the apprentices graduate. "There are no other programs in the plumbing, pipefitting and welding industry registered in the state that I know of that can match that graduation rate," remarked Adams.
The housing and construction industry has been a bright sector in the slowly recovering economy. Tradespersons, such as those from Local 131, have been at the forefront of the continued housing boom. Between residential, commercial and industrial projects, Local 131 accomplished over 775,000 man-hours of work in 2003 and is projecting 650,000 man-hours this year, said Adams.
Local 131 is currently entering into the second phase of the Manchester school project with Salem, Mass., contractor Francis H. Maroney, which is employing local help for the project.
For more information about the United Association of Plumbers and Steamfitters Local 13l, call 669-7307 or visit ua.org.