Like Sara Lee, nobody doesn't like George Bald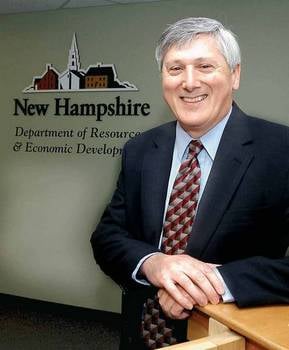 When Sean O'Kane left his job as general manager of The Center of New Hampshire in 2004 to become commissioner of the Department of Resources and Economic Development, he knew the DRED mission would be a challenge. But he had no idea how quickly he would come to hate all that agency's acronyms with his whole heart, his whole mind and even, for a time, with his bladder.
"My first day there I asked where the bathroom is," he recalled. "I was told, 'Well, you go down the hall past DED (the Division of Economic Development), take a left at OBID (Office of Business and Industrial Development) and…' I said, 'I just want to go to the bathroom! Can't anyone here speak English?'"
O'Kane's successor at that job, who began work April 1, did not gave any problem finding the bathroom. That's because the successor, George Bald, is also O'Kane's predecessor.
Bald held the post from 1998 to 2004, when he returned to the Pease Development Authority to work as executive director there. But O'Kane and Bald agree that the name of the agency Bald now heads is, well, DREDful.
"What a terrible name for such a wonderful agency," Bald has said.
But while O'Kane proclaimed a goal of getting rid of all of the agency's acronyms (he succeeded, at least, in doing away with OBID), Bald is resigned to living with DRED
"On the list of things I have to do, changing the name doesn't rank very high in the four years I have here," he says. "I think the best way to help the agency is to keep it a top-notch agency and make sure everyone knows that, while it may have a negative name, it really is a top-notch agency for the state."
Bald seems to have made a career out of heading agencies that are generally considered top-notch and have been made even more top-notch by his stewardship. He has been a three-term mayor of Somersworth, Rochester's economic development director, economic development director at Pease, commissioner of DRED, executive director of Pease Development Authority and, in a tribute to the value of recycling, commissioner of DRED again.
There is a rumor that somewhere in his past, Bald ran for a seat in the Legislature but the voters had the wisdom to direct his talents into more productive employment. And there are reliable reports that Bald has not missed the $100-per-year remuneration a bit.
Indeed, Bald, a Democrat who gets along famously with Republicans and people of other political persuasions, hasn't missed too much in his various jobs and missions in state government. He went to Pease the first time when there was audible grumbling around the state over what appeared to be a snail's pace of economic development at the former Air Force base.
With the bombers gone, Bald worked on attracting new businesses to the industrial park at the former site of the Strategic Air Command. Low taxes, proximity to Interstate 95 and Boston and the appealing lifestyle of the New Hampshire Seacoast eventually overcame the effects of the sluggish, even depressed, economy of the early 1990s. (After landing at Pease in a 1992 campaign stop, former President George Bush declared the economy in a "freefall" in New Hampshire.)
Pease was looking rather prosperous by the time Bald took his economic development skills and experience to Concord with him as DRED commissioner. Again, the lack of an income tax, the small government approach of New Hampshire and the state's overall economic climate — leading the region in what was by then an economic recovery — helped fuel renewed growth in the Granite State.
Without the kind of economic incentive that some states in other parts of the country offer—land giveaways, job training programs, tax incentives — Bald simply plugged the "New Hampshire advantage" and let the state's natural attractions do the rest.
His approach has been to follow the primary rule of the Hippocratic oath: "First, do no harm."
"I wouldn't say that I'm jealous," Bald says when asked about the enticements officials in other states can offer to lure businesses to their sites. "There are a number of things I tell companies that are interested in locating here when the issue comes up about other states giving free land or no taxes for 10 years, or whatever. I tell them it's not what we give you back, it's what we don't take in the first place."
The state could try to offer a new company a break on its business profits or business enterprise tax, but that could prove to be both unjust and counterproductive, Bald says. "When a company has been in your state 20 to 25 years and has been paying taxes, how do you think it would feel to see another company roll into town and be given a big tax break? It creates kind of a goofy dynamic."
George Bald is not the kind of guy who is "into" goofy dynamics. Bald likes things solid and stable and as ungoofy as the New Hampshire workforce.
"I also tell (businesses) they can get a talented workforce here. There's a lot of brain power in New Hampshire that may not be as available in other areas or in other states."
That's not to say Granite Staters are genetically superior to citizens of other states; they've just been at the manufacturing game a little longer.
"There has been for years and years a culture of working here that has seen New Hampshire with, for example, the highest level of women in the workforce. People are used to the effort of manufacturing, of hard work, of being committed," says Bald.
And while New Hampshire may grab a lot of attention for its fiscally conservative, Republican politics and its first-in-the-nation presidential primary every four years, politics is, in some ways, less important here than people may think.
"I was meeting with a company on Tuesday," Bald says, "and they were looking at creating jobs here. I gave them a tour of the State House, and I told them that one of the great strengths of New Hampshire is that it doesn't matter whether there's a Democrat in office or a Republican, the state has a very friendly attitude. That's important to job creation and to keeping in tune with what business needs are. It's important for us in creating jobs, whether in Nashua and Manchester or in Colebrook or Claremont."
Bald spent the first four years of his life on the other side of the Maine border, and he has some acquaintance with our western neighbors as well. He is hard-pressed to say, however, what the differences are among the three northern New England states in terms of overall personality or in approaches to economic development.
"Oh, I never denigrate another state," he says.
It would be difficult, perhaps impossible, to find anyone who would denigrate George Bald or the work he has done and continues to do for the state of New Hampshire.
For a politically active Democrat in a Republican state, Bald has done a remarkable job of not making enemies. As much as anyone, and more than most, he is the Sara Lee of the Granite State: Nobody "doesn't like" him. He manages to be candid without being blunt; he's forthright and tactful. He would be an asset to anyone's diplomatic corps.
Consider, for example, his answer to the question of why he is so well liked: "I have always had, and continue to have, an excellent staff."