Liberty Utilities agrees to gas pipeline deal
Under the deal, Liberty says it would buy enough gas to heat 65,000 N.H. homes on the coldest day of the winter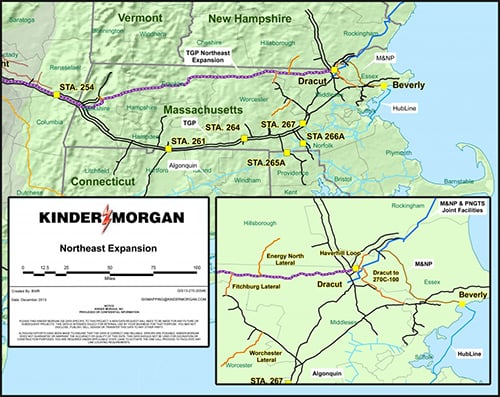 Liberty Utilities – the state's largest natural gas distributor – has reached an agreement to buy natural gas carried by a proposed new pipeline that would run across Massachusetts into New Hampshire.
An agreement with Kinder Morgan, parent company of the Tennessee Gas Pipeline Co., was announced Nov. 5. It is part of the financial and legal arrangements needed for Kinder Morgan to build the so-called Northeast Energy Direct Project, which will cost an estimated $2.8 billion and is scheduled to open in 2018. No financial details were announced.
The proposed 175-mile pipeline would run from New York state through northern Massachusetts to terminals in Dracut, Mass. Under the deal with Liberty Utilities, Kinder Morgan would build a sideline connection to a terminal in Nashua.
Under the agreement, Liberty Utilities Corp. will buy up to 115,000 dekatherms per day of natural gas – enough gas to heat 65,000 New Hampshire homes on the coldest day of the winter, the company said. Liberty has 87,000 customers in the Granite State.
"We feel this is an important project that is really going to help the energy situation in the state," company spokesman John Shore told the Concord Monitor.
The much-anticipated project still faces several hurdles before becoming reality. It has faced opposition from residents of towns in Massachusetts and New Hampshire that would be affected by the line. One of them, Hollis, N.H., has held a special town meeting to formally oppose the project.
Despite that, several other natural gas distributors have voiced support for the project, although Liberty is among the first to announce an official agreement.
One of the major steps in the approval process is getting the OK from the Federal Energy Regulatory Commission.
Since construction of added natural gas distribution capacity has been at the top of the agenda of government officials as well as the energy industry in New England, the Kinder-Morgan pipeline is not the only one on the drawing board.
Northeast Utilities and Texas-based Spectra Energy are looking to expand two existing natural gas lines, the Algonquin pipeline, which carries gas up from New Jersey to the Boston area, and the Northeast Maritimes line, which carries Canadian gas down through Maine and the New Hampshire Seacoast to Dracut, Mass., and Boston.