Liberty House in Manchester helps homeless veterans overcome challenges
Nonprofit operates without federal funding to be more inclusive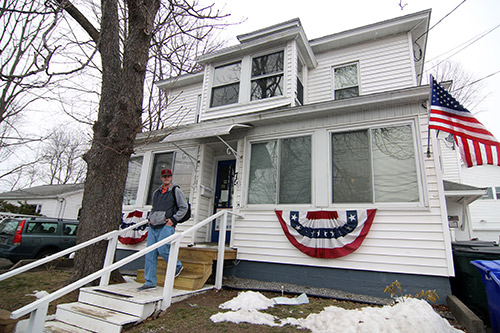 On a 15-degree day, with a bitter March wind chilling bones and setting teeth chattering, Steve Wilson was standing with crutches by the entrance to the state liquor store on I-95 North in Hampton, accepting donations for Liberty House, a temporary residence for homeless veterans in Manchester.
"I couldn't serve myself," said Wilson, who was born with spina bifida, a birth defect that prevents the spine from developing properly. "So I wanted to do something to help veterans right here."
A 1978 Easter Seals poster child, Wilson, now 44, has for more than a decade been spending his weekends standing in front of liquor stores, supermarkets, shopping malls and department stores, collecting dollars from people who stop long enough to drop dollar bills into the strongbox with a Liberty House logo.
"We don't ask" people to stop and donate, he said. "Some of the stores don't like that." With blasts of wind up to 37 miles an hour, a hardy few stopped to donate.
"It's slow today," Wilson said, smiling out on a day better suited for penguins, polar bears and sled dogs.
He and other Liberty House volunteers stand in the cold all day at various locations throughout the state to help homeless vets survive. Bill Zarakotas, community relations director at Liberty House, recalls a winter when veterans in the area froze to death while sleeping in the great outdoors.
No one knows just how many homeless veterans are on the streets of New Hampshire cities. Liberty House, with just 10 beds in its modest two-story structure on Baker Street in Manchester, tries to help those outside its walls as well. Zarakotas credits an increase in the organization's outside resources with preventing more deaths on frost-covered nights.
"We've had a tremendous response to what we're trying to achieve here, and we're getting more resources — cold-weather clothing, tents, sleeping bags, hats, jackets — to help them survive on the street or under a bridge or in the woods or whatever."
Bill Zarakotas, community relations manager for Liberty House.
'Basket of challenges'
For the veterans staying at Liberty House, there are health and safety precautions, including the requirement that each resident get a tuberculosis shot. There are random, unannounced drug tests to ensure the residents stay clean and sober. The nonprofit has received no federal funding since deciding a year ago to stop accepting an annual $40,000 grant from the U.S. Department of Housing and Urban Development. A HUD policy against requiring sobriety and treatment as conditions for admission to and participation in the program went against the long-standing rules at Liberty House, where drug or alcohol use is "an easy way to get thrown out of here real quick," Zarakotas said. "Zero tolerance" is crucial to the rehabilitation program, said case manager Ashley Kitchell.
"They come in with a basket of challenges," Kitchell said. "Almost everyone I work with has had some kind of drug or alcohol abuse, along with anxiety, depression, PTSD. We just have to be very mindful that when they're in recovery, they stay on track." Once Executive Director Keith Howard announced the nonprofit was "stepping away" from the federal funds, the news traveled far and fast, bringing in more in contributions than was lost by turning down the federal grant.
"An anonymous institution, represented by a Boston lawyer, donated $70,000," Howard said, "and they've continued to support us very generously over the past 14 months."
Jonathan Clough, an Army veteran, enjoys the company of the house's cat, Libby.
Another $10,000 arrived in contributions from all over the country, he said. "It turns out there are a lot of like-minded folks out there who heard about it and decided that if we wanted to remain drug- and alcohol-free, they wanted to help."
A $100,000 contribution from the Stuart J. Rahr Foundation was delivered to the nonprofit last year by the Trump campaign after the candidate held a fundraiser for veterans, raising a reported $5.6 million. The contributions enabled the agency to increase its annual budget from last year's $300,000 to just under $400,000 this year. All money received over budget is invested or placed in a rainy day fund, Howard said.
Liberty House has received grants from charitable organizations too, including the Ann De Nicola Trust, administered by Citizens Bank, and the Manchester-based Norwin S. and Elizabeth N. Bean Foundation. It draws on supplies from the NH Food Bank, as well as contributions of food and clothing from individuals, businesses and veterans groups throughout the state.
'Giving is living'
Volunteers show up on a regular basis to help sort clothing or to pick up donated items. Jim Gaudet, who served in the Marine Reserves in the 1980s, is now part of the Community Connections campaign at Associated Grocers of New England in Pembroke. Employees take part in fundraising for charitable organizations, with the company adding 25 percent of the total raised. Liberty House is among the recipients and receives a couple of thousand dollars every year, he said.
"We want money going where it's going to be beneficial, not into a CEO's salary," Gaudet said. Employees also hold clothing drives, and Gaudet, who has volunteered at Liberty House, has been able to direct boots, socks and winter clothes in that direction.
"We've had homeless people show up at the door without a decent pair of shoes on," he said.
With a staff of five full-time and two part-time employees, Liberty House oversees recovery efforts, requiring residents with addiction to attend Alcoholics Anonymous or Narcotics Anonymous meetings. Those with medical problems are sent to the VA Medical Center in Manchester. When able, residents are required to look for work and for a permanent residence.
The clothing barn next door is filled with warm winter wear for homeless veterans.
While the average stay is about four to six months, it varies depending on the ability of each resident to achieve a level of independence.
"Some come and leave in a week, and with others, it's over a year," Zarakotas said. "We have a program here they have to follow. They move with that program, and it more or less moves them toward the door." For those reluctant to make that move, "We gently ask them, 'Why aren't you out there looking for work?'"
Jonathan Clough, a 24-year-old Army veteran, is both looking for work and taking a psychology course at Southern New Hampshire University. He went to the Liberty House in December 2016, after spending a year at the Hillsborough County House of Corrections for a second DWI offense. Before that, he had been living on the streets for five or six months, stealing and buying drugs.
It's the kind of life he doesn't want to revisit. "My low point," he said, "was waking up every day."
Mike Gagne, 64, is a former Liberty House resident and current volunteer. He drives as far as needed to pick up donations and generally does"whatever needs to be done." He is unstinting in giving his time and effort at the house where he found help on the road to recovery.
By his own account, he is there five days a week through most of the year and seven days a week between Thanksgiving and New Year's. It coincides with his simple philosophy.
"Giving is living," Gagne said. "If you don't give, you don't live."