Let it B2B
Business-to-business is N.H. economy's 'bright star'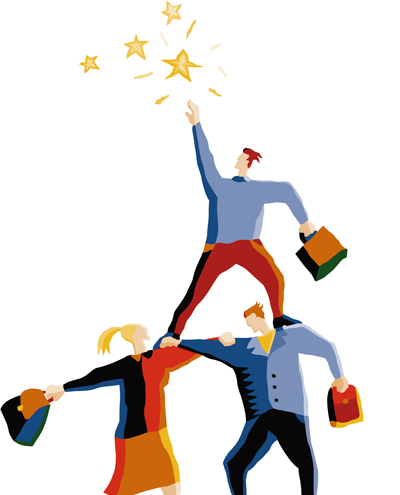 Newforma is helping to build the tallest building in the world.
The Manchester-based software developer won't lift a beam, supply a bolt or draw up a blueprint for the kilometer-high Kingdom Tower now being constructed in Saudi Arabia. But it is supplying the project software that allows companies that do all those things to meld their information together to launch a tower into the sky.
Providing software for projects like these is one of the reasons that Newforma has doubled its workforce in the last three years, and its three top executives were crowned in May as the co-winners of the New Hampshire High Tech Council's 2014 Entrepreneur of the Year award.
Companies that provide services to other businesses – often outside the state and even the nation – are among the reasons that New Hampshire's economy is finally showing signs of bouncing back.
The state's unemployment rate has dropped to 4.4 percent in the last two months, finally regaining the jobs lost in the Great Recession. And the biggest annual increase in employment of any single sector – 4.9 percent – has been in professional and business services.
"There is no doubt about it. The business-to-business sector is the bright star right now," said Dennis Delay, economist at the New Hampshire Center for Public Policy Studies. "The jobs in that sector are good-paying jobs."
As of April, 72,400 people were employed by businesses that serve other businesses – more than manufacturing and hospitality have, and more than triple the construction trades. Only retail trade and the government employ more.
And while the manufacturing sector has lost 10,000 jobs since before the recession, business services has added 5,000.
There are other bright stars, of course – health and education, which combined have added 10,000 jobs over the same time span. And New Hampshire is among the leaders in export growth. Manufacturing has shown signs of stabilizing. The number of startups is increasing. And the retail, real estate, construction and hospitality sectors have all bounced back to some degree.
"This is the year when we had the momentum to bring us back to where we were," said economist Russ Thibeault, president of Applied Economic Research. "It took us seven years to get here, but at least we are here. The long trip is over, and it was a gruesome ride."
B2B's importance
Partly because of those rough times, the business-to-business sector, otherwise known as B2B, has flourished.
"Business got used to outsourcing specific tasks, and became very good at being lean," said Annette Nielsen, economist with the state Department of Employment Security. Even as times got better, it was important to keep costs low to compete, "and if it was cheaper to outsource they would do that."
Indeed, during the recession, Newforma itself outsourced its chief financial officer function to Bedford-based Granite CFO Resources LLC – also known as Barbara Labonte, who was downsized herself after a consolidation.
"When companies get sold, that's when the CFO gets fired," she joked.
But she got hired, by several companies, including Renesys, which was just bought out by Dyn, another high tech B2B firm in Manchester that has exploded with growth. But even without a client like Renesys (and soon to be without Newforma, which has outgrown her), Labonte is busy with smaller companies that can't afford a full-time CFO.
"I'm part-time for them, but it adds up to full-time for me," she said.
Labonte's is a classic B2B business, a consultant who peddles her skills for many firms that once might have hired her.
Indeed, B2B is now becoming an important factor in many sectors of the state's economy. Advanced manufacturing often goes hand in hand with B2B without being classified as such.
"New Hampshire manufacturers are not into consumers so much," said Gerry Letendre, president of Diamond Casting & Machine Co. Inc., which employs 70 in Hollis. "That's generally low-tech and price-sensitive and goes to the country with the lowest labor costs. We are near Boston and have access to high-tech talent."
For instance, only about a fifth of Diamond Casting's business involves manufacturing parts that go into consumer products, such as Harley-Davidson motorcycles. The rest of its products are industrial, including metal alloy compression filters that go into the air compressors used at construction sites to drive jackhammers.
Globe Manufacturing in Pittsfield isn't quite a B2B. It sells firefighting clothing primarily to municipalities instead. And although government job growth has been slowed – thanks to the budget-cutting mantra chanted from Main Street to Washington (the Granite State has lost about 5,000 government jobs since the recession) – the recovery of the housing market has stabilized local tax bases and allowed municipalities to restore some funding. As a result, Globe has increased its New Hampshire workforce by 10 percent to 300 last year.
Export growth
Many of the companies that are filling up Pease International Tradeport are also high-tech specialty manufacturers that tend to serve businesses, said Pease Development Authority Executive Director David Mullen.
"These people don't build widgets," he said.
The companies there include Sig Sauer, which makes firearms for the military, police and private security; Teledyne DGO Inc., which provides underwater connectors for such activities as deepwater oil and gas exploration and production, and Flex Energy Inc., which builds turbine generators for the remote oil field environment.
Such companies took advantage of the low lease rates at Pease during the recession. Now the number of employees at Pease (8,300) is at an all-time high, while the vacancy rate (4 percent) is at an all-time low, forcing a mini-building boom at Pease, with a record six simultaneous projects.
Construction activity has been more modest elsewhere in the state, but Pease might be harbinger of things to come.
"Pease is a bellwether," Mullen said. "Our demand starts sooner than most."
One reason companies like to locate at Pease is to be near an airport and a seaport to more easily ship goods overseas, and that brings us to exports.
In fact, the Granite State led the nation in export growth in 2013 and through April was number three in the nation, with growth rates of about 20 percent.
"We've never seen growth so rapid," exudes Justin Oslowski, director of the federally funded New Hampshire Export Assistance Center. While there have been 15 percent declines in exports to the state's two largest trading partners – Mexico and Canada – "outside North America, our markets are exploding."
Exports to Saudi Arabia have increased a ridiculous 1,000 percent year to date, making it our fourth-largest trading partner, right behind China (where New Hampshire rose 26 percent). Exports to India are up more than 700 percent and exports to Turkey – controversial since the governor recently led a trade mission there despite a state travel ban – are up by 57 percent.
Corfin Industries LLC attributes the jobs of 22 of its 125 workers at its Salem facility to export activities.
Corfin, however, is an example of a hard-to-classify company, a cross between a B2B and a manufacturer. The company doesn't make parts, it uses robotics to dip parts supplied by distributors into a lead-tin coating to make it easy for its industrial clients to solder.
(Most products headed for consumers can get away without lead because they only need to last a few years. Indeed, environmental regulations often require safer materials then lead. But, according to Corfin Managing Director Don Tyler, lead-tin coated soldering is less likely to fail, which means they can be used in a pacemaker, an aircraft or a missile guidance system.)
Even startups tend to be B2B, reports Mark Kaplan, CEO of Alpha Loft (formerly abi Innovation Hub), which operates business incubators in Portsmouth, Durham and Manchester.
"I'm not going to say they are easier to do, but they serve less the needs of the whims of fashion compared to consumer products. They are more laser-focused to the needs of a particular industrial process," he said.
Investors seem to prefer that focus. "A lot won't invest in business-to-consumer. They often require large amounts of capital and there is more risk involved," said Kaplan.
On the West Coast, where more venture capital is available there might be more of a willingness to gamble. But in New Hampshire, "a lot more venture dollars back B2B," Kaplan said.