Legal issues unclear in gambling case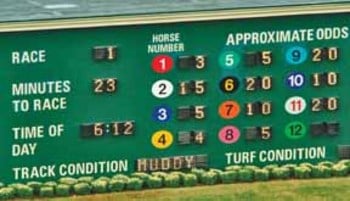 Technology and the growing pari-mutual pool
The January indictment of two officials of the Lakes Region Greyhound Park in Belmont on federal charges relating to participation in an allegedly illegal offshore Internet and phone gambling operation raises several questions about the legality of off-track pari-mutuel gambling operations. Chief among them: What exactly do federal officials think is illegal about them?
Internet gambling is a huge growth industry, expected to reach nearly $10 billion this year and nearly $20 billion in the next five, according to Portland, Maine-based Christiansen Capital Advisors, an expert in the industry.
Most Internet gambling is both unregulated and illegal (even if the laws are difficult to enforce), particularly sports gambling, which accounts for nearly a third of the business generated by Internet sites. (Internet casino gambling leads the way, offered by about half of the sites.)
Internet pari-mutuel gambling, on the other hand, accounts for a small fraction of the Internet haul, but it was one of the few forms of on-line wagering that was thought to be completely legal in most states, at least until the recent indictments.
Rockingham Park in Salem, for instance, accepted $500,000 in wagers last year from Internet bettors through Youbet, a company listed on the Nasdaq. Oregon-based Youbet, which accepts bets from Internet gamblers all over the country, recently boasted it has booked $1 billion in wagers since 1997 — most of it in the last three years. (Youbet streams live video of races over the Internet.)
The Yankee Greyhound track in Seabrook also accepts bets through various off-track companies, including a tiny amount from Euro-Off Track, the offshore firm that's mentioned in the January federal indictment.
Hinsdale Greyhound Park doesn't sell its signal, but a fifth of its handle now comes from phone bettors, according to track officials.
At Lakes Region Greyhound Park, which has by far the smallest live racing handle of any dog track in the state, roughly two-thirds of the handle comes through the phone.
What's the problem?
Although the Lake Region track was not the target of the federal indictment, it is feeling repercussions, with several tracks around the country no longer sharing their simulcast signal with the Belmont facility.
The indictments named LRGP General Manager Richard Hart and his assistant Jonathan Broom, for their relatively small role in a $200 million gambling scheme involving everything from horse doping to organized crime. Specifically Hart and Broom are charged though their involvement with International Players Association in Concord, which allegedly acted as a conduit between a New York organization called the Uvari Group and Euro Off-Track, an offshore betting operation based on the Isle of Man in the British Isles. Both have pleaded innocent and have been placed on unpaid leave while they prepare their defense.
Richard Hart's indictment has brought increased scrutiny on the Belmont track. Hart isn't just the general manager, he is the nephew of Allan E. Hart, the race track's general partner, as well as the son of Joan Hart, a limited partner who owns a third of the track. His wife Denise Hart is another limited partner, owning 16.66 percent of the track, according to the documents filed with the state Pari-Mutuel Commission and released to the New Hampshire Business Review.
In addition, Richard Hart's two brothers — Kenneth (a former track operations manager) and Robert Hart – claimed in a recent Merrimack County lawsuit concerning their equity in IPA that the track was a virtual partner in IPA and that Allan Hart helped set it up.
Allan Hart now admits his role in creating the IPA, though he said its operation has nothing to do with the track, that its business was perfectly legal and he wasn't involved in its day-to-day operation.
One charge – that the Uvari Group members assumed gamblers' Social Security numbers in order to deduct gambling losses from their income taxes – appears, if true, to be clearly beyond the pale of the law. But the indictment doesn't specifically say that Hart and Broom knew of this alleged action and, besides, no one in the indictment is charged with income tax evasion.
The major federal laws cited — the Wire Act, money-laundering statutes and a statute forbidding Internet gambling in states where gambling is illegal — all presume that the targeted gambling operation is illegal, but the indictment never really spells out why.
Federal prosecutors have offered no explanation so far, though outside observers and inside sources say that the Justice Department leans toward the position that any gambling across state lines over the telephone is illegal.
The problem, say experts, is that such laws are impossible to enforce offshore. What makes the indictments of Hart and Broom unique is that the federal government is now going after the middleman: people working through an on-shore agency (IPA), which transmits both the funds and the information to make the gambling operation possible.
The Wire Act does forbid gambling over telephone wires, which presumably also includes the Internet. But the law exempts "the placing of bets or wagers on a sporting event or contest from a state or foreign country where betting on that sporting event or contest is legal into a state or foreign country in which such betting is legal."
The IPA, according to documents filed in the Merrimack County lawsuit – was set up to handle pari-mutuel betting, and pari-mutuel betting is legal in all but a dozen states. It is certainly legal on the Isle of Man, which has set itself up as an offshore gambling haven.
In addition, the federal Interstate Horse Racing Act was amended in the late 1990s to specifically allow account wagering, which is primarily phone or Internet betting.
And last year Congress repealed a 30 percent tax on pari-mutuel bets coming from outside the country to encourage foreign betting into the United States.
Of course, not all phone and Internet betting on horse and dog racing is legal. Some companies still bet outside the pari-mutuel pools, with bettors trying their luck against odds set by a bookmaker. This is usually unregulated by both the state and federal government, and therefore illegal.
Pari-mutuel betting, on the other hand, involves bettors wagering against each other. The odds change as the bettors in the pool change their wagers.
Offshore 'verboten'
Some say that the real reason the federal government issued the recent indictments was to clamp down on offshore operations.
Gambling money is increasingly flowing out of the country and onto Indian reservations, where regulation and taxes are even lower than in Oregon, where the tax is one-half of 1 percent, allowing for greater rebates. But regulators worry that the lack of regulation makes offshore operations more attractive to organized crime to launder money, and perhaps use computers to get into the pari-mutuel pool, read the betting trends and use that inside knowledge to manipulate the outcome.
"Someone betting offshore, that is verboten," said Paul Bowlinger, executive director of the North American Pari-Mutuel Regulators Association. "We are going to allow interstate pari-mutuel betting, but we are not going to allow you to go offshore."
But as last year's repeal of the 30 percent tax on offshore wagers illustrates, the federal government appears to be encouraging that very form of offshore wagering.
At the same time, U.S. bettors routinely place wagers on European horse races and are beginning to enter those pools.
For instance, in 1993, US Off Track, another Oregon based third party wagering operation that specializes in greyhound racing with its PayDog Web site, is working with its partner Euro Off-Track to commingle international pools of several Irish tracks, making that pool available to both Seabrook and Lakes Region bettors.
Euro Off-Track is the Isle of Man entity that Hart and Broom were allegedly serving as a conduit for. And that raises the question: Exactly what were they indicted for?
Rick Newman, lobbyist, speaking for Greyhound, thinks they shouldn't have been.
"What they were doing was perfectly legitimate," he said. "Somehow they were caught in the same net with people who apparently weren't doing what they should have been."
Then why were some of the owners and officials from Lake Region Greyhound Park setting up an independent outfit – the International Players Association – to work with Euro Off-Track, rather than do it through the track itself? Aren't they just competing against themselves?
Newman offered to answer both questions. New Hampshire tax and rebate caps prevent the track from fully taking advantage of any off-track betting and rebating. And the money isn't in betting on little-known greyhound races in New Hampshire, but tapping into those who want to wager on big races, like the Kentucky Derby. This kind of international betting "attracts very, very big players, millions of dollars. You make less of a percentage off them, you make it on volume," said Newman.
As for competing against those who might bet on greyhound races, "those customers are long gone. They wouldn't have been here. You are not competing with yourself. You are competing against other countries."