Learning about loyalty with Diane Durkin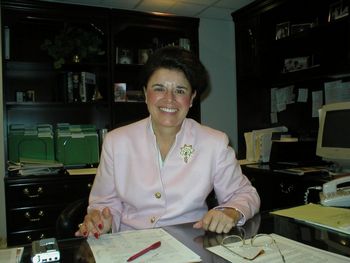 Diane Durkin is possessed by a touch of revolutionary zeal. Founder and president of Loyalty Factor, a New Castle-based consulting and training company, Durkin believes communication is the key to transforming a moribund workplace into a dynamic launching pad for corporate managers and their employees. The ultimate goal is better customer service, which translates into a loyal and expanding customer base.
While the connection between satisfied, motivated employees and superior customer satisfaction is obvious to Durkin, she says it is one that still eludes many corporate managers.
Durkin started Loyalty Factor in 1996 after holding high corporate positions with General Electric and Gulf Oil, and following her own entrepreneurial path as the owner of a sheepskin hat factory in Poland. She now has 10 full-time employees and consultants who serve a variety of corporations and businesses of all sizes across the country that include Genuity, the United Nations, IBM and The Hartford.
Her latest training innovation is Ask and You Shall Sell, a question-based sales approach that she believes can revolutionize the way companies sell and market themselves.
Q. What does loyalty mean to you?
A. I have always had this premise that if your employees are content and happy with what they are doing you will be able to attract customers, and those customers will build your brand. This is why I came up with Loyalty Factor as the name of my company. To me, loyalty means two things — people wanting to do business with you, and therefore returning time and again because they have had a pleasant experience and they feel they have received a very good product at a very good price. In some cases they may even pay slightly more for the product because of the personalized service and treatment they receive.
The second part of loyalty is individuals feeling they have had such a positive experience they want to tell their colleagues, friends, neighbors and members of their family about the experience.
Q. What are a few of the most important things you learned in the workplace before starting your own business?
A. Every single employee in a company — whether it is the janitor, receptionist, senior vice president or the CEO — has something very key to contribute to the company, and it is everyone working together that brings a corporation to major success. It is therefore important to ensure that every employee feels valued within the organization, clearly understands the overall vision and strategic direction of the organization, and they clearly know the value their job makes in reaching that overall vision and strategic direction of the company.
It is only when people feel they are valued and are contributing to the overall good that they will go the 200 to 250 percent to make the company successful.
The second thing that I learned is that the key ideas for success range not just with the chief executives and the senior executives offices but rather with everyone in the organization. If processes need to be changed, ask the people — they understand how processes should be changed, they understand the issues within the organization that are hampering success.
Q. What was it like working in Poland right after the fall of the Berlin Wall?
A. It was fascinating, exciting — one of the most unique experiences of my life, truly an educational change that was extremely gratifying. To see people of my own nationality being able to free themselves and understand they could now think for themselves, act for themselves, grow for themselves and help themselves was truly a rewarding experience.
Q. Have you worked with a company that was too dysfunctional to help?
A. We have been very fortunate in that we have not had the experience of working with a company that was too dysfunctional to help. I firmly believe that a company that is so dysfunctional that it cannot be helped will self-destruct over time.
The only type of company that I can think of that would be in that situation would be one where a management team is not willing to listen to their employees and customers to support organizational growth. In this type of situation, the employees will turn against the management, thereby destroying the company and everything it stands for.
Our approach is to ensure any changes are totally bought into by the organization, and they are evolutionary versus revolutionary. In this way, they will last the test of time.
Q. What is Ask and You Shall Sell all about?
A. It's a sales training program that helps sales organizations build long-term, strategic relationships with their clients. The program is steeped in building rapport and understanding customers' needs and buying criteria. It is designed for salespeople to clearly understand the customer's goals and objectives and to develop a level of trust and respect with the people who have the buying power.
In the program, we stress three major concepts — communication style, building rapport, and questions are your secret weapon.
Q. What's the best part about your job?
A. There are three parts of my job that I absolutely love.
First, the variety of clients that we work with. We have very large clients as well as very small clients, like an architectural firm, a law firm, a public relations firm. It is the complete range of size of our clients that I adore.
Second, the diversity of clients that we work with. We may work for a law firm one day and a technology company the next day, and then we move to a hospital.
Third, we recently trained all of the housekeeping staff of a hospital in customer relationship skills. We work with a broad range of clients, from the top-level executives of a company in strategic planning to training the housekeeping staff. It is wonderful to be able to go to a company and walk into the cafeteria and hear everyone says, "there's Loyalty Factor."