Lawmaker resigns after ethics panel decision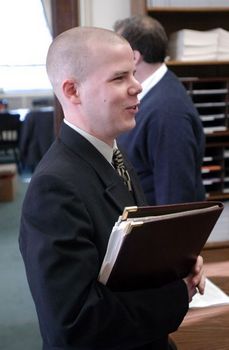 CONCORD – Bedford Republican state Rep. John E. Kerns ducked a move to expel him from the Legislature by resigning Thursday.
Kerns, 23, said he's undecided about seeking a comeback election this fall or whether he would drop a lawsuit that could be moot that challenged the constitutionality of an ethics probe against him.
"It was a complete and total surprise. I wanted to stay," Kerns said during an interview after signing a two-sentence letter of resignation and exiting the Statehouse.
The House of Representatives broke into applause when the letter was read. Speaker Gene Chandler, R-Bartlett, had the report recommending the expulsion of Kerns put in the permanent House record.
"It was a good resolution to a tough situation for everyone involved," Chandler said. "I think it was in his best interest, certainly. It was the first admission he needs to look at his situation."
The ethics panel unanimously concluded Kerns abused his office trying to keep a parking space by threatening and intimidating Dover school officials.
Kerns also was charged with writing checks bearing "State of New Hampshire" on them and making a claim to one Salem merchant that the state would back it up.
A Dover District Court judge has set an April hearing on four criminal charges Kerns wrote bad checks that carry a prison term of up to four years.
Chandler had set March 11 for when Kerns would have faced the threat of becoming the first person forcefully driven from the 400-person House of Representatives since 1913.
The House expelled Clifford Snow of Manchester 91 years ago for taking bribes in exchange for selling votes to candidates for the U.S. Senate and governor.
Kerns said he came to Concord on Thursday intending to give a 13-minute speech that labeled him innocent of all charges and blamed erratic behavior on a neurological condition that he refused to document to the ethics panel or to House leaders.
House Minority Leader Peter Burling, D-Cornish, and other opponents planned to stop him from speaking by calling for an immediate vote on his expulsion, Kerns said.
"It was a dirty, dirty trick," Kerns said. "The truth is I was really leaning towards resigning."
Burling said he already had accepted Chandler's desire to wait a few weeks before bringing this to a vote.
In a statement, Kerns lashed out at House leaders from both parties and at the ethics panel, particularly Chairman Shawn Jasper, a Hudson Republican lawmaker.
"I know I'm not the coldest beer in this fridge, so let's stop the chivalry. It's a distraction of the public business and the public good," Kerns wrote in the statement released to The Telegraph.
"Representatives and senators commit numerous ethics infractions every day, and we overlook all of that behavior. And let's impeach this civil servant and servant of God standing before you. I ask the Lord, for what? In person, no one has alleged I have been anything but a gentleman before the Honorable Court, and I have. I have appeared when I have been well, and I have not appeared when I have been sick."
Kerns described his condition that has caused short-term memory loss.
"It's an aphasia that has developed that, with medicinal treatment, leaves one capable of sustaining a healthy, normal life and I have begun treatment for that condition," Kerns wrote.
Aphasia is medically defined as loss of the power to use or to understand words.
The ethics panel began its investigation last August and Kerns refused repeated attempts to get him to appear before it.
Kerns reluctance to confront the charges or to admit any wrongdoing weighed on the panel deciding to recommend its toughest punishment option – expulsion – according to Vice Chairman Ned Gordon of Bristol.
Kevin Landrigan can be reached at 224-8804 or landrigank@telegraph-nh.com.