Law firm's free help for startups strikes a chord
Devine Millimet's Business Launch Initiative helps new businesses incorporate, and offers other advice, at no charge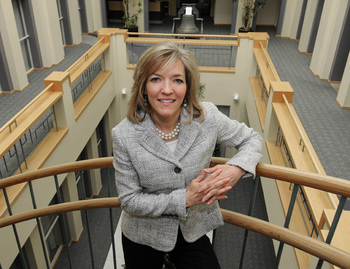 Who says there's no such thing as a free launch?
That's the working tagline for Devine Millimet's Business Launch Initiative, a unique program started by the Manchester-based law firm at the depths of the recession that helps new businesses incorporate, and offers other advice, at no charge.
Already close to 100 companies have launched through the initiative since it began in 2010, including accounting businesses, two breweries, bakeries, a winery, consulting firms and a farm.
The new business owners walking through the law firm's doors are "not just the young people — it's middle-aged people, it's people who have been outsourced, it's people who have been retired who want to go into business," said Steve Cohen, chair of the mergers and acquisitions team at Devine and a co-founder of the initiative. "The stereotypical new business owner — there's no such thing."
It's an historical fact that recessions drive entrepreneurship, and the Great Recession was no different. A 2010 study by the Kauffman Index of Entrepreneurial Activity found that in 2009, entrepreneurial activity in the United States grew to its highest level in 14 years, with 558,000 new businesses created each month on average.
As a lawyer, Cohen has seen firsthand the effect that recessions have on entrepreneurship, having incorporated many businesses during the early 1990s recession and after the dot-com bust.
But, he realized, the Great Recession was different from previous recessions. This time around, people had little or no equity in their homes, had little to borrow against in dried-up 401(k)s, and banks weren't lending.
"For setting up businesses, whether they be corporations or LLCs, we looked at, what's the impediment? It's cash," said Cohen. "And who wants to spend the money to incorporate as opposed to buying inventory or putting a deposit down on a lease or actually getting into business?"
Paying off
Thus the Business Launch Initiative was born. And a year and a half into its short life, it has already managed to raise a few eyebrows.
At various times it has counted among its skeptics the firm's own board of directors, competing law firms and the entrepreneurs themselves, some of whom wonder whether the program has a catch.
But all told, it has so far been a remarkable success for both the business owners and the firm itself, said Cohen. Businesspeople get free incorporation and (arguably more importantly) legal guidance, while Devine gets an early entry into these businesses as they grow.
When Cohen and Angela Martin, head of Devine's small business group, approached the board with the idea, "they thought we were crazy," he said.
"In a down economy, you're saying, 'Hey, I have a great marketing plan — let's give away our services for free.' They looked at us like, 'No, that's kind of not what we want to hear,'" said Martin.
But the board eventually came around to the idea when they saw it as a marketing tool that had potential to build long-term relationships, said Martin, who now manages the program. The board gave them $20,000 to put together marketing materials for the initiative.
"It was more of selling a vision, because this isn't for the most part about giving away free legal services," said Martin. "This is also about having a vision for building up our corporate practice and bringing in businesses we want to represent for a long time."
That vision has already begun paying off. While they acknowledge that some of the new businesses they help launch will never return, close to a third of those that incorporated through the program have returned already on a fee basis, said Cohen.
Among them is Brett Gordon, who launched his company, Bioscience Solutions Group LLC, last summer through Devine.
The Bedford resident had spent nearly two decades in the medical field and wanted to start a business that would provide qualified technicians to work in physician-owned laboratories.
He had the idea, but had never started a business before and admittedly had no clue where to turn."It was a lot we weren't prepared for — creating proposals, (using) QuickBooks," he said. "I'm a sales guy. I had no idea how to do this stuff."
He had initially planned to get up and running as many startups do, using the online form company LegalZoom and incorporating as an LLC in Delaware, a domestic tax haven.
But he had some reservations about using the site, which charges as little as $99 to incorporate but expressly states in its disclaimer that it "is not a law firm, does not act as your attorney and is not a substitute for the advice of an attorney."
"I'm like, 'If we're serious about this, let's do this right,'" he said. "That's when I got in touch with the New Hampshire Small Business Development Center, and they told me about Devine Millimet."
He and his partner were matched up with corporate attorneys Justin Vartanian and Kristin Mendoza, who he said were "really, really helpful" in helping them talk through the legal issues involved in starting their business.
Since incorporating in August, Gordon has already returned twice on a paid basis — once when bringing in new partners, and once to amend the company's operating agreement. The Cambridge, Mass.-based company's scope has also expanded to include actually building laboratories.
Not just 'providing forms'
What's so helpful about the initiative is that it gets new businesses started on the right foot with the goal of being "the anti-LegalZoom," said Cohen.
"We oftentimes get clients who have been set up two, three, four, 10 years, and we look at their corporate records and they're a mess," said Cohen. "They never issue stock certificates, all they did was file a simple form at the secretary of state's office, they really haven't done what's necessary to limit their liability and to act, look or smell like a corporation or a limited liability company — but they don't know any better because they've bought a form."
For example, Cohen said he is regularly surprised at the number of people who start businesses in their own individual names.
Because New Hampshire has what he called an archaic probate process, those businesses can get tied up in probate and go under if the owner passes away. As a result, attorneys at the firm advise businesses they are incorporating to be put in a revocable trust.
"We're not just providing forms," said Cohen. "We're giving them legal advice, tax advice, and structural advice."
That was essential for Adam Laferriere, owner of Manchester-based Landtech Landscaping LLC, who was also referred to Devine through the NHSBDC.
Laferriere had landscaped throughout summers in college, but like Gordon had never started a business before.
"There's more paperwork and nuances than you think of," he said. "It's a lot more than just planting plants and watching grass grow."
Laferriere and his partner worked with Martin, who sat down with the partners to discuss their long-term goals for the business.
"I think people underestimate the value of sitting in a room with a lawyer who does this for a living, because when I sit with my client, it's not just about what kind of business entity do you want to be," said Martin. "It's about what's your business plan, are you hiring employees, do you have intellectual property, are you leasing office space — it's about, what's your greater plan?"
Rising with the tide
Martin said some business owners are skeptical of the program, wondering whether it has some hidden caveat or charge, but Laferriere said he wasn't surprised that it was free.
"I understand why they are doing it, because they earn our business going forward. I was surprised how much they were willing to do, though," he said. "I figured we would receive a cut-and-paste operating agreement, and it wasn't, and it was actually very detailed from what we had discussed in the meeting."
Laferriere hasn't returned to Devine yet for any paid services, but said the firm would be his top choice were he to need legal services going forward.
"Definitely in the future, I will be going right back to Angela," he said.
To their knowledge, no other law firms in the state have a similar program, though Cohen said two firms have outright asked him what Devine is doing, saying it's not good for business.
The response from other lawyers hasn't been exclusively negative, however, said Cohen.
"I heard from a partner in another large New Hampshire firm, and he commended us for doing this, and I said, 'You could do it too,' and he said, 'We don't want to look like we're following the crowd.'"
"Which is great for us," said Martin.
But even if other firms start offering the same service, "we think that would be good," said Cohen. "In some respects they would be a copycat, but who cares, because it is going to help the business community in New Hampshire. All ships rise with the tide."
While the program has already begun to pay off for Devine, they won't know the real success rate until years down the road.
"We'll know by the time I retire," said Cohen. "We'll know which companies have been successful and hopefully more than a handful."
But trying to guess which ones it will be is near impossible, said Martin.
"I think what we have learned in this process is we cannot predict who has the best idea and who doesn't. It's amazing to me, because every time I try to do it I am totally wrong. So I try not to do that," said Martin. "But it's fun. It's fun hearing the new ideas, and the fun part about this is that everybody is so excited because they all think that they have the best idea, and they're just going to take off, and we all sign off on that belief with them."