Lavallee/Brensinger builds its reputation and community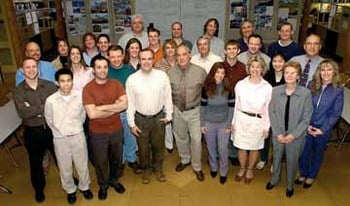 Painted along a curved wall in the reception area of Lavallee/Brensinger Professional Association are these words:
"We are a family that supports each other through mutual kindness, trust and respect. We are committed to excellence in the service of our clients and communities…"
Living by this motto has earned the Manchester architectural firm of Lavallee/Brensinger the honor of being named this month's winner of Citizens Bank's Not Your Typical Business Award.
"Their compass is very clear," said Jeannette Davila, senior vice president of Citizens Bank, who has worked with the firm since 1989.
"Their customers come first, but to do that Fred and Barry work hard to make sure their colleagues are happy and love working there. For everyone to be happy in their work you must have a community that is doing well, and they work hard at that too."
For Fred Urtz, Lavallee/Brensinger's president, and CEO Barry Brensinger, the connection between a committed, content and capable workforce and a vital community is imperative.
"We believe Manchester is a wonderful place to live and work. It's wonderful to be able to work in an environment like this," said Urtz during a recent visit to the company's offices at 155 Dow St., a mill building brought back to life in part through the design efforts of Lavallee/Brensinger.
Some 95 percent of the firm's diverse portfolio involves the planning, design and renovation of health-care, educational, civic and corporate facilities in New England, including the Verizon Wireless Arena, the Manchester Airport, Manchester City Hall, Littleton Hospital and Rivier College.
The company is currently working on the master plan for the property of Concord Hospital and the much-anticipated Parkside Condominiums next to Manchester's new baseball stadium.
The firm's services also include creation of environmentally friendly buildings, fitting furniture and equipment in completed buildings, creating graphic designs for signage and performing post-occupancy analysis.
"We didn't necessarily have a business model, but as we've matured and as our clients matured we expanded in size and services," said Urtz, who joined the company in 1982, five years after founder Donald Lavallee started the business as Donald Lavallee Professional Association.
Urtz credits the company's success to the development of solid customer relationships.
"We've been a very customer-centric business. Our mantra from the beginning has been, 'Be there for our clients,'" Urtz said.
Joe Fagan, vice president of finance and administration at Rivier College in Nashua, first experienced Lavallee/Brensinger's commitment to a project a decade ago. Since then, a relationship has been forged between the college and the firm, one that has continued with Lavallee/Brensinger constructing four new buildings and completing renovations on numerous other projects for the school in the last decade.
"The best thing about Fred is that he listens, really tries to understand and get a flavor for what we're trying to do here. He is quite in tune," Fagan said.
The importance of developing good relationships also is alive in-house, according to project manager Richard Pizzi.
"We have a great group of talented, energetic professionals. Everybody looks forward to coming to work here. I think this attitude comes from the top down. Fred and Barry come in in the morning, and they're excited to be here," said Pizzi, who this June will be celebrating his 11th anniversary with the firm.
Nurturing the growth of their staff is something Urtz and Brensinger work hard at.
"We like to give our youngest and less experienced staff members – even our non-design staff — the opportunity to get involved in design work by including them in brainstorming sessions. This is good for everybody; it brings in a new perspective and keeps people motivated," Urtz said.
Nurturing a familial feel in the office is another way of keeping people connected, Urtz said. Birthday parties, showers and other celebrations are common. A blues concert for staff and customers is hosted at the office every March, and the entire company is whisked off to a place like New York, Boston or Montreal once a year for an annual retreat.
While clients and staff are high on the list of consideration at the company, community is never far from the minds of Urtz, Brensinger and the entire staff.
"We are as involved as we can afford to be with both time and money," Urtz said. "So much of the work we do is involved with improving our community."
The welfare and nurturing of local youth are high on the priority list of the firm and its staff, with involvement in the Manchester Boys and Girls Club, Easter Seals, CASA, Child Health Services and Child and Family Services.
Manchester Neighborhood Housing Services, Palace Theatre and Greater Manchester Mental Health also are beneficiaries of the firm's community involvement.
In 1992 Lavallee/Brensinger established an art scholarship for New Hampshire high school seniors planning a career in the arts. In 1999 the company introduced the Lavallee/Brensinger Charitable Fund through the Manchester Regional Community Foundation in order to "support general charitable purposes with significant interest in innovative projects that promote quality of life through creative design," said Urtz.
"I've worked with Fred and Barry for a long time as their banker, but I have really gotten to know them through their involvement with the community," said Davila, a member of Easter Seal's board of directors. "They are just a terrific group of people. They are what every company should strive to be."