Lakes Region General Hospital emergency department renovation begins
Increased efficiency, better patient flow sought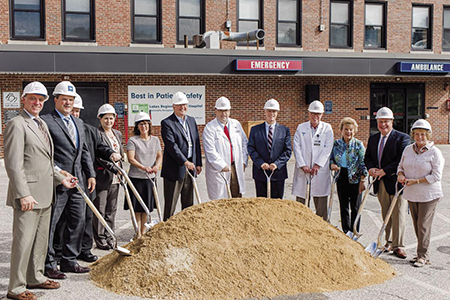 A groundbreaking ceremony has been held to mark the start of construction of Lakes Region General Hospital's $7.5 million renovation of its room in a project it calls "Emergency Care ReimaginED."
Hospital Trustees, management, providers, architects/builders, and community members attended the ceremony in Laconia.
Funded with personal donations from community members, the project will serve to renovate the emergency department to current standards while reorganizing the department to streamline patient flow, resulting in increased efficiency and an even better patient care experience, officials said.
Brian Winslow, executive director of philanthropy for the hospital's parent company, LRGHealthcare, said the hospital's emergency department is one of the busiest in the state, seeing about 25,000 patients a year.
"Very generous donors stepped up to fund this effort because they know how important the emergency department is to LRGHealthcare and to our community."
Officials said the new department's design will provide for better patient flow and add capacity for faster care. There will be 21 private treatment spaces that meet contemporary standards and are designed for maximum versatility and utilization. Traditional treatment rooms will be universally designed so they are consistent in size, configuration and equipment. The rooms will be geographically zoned into three pods, each with its own nurses' station and waiting room.
Boston-based DiGiorgio Associates Inc. and Monitor Builders Inc. are handling design and construction.