Kustom Clubs: 'The golf shop for those who want to play their best'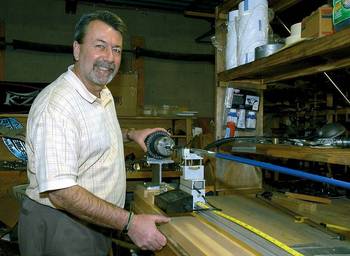 To Ken Collins, owner and operator of Kustom Clubs of Manchester, golfers are like fingerprints – no two are alike. And thanks to the talents of this certified Advanced Professional Clubmaker (Collins is one of only a small number of Advanced Professional Clubmakers in the world) golfers of any skill or experience level can benefit from the difference that custom-fitted putters, drivers and irons can make to their game.
In Collins' more than 30 years of golf club manufacturing and repairing experience, he has concluded that close to 85 percent of golfers play with equipment that does not fit. "The most common culprit to a golfer's difficulty in perfecting their swing isn't talent or practice, it's their clubs," says Collins. "Club length, incorrect loft and lie, and wrong shaft flex are the things I see most."
Believing that proper club fitting is the key to lower scores, Kustom Clubs uses the information gathered through their exclusive, state-of-the-art, computerized Deflection Resistance Speed (D.R.S.) Fitting System to analyze multiple variables including: shaft selection and design, shaft flex, club length, loft and lie, swing weight and static weight, grip selection, launch angle and ball spin.
With a finished blueprint in hand, Kustom Clubs' professional on-site "master clubmaker" handcrafts each club in their shop, weighing each grip, D.R.S. flex profiling each shaft, and hand bending each club to meet their strict standards of quality.
"The D.R.S. Fitting System is my own design," says Collins. "It stands for deflection, resistance and speed – the three most important components in creating a truly customized club. What we do is place a load on the shaft and record how the shaft reacts in relation to its profile and bending characteristics in the shaft. Once the entire set of shafts is complete we are able to match them to a specific clubhead in the set."
Before each of the shafts is installed into the clubhead, Kustom Clubs also "neutralizes" the shaft. Neutralizing is done by locating the inherent irregularities in a shaft, locating the dynamic plane property of the shaft, and then aligning it to the clubhead. As a result, irregularities are neutralized and club performance is optimized. Major golf club manufacturers do not include this process because of high costs involved.
Collins also stresses that having a putter fitted specifically to you is the quickest way to take strokes off your score. Key elements in fitting a putter include looking at length, lie, loft, balance, weight and posture.
"What surprises a lot of people is the final cost," says Collins. "Custom clubs can often be completed at a price lower than a generic, off-the-rack option. Not only that, but Kustom Clubs come with a limited lifetime warranty for as long as you own them." A benefit every consumer can appreciate.
Ken Collins is a certified Advanced Professional Clubmakers' Society (PCS) Class A Clubmaker, Clubfitter, Authorized Rifle Shaft Fitting Specialist and Sonartec Golf Master Builder. He is also the recipient of the Golf Clubmaker's Association (GCA) Distinguished Clubmaker Award and the Golf Digest/Golf Shop "Clubfitter of the Year" award. His most prized award is the PCS international "Clubmaker of the Year".
For more information about the products and services available through Kustom Clubs, visit www.kustomclubs.com. And while Collins welcomes walk-in customers, fitting sessions are done by appointment only and can be made by calling 603-623-7876.