Knowing your wants and needs
Those who plan and know their risk tolerances are best suited to ride the shifting tides of uncertain times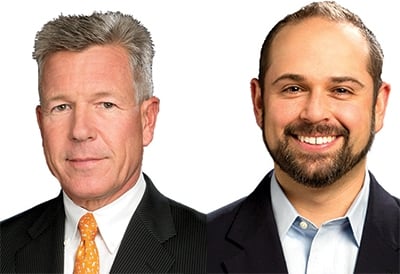 Amid the ongoing public health and economic calamity caused by the coronavirus pandemic, there are shoots of hope and humanity if we choose to see them. The tragedy is real, but so are the opportunities for reflection and readjustment as we continue to work our way through this unprecedented situation.
There have been many celebratory events, such as graduations, weddings, holiday vacations and family get-togethers that have been rescheduled or put on hold. Few could have imagined six months ago that tens of millions would now work from home, learn how to navigate Zoom, or watch industries like travel, hospitality or in-person entertainment freeze in place and then contract overnight.
Few parents could have imagined how quickly they would need to become home-school teachers — or that the friendly faces seen at the local supermarket would be considered not only an essential worker on the front lines, but also more vulnerable to Covid-19 than most in this pandemic.
But we adapt. College graduations became virtual events and travel and social plans put on hold can be revived at a later date. While a minority of agitators have attracted media attention treating the pandemic as an inconvenient conspiracy, we like to believe the majority of Americans are being responsible humans and are taking this pandemic seriously. The strength of this humanity might bode well for the future.
Most of all, we believe this pandemic will accelerate economic trends that could barely be discerned a few years ago. It can also hasten thinking about what we can and cannot control in our lives and communities.
An event like this pandemic may take years for us to fully comprehend the depth of the economic turmoil, but today or tomorrow can be the day when each of us makes a "checklist" to focus and reassess our wants and needs along with our overall plans and goals. You might ask yourself, "Do I really need that new car? Do we need a six-figure wedding? How much of a nest egg do we want?"
Like it or not, this very personal pandemic has laid bare the mythology that tomorrow will be pretty much like today, only perhaps a little better. The same can be said for our economy-dependent consumer spending addiction.
A recent survey of 42 countries about how the pandemic is impacting consumer behavior by McKinsey & Company showed bouts of sustained consumer optimism about the future combined with realism about the present. Stay-at-home directives, together with economic uncertainty, have become a recipe for reflection on our needs, wants and priorities. For example:
Do you need a new car? Between 31% and 49% of Americans say "no," even if they might have said "yes" under more normal conditions.
The same "no" goes for spending on foreign and domestic travel, cruises or even a short-term vacation home rentals.
As many of us can attest, grocery and home entertainment spending is way up, but new clothing, footwear and jewelry spending has been sidelined.
Surveys such as these are a limited snapshot of the times, but they do tell us that preferences can change just as we are able to change our approach to saving and investing. Our nation was already skating on thin ice with large amounts of personal debt combined with an anemic lack of savings.
It says volumes about the perils of financial illiteracy that, as the Federal Reserve reported a year ago, 40% of American households do not even have $400 in reserve for an emergency.
That emergency is upon us, and we need to do better for the future.
For many years, we have had many frank discussions with clients about how planning pays both financial and psychological dividends.
Those who plan and those who know themselves and their risk tolerances well, are best suited to ride the shifting tides of uncertain times. Those who could not discriminate between their needs and their wants (i.e., buying a new car or purchasing a second home) and left planning for another day in hopes for a quick miracle, are left victim to the very same tide.
Tom Sedoric is partner, executive managing director and wealth manager and D. Casey Snyder, CFP, is partner, senior vice president and wealth manager of The Sedoric Group of Steward Partners in Portsmouth.